A popular makeup subscription service is receiving complaints on social media that its products are arriving smashed or broken, sometimes ruining the rest of the items in the bag.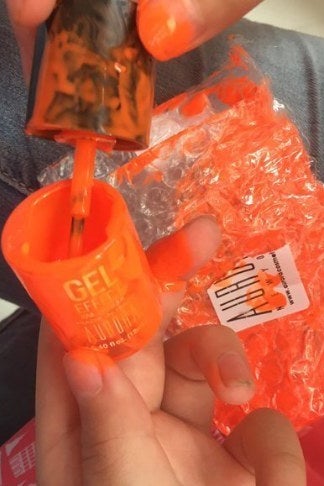 Ipsy is a monthly, personalized makeup and beauty product subscription service. It was founded by Michelle Phan, a beauty blogger who rose to fame on YouTube.
The service aims to help makeup lovers find products they love by curating packages for subscribers based on individual style and preference.
"With infinite beauty product combinations in the marketplace, choosing the best items for your needs can be a challenge," Ipsy says on its website. "That was why Michelle created Ipsy. Michelle and her team of stylists have selected products they love, for you to try."
Ipsy sends its subscribers a personalized bag of products each month. The service costs $10 a month, according to its website.
However, many subscribers to Ipsy are complaining on social media that they never get a chance to try their new products, because they're smashed in the mail.
In fact, BuzzFeed News counted more than 50 people in the past month alone who claimed on Ipsy's Facebook page their makeup had arrived broken or damaged.
In some cases, the broken makeup is not the only casualty. Subscribers say the product seeps into the rest of the bag, damaging the rest of the items in the process.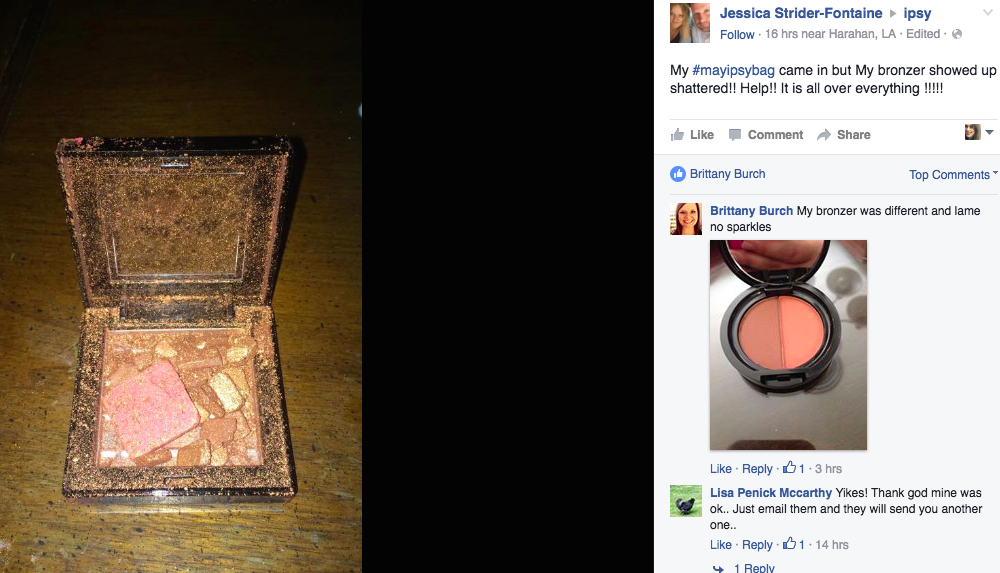 "Got my Ipsy bag today, and as soon as I opened my mailbox I could smell the fingernail polish!" one woman wrote on Ipsy's Facebook page. "Which is very upsetting, because it [is] the only thing in my bag I would actually use! Usually only get 1-2 good things in my bag and this time it is unusable!"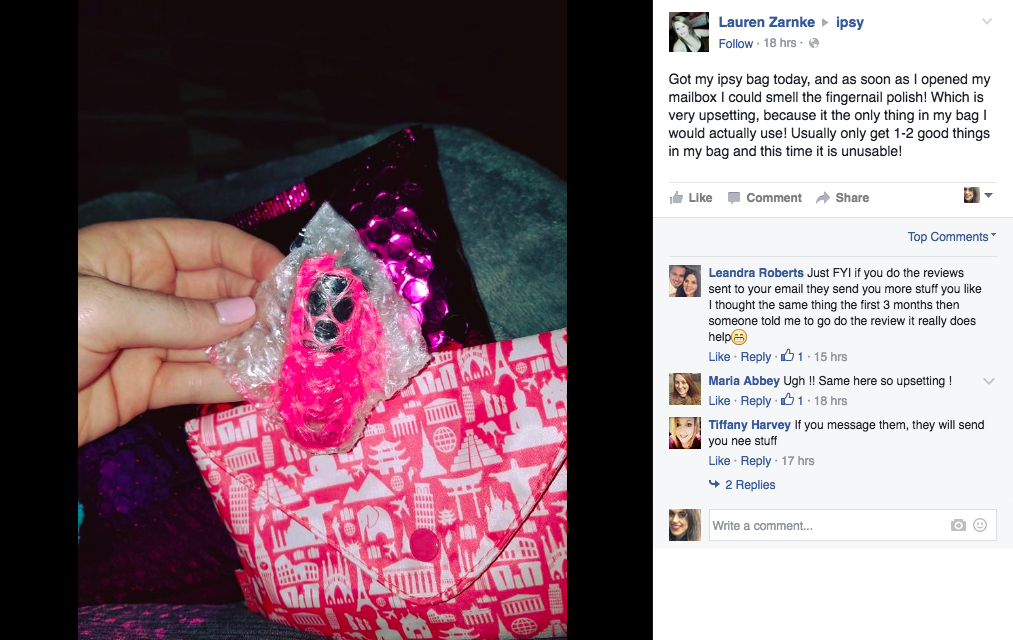 Other users complained that the breakages were a recurring issue.
"Ipsy is a joke literally just sent me one thing and I always get broken product," one user wrote.
Miranda Reising was one of the Ipsy subscribers who complained on Twitter about getting a broken bottle.
She told BuzzFeed News that she has been subscribing to the service for three months.
"It was disappointing to receive my May Glam bag that came with broken nail polish," she said.
However, Reising said she was pleased with how quickly Ipsy's customer service solved her issue.
"I sent a tweet about my disappointment with a picture and not even an hour later they responded back to fix the issue," she said, adding that her new nail polish is supposed to arrive on Tuesday.
Other customers agreed, saying that Ipsy's customer service has been quick to resolve their issues.
One satisfied subscriber, Caitlin Corbitt, told BuzzFeed News she has been impressed by the company's customer service when she received a bent brush and the wrong bonus item.
"Ipsy has always replaced any item that came to me broken, misshapen, or messed up," she said. "They have done it quickly and with grace."
But another customer, Kate Alexander, told BuzzFeed News she had struggled to get a response when she contacted the company about a broken nail polish. She added she was dissatisfied with the items in her "personal" box.
"I would have rather taken that $60 [spent on Ipsy], gone to Sephora or Ulta, and spent it on items that I really want," she said.
The company says on its website that customers can have their products replaced at no charge if they are lost or broken.
Ipsy tells customers to email a dedicated line if their product arrives damaged.
"We stand by our products and quality, and we take all necessary steps to ensure each item is shipped in the safest possible way," the website says.
Neither Ipsy nor a representative for Phan immediately returned a request for comment from BuzzFeed News.