Earlier this month, Alec and Hilaria Baldwin announced that they were expecting their seventh child. To most people, the news might have been boring, while to others it was just normal celebrity gossip. But for the nearly 25,000 members of the r/HilariaBaldwin subreddit, it was a five-alarm fire.

"Wtf??? Nothing will stop these fucking psychos!!!!" one person wrote.
"It's sad and sick how she continues to have children when the children she has now she couldn't give a damn about," another wrote.
"This time around, Carmen's gotta be old enough to figure out that her mom isn't really pregnant, but is just wearing a moon bump, don't you think?" a third said.
If you're asking yourself what the hell a "moon bump" is (Moonbump is a company that makes fake pregnancy bellies), you clearly haven't been lurking in the corner of the internet that trafficks in Hilaria Baldwin conspiracies. Since Hilaria, an influencer and celebrity, went viral at the end of 2020 for allegedly pretending to be from Spain, whole communities have sprouted up online where Hilaria is public enemy number one.
For these snarkers, it's not enough to suggest that Hilaria, born Hillary Hayward-Thomas, was faking a Spanish accent and "hiding" the fact that she was born and raised in Boston. These communities, like the r/HilariaBaldwin subreddit, and people who run parody accounts posing as her on Twitter and Instagram, churn out theories that Hilaria is lying about giving birth to some of her children, is a self-centered woman aiming to make other women feel bad about themselves, and is actively harming her kids by sharing a lot about their lives online.
"I would say the collective purpose of the subreddit (other than to laugh at her with impunity) is to try and get her Instagram shut down," the subreddit's moderator, who goes by McNasty420 and asked to remain anonymous for this story, told me via DM. "[Hilaria's Instagram account is] probably the most offensive account I've ever seen."
The r/HilariaBaldwin community has followed a predictable pattern, just like many other internet spaces focused on one individual, especially when that person shares a lot about themselves on social media. Similar communities have formed around influencers like Caroline Calloway, the LaBrant family, and Jessie James Decker, as well as celebrities like the Duggar family and shows like 90 Day Fiancé. Once the community gets their fill of dissecting the information that the influencer shares freely, they then begin to speculate about what they aren't seeing. And soon, what was once speculation quickly turns into accepted fact among the group.
The speed at which conjecture can become "fact" in these spaces is dizzying.
I have long been fascinated by these types of groups, which are relatively common on Reddit and gossip forums like Kiwi Farms and Get Off My Internets. The speed at which conjecture can become "fact" in these spaces is dizzying. Speculation on Twitter and on forums that Hilaria may have used a Moonbump went from what I thought was a joke to being something that many people seem to wholeheartedly believe. People have spent hours dissecting videos of Hilaria half naked during her pregnancies to "prove" that her pregnant stomach is false. When E! News posted about Hilaria's latest pregnancy, its Twitter replies filled up with rebukes from haters and surrogacy truthers.
"Hilaria is not pregnant. A surrogate is pregnant. Get it right. She only birthed her first child. How much do they pay you?" one person wrote.
The redditors on the r/HilariaBaldwin subreddit often suggest that she used a surrogate for most of her children, whom she is exploiting for fame. Some seem to see themselves as being on a righteous crusade to protect the Baldwin kids from said exploitation and the public from Hilaria's lies. (For her part, she has denied ever misleading the public about her origins in interviews, saying she has been misrepresented.) And ever since the fatal shooting of cinematographer Halyna Hutchins on the set of the movie Rust last year, online comments against the Baldwin family have only intensified.
"We just feel really bad for all her innocent surrogate children, I mean children, who are exploited by her relentlessly and aggressively on Instagram, none of whom are old enough to give consent," the moderator said.
Rumors that Hilaria Baldwin was manufacturing or exaggerating her ties to Spain have been floating around the internet for years. Back in 2019, several posts on a forum on the website DC Urban Moms and Dads debated Hilaria's past.
It was these sorts of forums that one Twitter user, @lenibriscoe, likely relied on when she started a thread about Hilaria in December 2020 (the account is now private). The thread instantly went viral and led to an explosion of chatter about Hilaria. @lenibriscoe told the Daily Mail she decided to post because she was bored. "People were asking me, 'Don't you have anything better to do?' And the answer is: No, I don't. It's a pandemic, it's cold outside, and I don't celebrate Christmas," she told the tabloid at the time.
Hilaria first became famous after she started dating Alec Baldwin in 2011 (they met at Bad Vegan scammer Sarma Melngailis's restaurant, Pure Food and Wine), and she soon began marketing herself as a lifestyle influencer. In many early media appearances, it sounded like she spoke with a Spanish accent. In one memorable appearance on the Today show in 2015, she discussed learning to cook in Spain and claimed to have forgotten the English word for "cucumber." A biography on the website of her agency, CAA, said she was born in Mallorca, Spain, and she often spoke in interviews about spending large parts of her life in the country.
However, Hilaria was actually born and raised in Boston. She is bilingual, but neither of her parents have Spanish heritage, although they did retire to Spain after spending a lot of time vacationing in the country. In an interview with the New York Times after the @lenibriscoe Twitter thread went viral, Hilaria attributed any confusion about her heritage to people's assumptions and sloppy reporting. She argued that because she was very influenced by Spanish culture as a child and young adult, there was nothing wrong with continuing to celebrate that in her family.
"Where is the smoking gun? My intentions are I'm living my life and my life is created by my parents, my different experiences, my languages, my culture and, yeah, my kids do have very Spanish-influenced names," she told the Times.
Other people, like r/HilariaBaldwin moderator McNasty420, had also been invested for a while. They said they had tried to book Hilaria for an event via the yoga studio where she had been teaching, but the studio said it had "severed ties" with her. Perplexed, the moderator kept an eye on Hilaria in the media for the next several years and began to follow the rumor mill. They then stumbled upon online forums about her.
"It didn't take long with her digital trail of unscrubbed bread crumbs," they said, going on to claim that Hilaria has been dishonest about her upbringing and that they "had all the links to prove it."
The moderator spent a few months trying to get the story covered in the media, they said, emailing contacts at places like TMZ and the Daily Mail. They said nobody responded, so they decided in November 2020 to start a subreddit, r/HilariaBaldwin, where they and others could discuss the theories.
The next month, @lenibriscoe posted her Twitter thread. And the gossip about Hilaria has gone from spreading rumors to trolling and conspiracy theorizing.
On Instagram, Hilaria has cultivated a persona as the perfect crunchy Earth mama, who also happens to be extremely thin and hot. She posts photos of herself pregnant and half naked, with whimsical captions about the beauty of motherhood and the fulfillment she gets out of yoga and self-actualization. Even in posts where she's ostensibly trying to keep it real, like a video of herself postpartum, she still looks pretty damn good. It's easy to see why a lot of women find this persona annoying; it showcases a postpartum ideal that isn't achievable for everyone.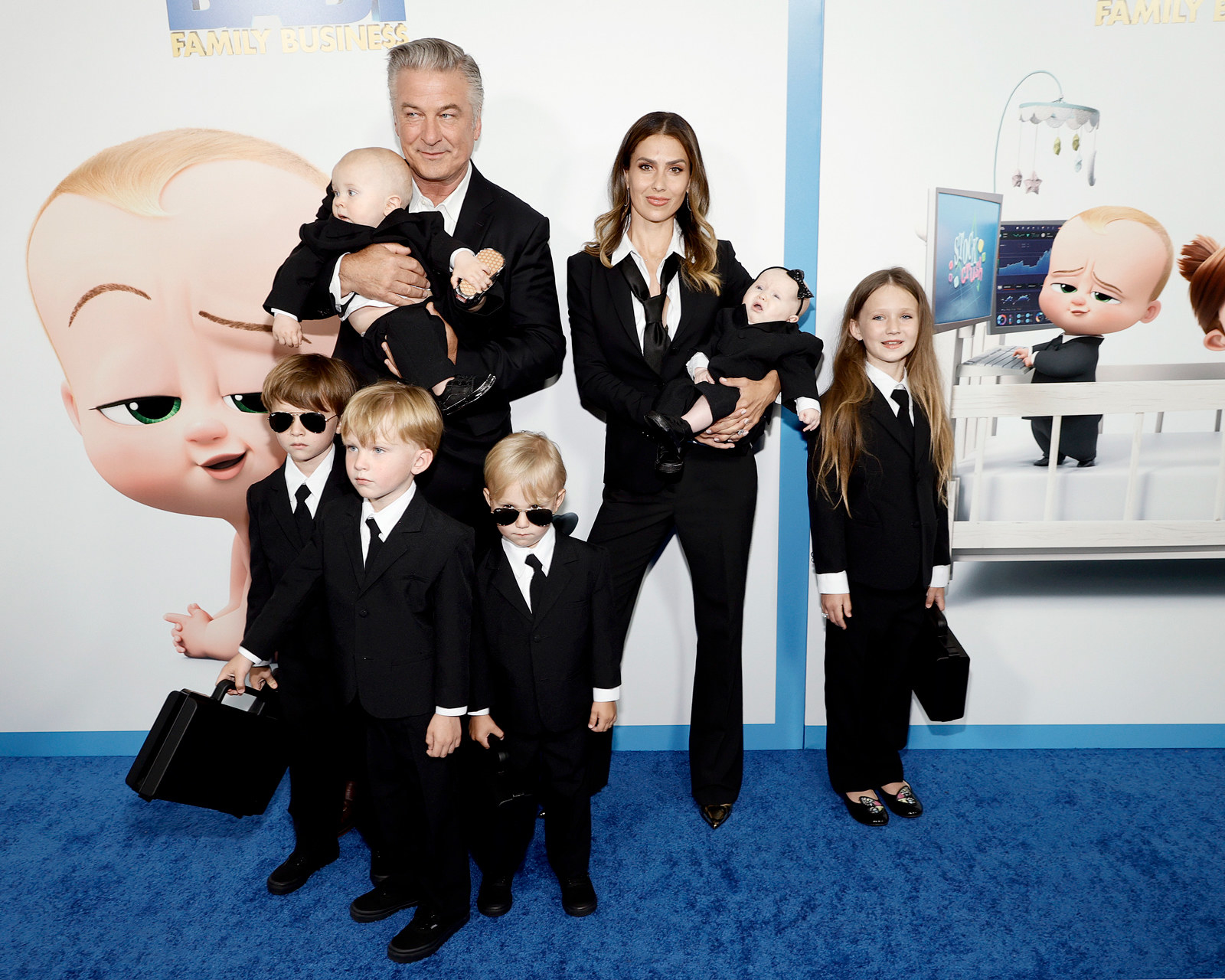 There has also been a fair amount of news about the Baldwin household to keep the masses entertained and horrified. Before the Rust shooting, the couple announced in March 2021 that they had welcomed a daughter, Lucia, via surrogate just months after their fifth child, Eduardo, was born in September 2020. While Hilaria shares a lot about her children online, the Baldwins have never discussed why they hired a surrogate or commented on the fact that they had two babies less than nine months apart.
Some commenters floated a theory that after giving birth to her first child, Hilaria chose to not carry another baby herself, and that because her brand relied heavily on being a "hot mom who bounces back from pregnancy," she actively decided to pretend to be pregnant four more times.
To these folks, it's not a huge intellectual leap to go from believing that Hilaria faked her heritage for more than a decade to believing that she was faking her pregnancies, too.
"I believe she only gave birth to the first one, hated it, or Alec hated that his baby doll sex toy was put out of commission, so they hatched this giant family/ super mamí/ snap back bullshit," one person wrote.
This theory intensifies the hatred against Hilaria, and the outrages in turn fuel a kind of mass distaste that often appears in these sorts of groups, leading to a sense among their members that they must spend time "proving" the allegations in order to bring someone down.
Mohini Tellakat, a researcher who studied online communities for her PhD in behavioral analytics and social psychology, told me that people usually get sucked into these sorts of conspiracies because they're interested in a topic, like celebrity gossip, and derive a sense of belonging and purpose from chatting with others about it.
"There is a sense of, OK, I found my people, we're here together, and it snowballs," she said.
When the hive mind of conspiracy theorizing emerges, Tellakat said, the desire to remain in the group and continue to get positive reinforcement overrides any doubt they may privately feel.
"It's not necessarily groupthink, but a group-mindedness," she said, "OK, now I belong. OK, we're all saying these things, and I like having this community, I like having this attention, so we're going to keep going. … It kind of threatens a sense of self if they were to be like, Hold on, wait, this is too crazy, right?"
After exchanging a few DMs with McNasty420, they told me they wanted to clarify the nature of their interest. They aren't "fascinated" with Hilaria or the Baldwins, they said, and they definitely aren't some "fangirl loser whose whole life revolves around this thirsty Z-lister." The subreddit is mainly for fun, they said.
"I just enjoy a good train wreck and this family just keeps delivering it tenfold each time," they wrote. "I never expected the subreddit to get this big. … I was just trying to expose the grift because media wasn't picking it up and I knew it could be a huge story."
But what does the rest of the community want? In a recent thread, commenters discussed how, by dissecting Hilaria's social media presence, they had been able to work through some toxic relationships and experiences with people they said had personality disorders. Others said that criticizing public figures they consider toxic helps them feel better about themselves.
"I look forward to a world where the majority of decent folk understand exactly how to identify these dangerous people … and support each other in our daily lives," one person wrote. "A big part of that will be ending the horrendous 'influencer' industry."
Hilaria has never addressed the theories directly, but often decries "online bullies" who attack her.
"Why am I speaking about bullying so much?" she wrote in a recent post. "Because I want to make a change, shining kindness on emotional violence. I can't change the bullies, but I can encourage changing the way we interact with them. Learning their tactics and seeing through them. Losing our fear and and feelings of being intimidated. I speak up because I'm a mama and I don't want my babies to feel the sadness and darkness I have felt."
While theorizing about Hilaria may be on its face a more focused extension of regular gossip, Tellakat cautioned people in these sorts of groups to examine if they are falling in too deep.
"It might be harming … the person internally," she said. She suggested that if someone is getting very involved in this kind of speculation that they check in with themselves.
"If none of your old friends are hanging out with you anymore or everybody keeps checking in on you and you just keep throwing them out, you've got a problem. But you also have to have the self-awareness to know that that's happening. And that's not always easy," she said. ●