Students at a private Catholic high school in Indiana are under fire after allegedly shouting racist rhetoric while holding a Trump fathead at a basketball game.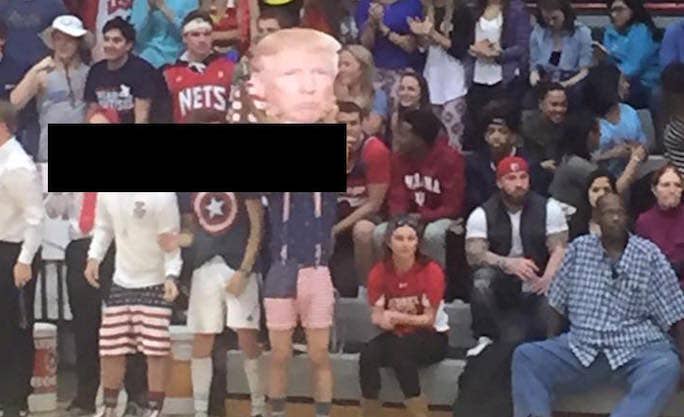 The incident allegedly occurred at a game between Bishop Noll Institute and Andrean High School, two rival Catholic schools in the northwest of the state.
The two teams played to a packed stadium in their "most intense game" of the year, Bishop Noll senior Roman Penn told newspaper The Times of Northwest Indiana.
The students dress up for the game, known as the "Catholic Cup," and Bishop Noll's students were dressed in costumes, including John Wayne and Santa, the newspaper reported.
Bishop Noll has a largely Latino student body, according to ABC Chicago.
But, Andrean's students were dressed in an "America" theme, complete with the Trump cut-out.
Some of the students then allegedly began to chant racist rhetoric while holding the Trump sign, The Times of Northwest Indiana reported.
The students chanted, "build the wall, build the wall," the newspaper reported.
The Bishop Noll students in response chanted, "We're bilingual," according to The Times of Northwest Indiana.
The Andrean fans also had a sign that said, "ESPN Deportes."
One person in the stands, Ashley Howard, was so horrified by the chants she decided to post about it on Facebook. Her post has since been shared more than 3,000 times.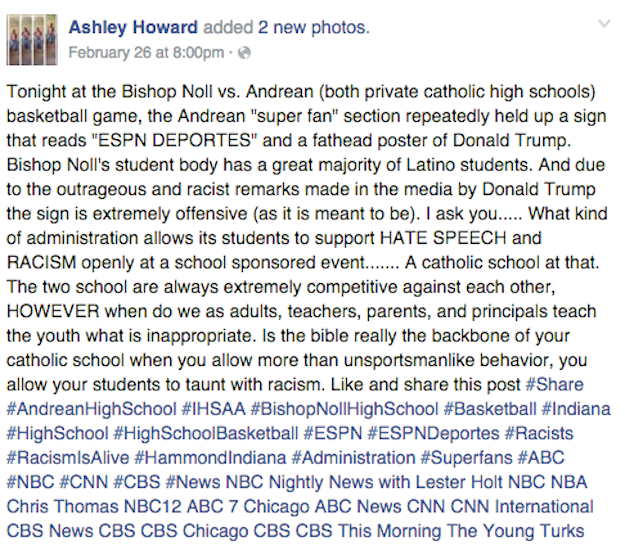 Howard said she was horrified by the racist taunts from Catholic students.
"The two schools are always extremely competitive against each other, however when do we as adults, teachers, parents, and principals teach the youth what is inappropriate," she wrote. "Is the Bible really the backbone of your Catholic school when you allow more than unsportsmanlike behavior, you allow your students to taunt with racism?"
However, some students on social media complained the incident was being blown out of proportion.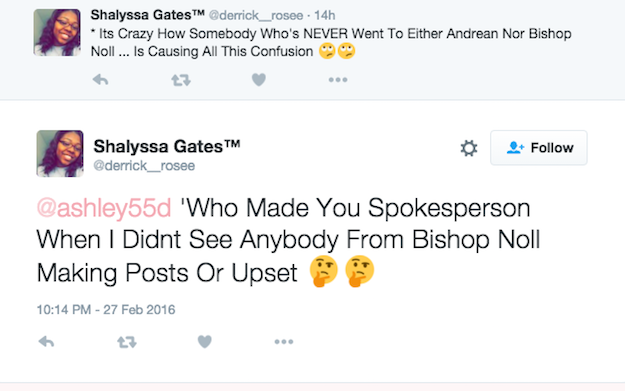 "How dare they call Andrean racist and say we're offensive," one Twitter user wrote. "We were not trying to offend anyone. It was just a game people. Get a grip."

Parents also told ABC Chicago that the environment was friendly, and a sports columnist with The Times of Northwest Indiana described the chants as "Saturday Night Live-like."
"It was jovial," George Galanos, whose child goes to Andrean, told ABC Chicago. "It was a lot of fun. There was hugging going on between the teams."
Neither school immediately returned a request for comment from BuzzFeed News, but Bishop Noll said in a statement to ABC Chicago the accusations are being taken "seriously."
"This is a teachable moment for everyone about responsible speech, social media, and sportsmanship," the statement said. "Perhaps last night's incident was an unfortunate byproduct of irresponsible speech in today's political arena."