A Victim Of A Gang Shooting Wrote A Heartfelt Message On The Charleston Suspect's Facebook Page
"I don't look at you with the eyes of hatred, or judge you by your appearance or race, but I look at you as a human being that made a horrible decision."
On Thursday, authorities in South Carolina named the suspect in a shooting spree at a Charleston church as Dylann Roof. They released a photo of Roof from his public Facebook page.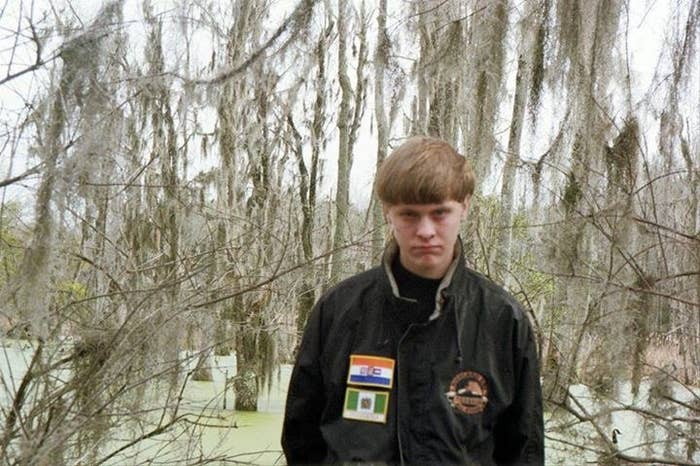 Many people soon found Roof's Facebook profile, including Marcus Stanley. Stanley is a Christian musician who, in 2004, was shot eight times as part of a gang initiation. He survived, though he still has a bullet lodged in his spine.
Stanley left a lengthy comment for Roof on the photo, saying he didn't believe he was evil and asking him to ask for forgiveness.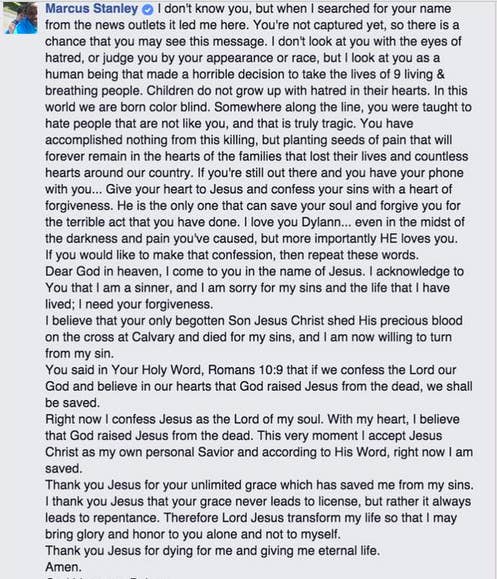 He wrote:
I don't know you, but when I searched for your name from the news outlets it led me here. You're not captured yet, so there is a chance that you may see this message. I don't look at you with the eyes of hatred, or judge you by your appearance or race, but I look at you as a human being that made a horrible decision to take the lives of 9 living & breathing people. Children do not grow up with hatred in their hearts. In this world we are born color blind. Somewhere along the line, you were taught to hate people that are not like you, and that is truly tragic. You have accomplished nothing from this killing, but planting seeds of pain that will forever remain in the hearts of the families that lost their lives and countless hearts around our country. If you're still out there and you have your phone with you... Give your heart to Jesus and confess your sins with a heart of forgiveness. He is the only one that can save your soul and forgive you for the terrible act that you have done. I love you Dylann... even in the midst of the darkness and pain you've caused, but more importantly HE loves you.
If you would like to make that confession, then repeat these words.
Dear God in heaven, I come to you in the name of Jesus. I acknowledge to You that I am a sinner, and I am sorry for my sins and the life that I have lived; I need your forgiveness.
I believe that your only begotten Son Jesus Christ shed His precious blood on the cross at Calvary and died for my sins, and I am now willing to turn from my sin.
You said in Your Holy Word, Romans 10:9 that if we confess the Lord our God and believe in our hearts that God raised Jesus from the dead, we shall be saved.
Right now I confess Jesus as the Lord of my soul. With my heart, I believe that God raised Jesus from the dead. This very moment I accept Jesus Christ as my own personal Savior and according to His Word, right now I am saved.
Thank you Jesus for your unlimited grace which has saved me from my sins. I thank you Jesus that your grace never leads to license, but rather it always leads to repentance. Therefore Lord Jesus transform my life so that I may bring glory and honor to you alone and not to myself.
Thank you Jesus for dying for me and giving me eternal life.
Amen.
God bless you Dylann
The comment soon began to spread throughout the web, with many people saying that his words were incredibly moving.
Many called Stanley an "amazing person."
Others said his words were a good reminder, in the midst of horrifying circumstances.
Stanley told BuzzFeed News that he decided to write on Roof's page because he had not yet been caught by police at the time, and he thought he may actually reach him.
"I was asking myself what I could do to help in this situation," he said.
Stanley said he knows "what it feels like to stare down a barrel of a gun" and it took him a long time to find forgiveness for his attackers.
"I just thought this may help him," he said.
The musician said that he never expected to get media attention for his post.
"This wasn't my goal," he said.