This is Erin Safran, an 18-year-old from Brooklyn.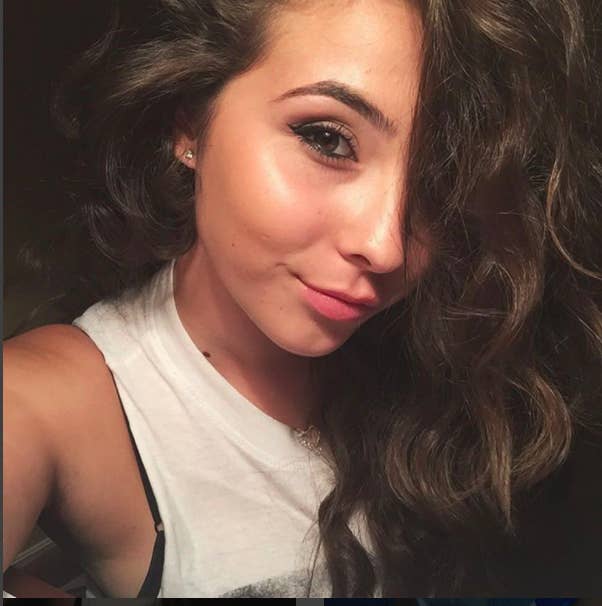 Safran told BuzzFeed News that she is a fan of UFC fighter Conor McGregor, who on Saturday became the first fighter to hold multiple UFC division titles after beating Eddie Alvarez at Madison Square Garden.
"My older brother and mom got me into watching UFC and now my whole family are very into it," she said.
So, obviously she and her brothers were thrilled when they spotted McGregor in NYC last week. They even got to take multiple photos with him.
"He was so lovely about taking the picture with my little brother and I and then later on, my older brother," Safran said.
Safran put the photo on Instagram, and tagged McGregor. When she looked at McGregor's Instagram later, she got a total shock. He had reposted the photo to his account — and cropped her out.
He gave the photo the caption, "Gucci mustard."
Safran said she wasn't mad that she was cut from the pic.
"I wasn't sad or embarrassed at all, I was happy enough he screenshotted my own pic and took time to crop me out," she said. "I'm glad he really liked that photo of himself. Cropped or uncropped, I love him."
She posted the photos to Twitter, writing, "If you're having a bad day just remember @TheNotoriousMMA cropped me out of our photo." Everyone died laughing at her tweet.
People couldn't believe how savage McGregor was.
It was ice cold.
Of course, there were some fire memes.
Safran posted her revenge though, sharing the photo on her account with McGregor cropped out.
"I want to take this opportunity to apologize... to absolutely nobody," she wrote, using a famous McGregor quote.
Safran said having so many people respond to her photos has been really fun.
"To me, this is one of the highlights of my life — no lie," she said. "I never expected it and it's been such a fun experience."