The Instagrammer whose viral proposal made national headlines last month is also facing an internal review from her employer, Goop, after reports claimed the entire event was pitched to advertisers.
Marissa Fuchs is a fashion blogger who is director of brand partnerships and sales at Gwyneth Paltrow's lifestyle brand.
On June 18, Fuchs gained social media stardom when her then-boyfriend, Gabriel Grossman, decided to take her on a multiday Instagram proposal adventure. She didn't return a request for comment from BuzzFeed News.
The entire saga, which was shared via Instagram stories, led Fuchs on a social media scavenger hunt starting in New York City, going to Miami, and ending in Paris.

In Paris, Fuchs was met not with a proposal but with a proposal AND a surprise wedding. According to the New York Times, more than 5,000 people watched the livestream. The Times also reported that the couple weren't actually legally married in Paris and are planning another civil ceremony.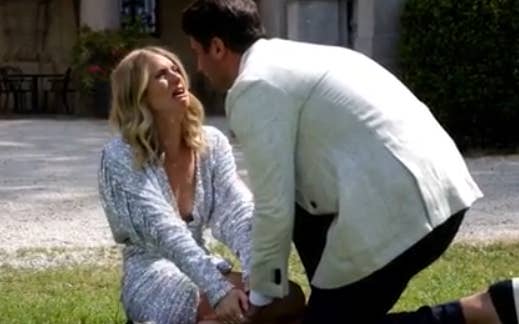 During the proposal adventure, however, the Atlantic revealed that not only was the engagement elaborate, but it also had at least tried to be an #ad.
Grossman, with the help of a marketer friend, had pitched the engagement adventure to brands in hopes of getting some of it sponsored.
"We're pleased to offer your brand the opportunity to align with this momentous occasion and the beautiful cities she will be visiting along the way," the pitch deck read.

Grossman told the Atlantic that Fuchs was not involved in the pitch deck and they didn't actually receive direct payment for sponsored posts during the engagement.
The line between influencer sponsorships and genuine content is notoriously muddled. Instagram influencers are often accused of trying to hide brand partnerships in their sponsored posts, and the Federal Trade Commission has gone after celebrities for not properly disclosing their ads. A 2017 study found that of ads posted on the top 50 celebrity Instagram accounts per month, 93% don't meet the FTC's guidelines.
And while Grossman claimed they were not compensated for the posts, many brands were tagged in the images, making their role in the event unclear.
One brand that was tagged, @flytographer, an on-demand photography service that frequently advertises with influencers, provided its services for free to the couple, a spokesperson told BuzzFeed News.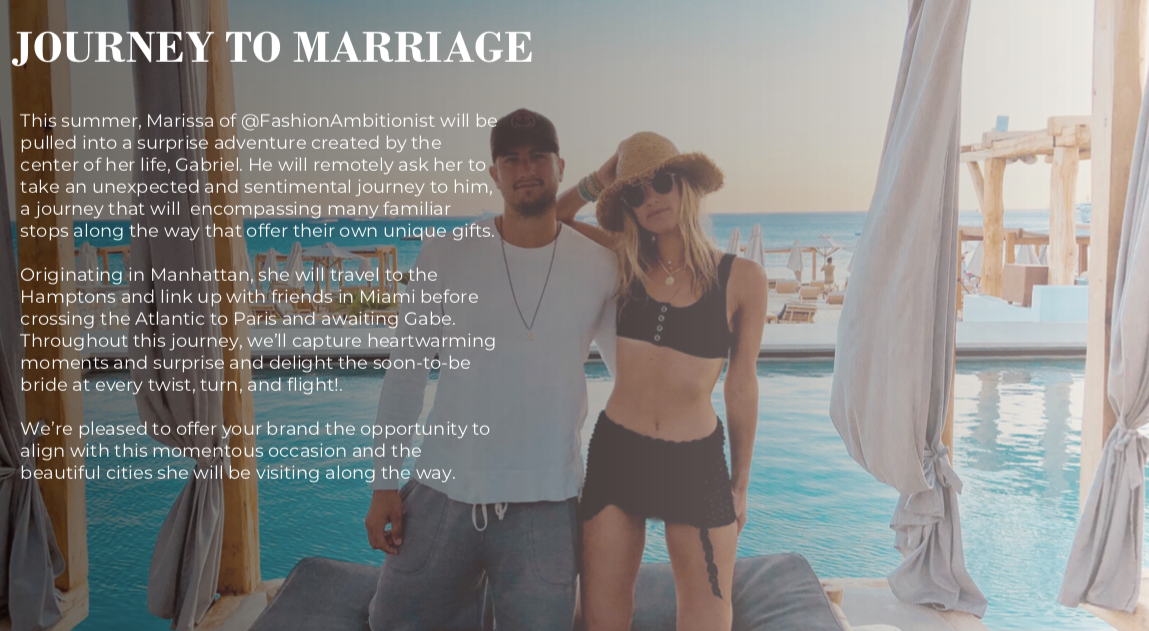 Although the pitch deck states the pitch isn't affiliated with Fuchs's employer, Fuchs prominently mentioned that she worked for Goop in her Instagram bio and shared photos of herself at Goop events.
The pitch deck also mentions that the "kick-off" to the whole event would occur at 9 a.m. at Goop's offices in NYC.
The first post Fuchs made of the proposal features her at work, watching a surprise video from Grossman as happy colleagues look on. Fuchs tagged multiple other women in the post, all of whom work at Goop.
Most of the stories written about Fuchs and the proposal mentioned that she worked at Goop, and many on social media mentioned the brand while chatting about it.

It appears Goop isn't happy about the association. In an email to BuzzFeed News, the brand's director of communications, Noora Raj Brown, said the proposal had nothing to do with the company.
"The proposal is only associated with her personal brand, and entirely separate from Goop," she said.

Brown said that the company has opened an internal "review" of how this was allowed to occur and that "Marissa never received formal approval from Goop for this."
"We do know that she did not go through the proper channels for any such request," she said. She did say the company is "happy for Marissa."
In the New York Times, Grossman claimed he "pre-cleared this" with Fuchs's boss at Goop, though it's unclear what exactly that entailed.
According to Grossman, Fuchs's boss, Kim Kreuzberger, the chief revenue officer at Goop, was "really on board."
"She was like, 'Absolutely, Marissa can take off,'" he told the Times.
When pressed about whether Fuchs's job is in jeopardy over the proposal mania, Brown said the internal review is ongoing.
People online began to speculate this week that Fuchs was distancing herself from Goop. On the influencer gossip subreddit /r/blogsnark, many pointed out that Fuchs no longer has the company tagged on her Instagram profile.
BuzzFeed News also contacted Grossman's employer, Morgan Stanley. A spokesperson responded that he does work there as a vice president, but declined to comment on personal matters.
As for the couple, they appear to be enjoying their time as pseudo newlyweds off the grid. Neither has posted anything to their feeds since.