This is Rimsha, a college student from San Antonio, Texas, and her 11-year-old sister, Romesa. Both sisters have always wanted a cat to call their own, Rimsha told BuzzFeed News.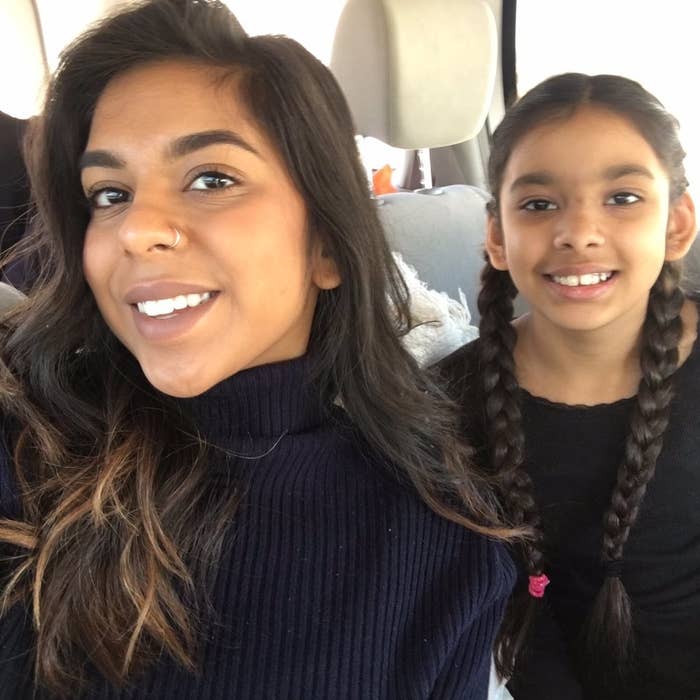 Recently, Romesa decided to take her pleas up a notch. She wrote her parents a six(!) page report on why they needed to get a cat. She wrote the whole essay in an hour.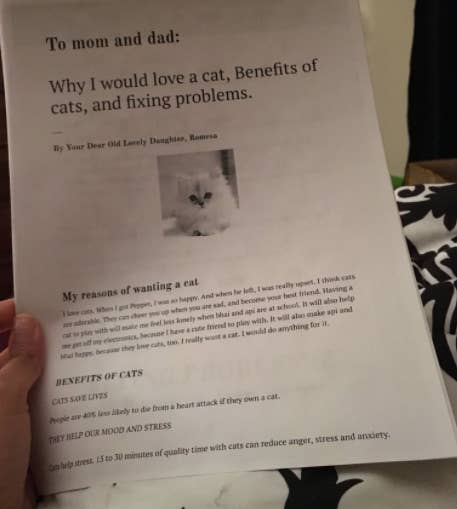 Her essay lays out some great points, like cats can warn you about seizures, are good for kids, and there are many out there in shelters who could use a good home. Romesa even smartly incorporated religion into her argument, saying, "Prophet Muhammed always fed cats and helped them out, because he knew they were kind and clean animals."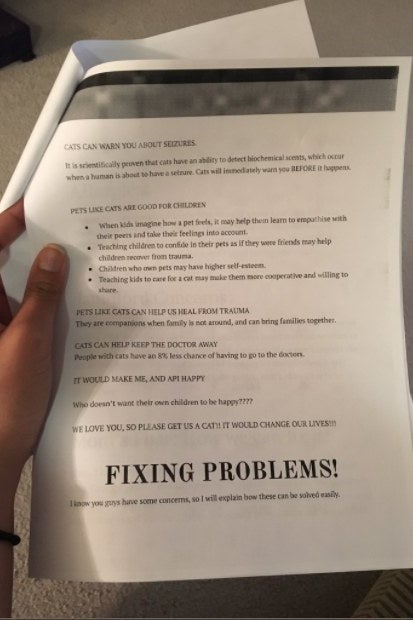 Romesa said that she would love a Persian kitten, because they are "fluffy," but would be happy with any cat that needed a good home.
"I wanted to get one from a shelter, so I could save a cat because that's really important to me," she said.
She also pointed out that her parents are always telling her to have less screen time with her electronics, but if she had a cat, she would be too busy playing with her pet to be on her devices.
"I just really want a cat because it would just change my life," she said.
Rimsha said she thought her sister's essay was cute, so she decided to share it on Twitter. Now, a ton of other people online are rooting for the sisters to finally get a cat.
Come on, mom and dad!
She put so much effort into the report!
Some even started a hashtag.
And people agreed that there are plenty of cats and kittens in their area that could use a loving owner like Romesa.
"So many people are pulling for this-your folks can't let thousands down!"
Rimsha said she has loved to see how many people are rooting for them to get a cat.
As for their parents, she said their dad seems convinced, now they just need to work on their mom.
"I think chances are maybe 80% as of now," she said.
Everyone's pulling for you!