A California man is generating some strong reactions after posting a picture of what he claims is a "fried rat" he was served at KFC — but the fast food chain swears it's a total fake.
Devorise Dixon posted the photos of the "fried rat" to his social media on Friday, and they began blowing up online.
He wrote:
DON'T EAT FAST FOOD!!! I WENT TO KFC YESTERDAY AND BOUGHT A 3PIECE CHICKEN TENDER. AS I BIT INTO IT I NOTICED THAT IT WAS VERY HARD AND RUBBERY WHICH MADE ME LOOK AT IT. AS I LOOKED DOWN AT IT I NOTICED THAT IT WAS WAS IN A SHAPE OF A RAT WITH A TAIL. IT SENT DEEP CHILLS THROUGHOUT MY WHOLE BODY! I'VE BEEN FEELING WEIRD EVER SINCE. I BOUGHT THIS IN COMPTON, CA ON WILMINGTON AND 120TH. I'VE NEVER SEEN CHICKEN LIKE THIS BEFORE ITS SICK!!!
The next day, Dixon wrote that when he took the "rat" back to the KFC in Compton, the manager confirmed it was a rat.
He said:
WENT BACK TO KFC YESTERDAY AND SPOKE TO THE MANAGER SHE SAID IT IS A RAT AND APOLOGIZED, IT'S TIME FOR A LAWYER!!! BESAFE DON'T EAT FAST FOOD !!!
This really freaked people out. His photos got thousands of shares, and he began receiving messages to his public Facebook page from people as far away as India...

...and South Africa.

The story then got picked up by news organizations throughout the world.
But soon, people began to doubt Dixon's claims. One intrepid Imgur user posted an extremely detailed graphic showing that the "rat" was probably just weird-shaped chicken.
On Wednesday, a KFC spokesperson told BuzzFeed News that the entire thing is a hoax.
Rodrigo Coronel said that as soon as KFC heard of the controversy, they interviewed everyone at the restaurant in question. He said all the staff denied ever telling Dixon he had found a rat.
According to KFC, Dixon is not showing the whole story on Facebook. Coronel said that a picture Dixon posted only to Instagram "clearly shows it's a piece of hand-breaded white meat chicken."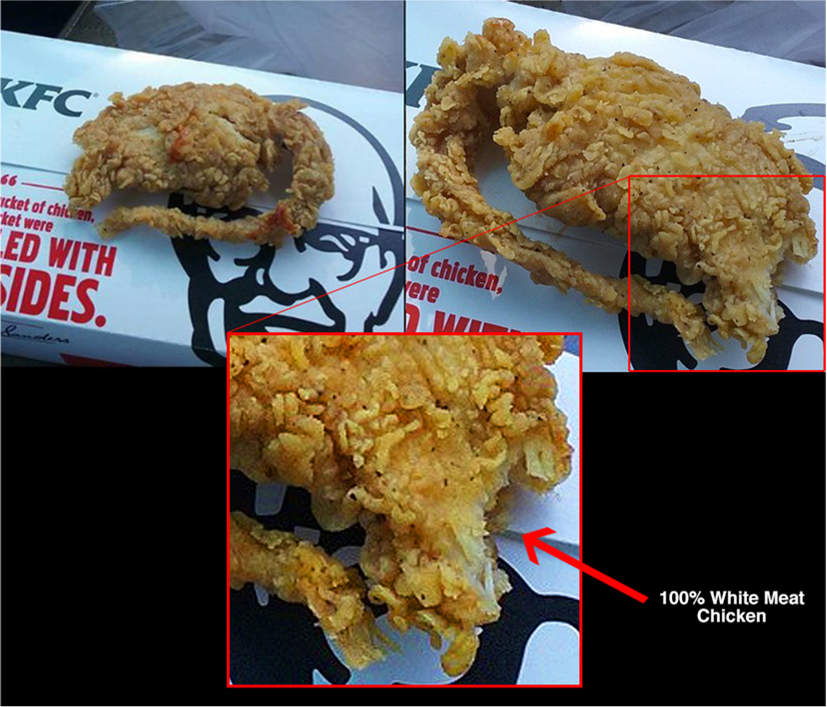 Despite Dixon publicly stating he saved the food item, KFC claimed he is not letting a company representative inspect it.
KFC said it is clear Dixon is trying to "deceive the public."
"He took the pictures of both angles, but choosing not to talk about the one that shows it is chicken, nor bringing the product for independent analysis," Coronel said. "Based on this, and the fact that he refuses to allow anyone to see the product, we are left to believe that he intended to deceive the public with this hoax."
Dixon did not return a request for comment.
KFC said in a statement to BuzzFeed News that a lab has confirmed the "rat" is actually chicken.
They said:
Recently, a customer questioned the quality of a KFC product, and this received considerable publicity given the sensational nature of his claim. The product has now been tested by a third-party independent lab, which confirmed it is definitely a piece of chicken, as we knew all along. The right thing for this customer to do is to apologize and cease making false claims about the KFC brand.