Amid the devastation wrought on the city of Houston by flooding from Tropical Storm Harvey, people are stepping to the plate to help others in incredible ways.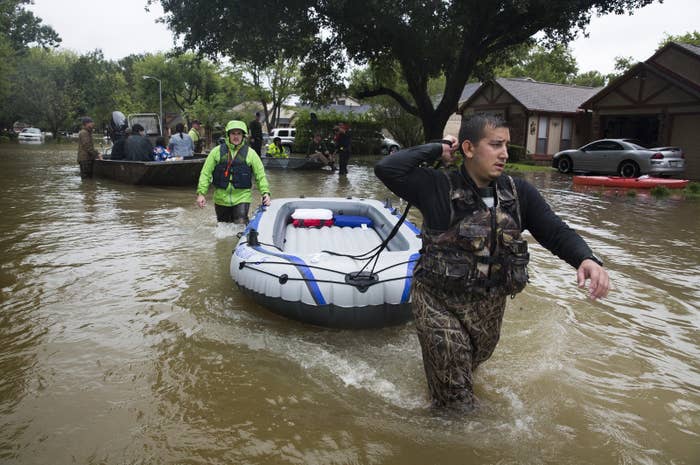 Here are just a few of the everyday people who did heroic things in the face of danger and tragedy:
1.
This mom, who is "just boating around Houston picking people up like it ain't no thang."
2.
Furniture store owner Jim "Mattress Mack" McIngvale, who opened his two stores in the Houston area to anyone who needed a safe place to sleep.
3.
This hardworking ICU nurse, Chelsea Black, who has been working to ensure her patients remain safe amid the crisis.
4.
This person, who dressed up as Spider-Man to entertain evacuated kids at the Houston Convention Center.
5.
This guy, who said he brought his boat to the area because he was "going to save some lives."
6.
This woman, who cheered up evacuees at the Lone Star Convention and Expo Center by singing gospel songs.
7.
This guy, Jeff Yuna, who helped stranded carp fish find their way back into their home lake.
8.
This dad, Chance Ward, and his teen son, who have been rescuing horses and cattle trapped in the floodwaters.
9.
This group of neighbors who held hands to ensure that no one was left behind as they waded to safety.
10.
This Texas State Guard member, who along with others is entertaining children stuck at evacuation centers.
11.
These drivers, who formed a human chain to ensure an elderly man could be saved from his car.
12.
This group of people, who worked together to save a dog that was trapped in raging floodwaters.
13.
This bar in Austin, which is loading up a huge truck full of donations to be driven to storm victims.
14.
This 5-year-old Houston native, who started a lemonade stand in Philly to help those suffering back home.
15.
And of course, all of the amazing first responders, who have been risking their lives to save lives every day.
16.
If you've been impacted by the storm in Texas or have a tip about rescue, relief, government, or aid efforts, call the BuzzFeed News tipline at (646) 589-8598. Find us on Signal, email, SecureDrop, and more here.