People online are annoyed and freaked out because Uber is asking its users to consent to be tracked for five minutes after they are dropped off.
The ride-sharing app said on its website that it will collect its users' location data from the time they request the trip until five minutes after the trip is over.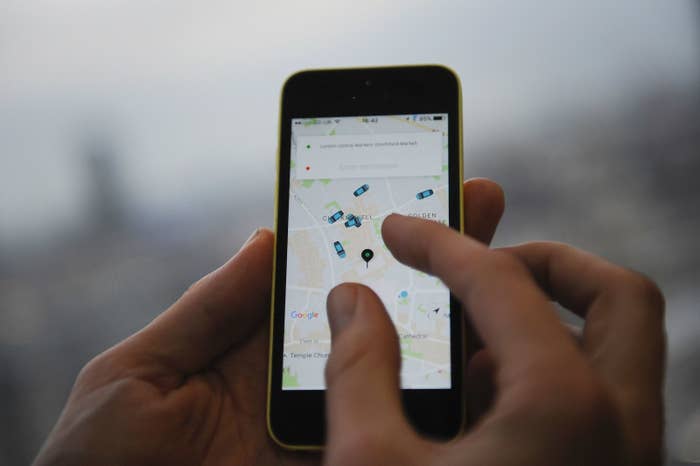 This will happen if the app is open or running in the background.
"We do this to improve pickups, drop-offs, customer service, and to enhance safety," the website said.
Many users noticed the update because they were prompted by the app to agree to the changes. Users could choose to allow it, or to never use location services in the app.
If the user chooses to not allow the app to track them, they will be unable to use any of the apps location features and will have to input their pick-up locations manually, according to Digital Trends.
Users can also change their settings if they change their mind through their device's normal security settings.
The changes prompted anger and confusion from users. Many said they only wanted the app to know their location while they were using it, not all the time.
They called the tracking "unnecessary."
And were a little creeped out.
"I think it's a lot creepy, and I would hesitate to use Uber as a woman alone," one woman said.
Others said they now will stop using Uber.
However, other people pointed out that we are already being tracked by a lot of devices, so what's one more?
"Everyone bitching about @Uber tracking you after 5 minutes probably don't realize that every-fucking-thing tracks you. Privacy in 2016? LOL!" one person wrote.
An Uber spokesperson said in a statement to BuzzFeed News that the update is only supposed to help the users.
"We're always thinking about ways we can improve the rider experience from sharpening our ETA estimates to identifying the best pick up location on any given street," they said. "Location is at the heart of the Uber experience, and we're asking riders to provide us with more information to achieve these goals."