People are both defending and criticizing Dua Lipa after she slammed United Airlines for allegedly not taking her sister's severe allergy to nuts seriously.
Lipa claimed she was traveling with her sister, 17-year-old Rina, when she told a flight attendant of her sister's allergy.
She said his response was: "we're not a nut free airline, so if she has an epi pen she might have to use that, as we can't not serve other passengers in your section nuts."
She followed up: "Is it just me or is that kinda mental???"
Many people agreed that United's response was unacceptable, and the airline should do more.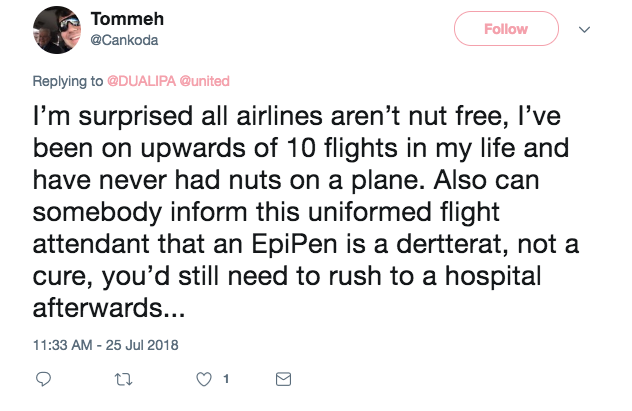 And other people with nut allergies said they've faced the same type of issues.
Even those without nut allergies said they felt that not serving nut products on planes is "common sense."
"It's just not worth it!"
However, some people criticized the star, saying she should have informed the airline ahead of time.

One person called her "self-entitled."

Some hoped that Lipa bringing awareness to the issue could inspire positive change.
In a statement, United Airlines said that "passenger safety is our top priority."
"We can't guarantee an allergen-free environment but we work to address allergy concerns onboard ... we don't serve pre-packaged peanuts," a spokesperson said.