This is Sarah, a 17-year-old high school senior from Colorado.
Sarah told BuzzFeed News she just got her first paycheck, and decided to spend some of it on an amazing T-Rex costume.
"I thought it was awesome and hilarious," she said.
The costume was a perfect fit for her school's homecoming spirit day, and she decided to wear it to the assembly.
At the assembly, Sarah and her boyfriend were nominated for homecoming court. When she was thinking what to wear for the occasion, she had a brilliant idea.
"After I got home, I was trying to figure out what to wear to the game because they had said for court nominees to dress semi-formal," she said. "So my mom and I thought it would be hilarious to put a tutu on it and make the costume semi-formal."
The costume looked seriously hilarious and even better? She won.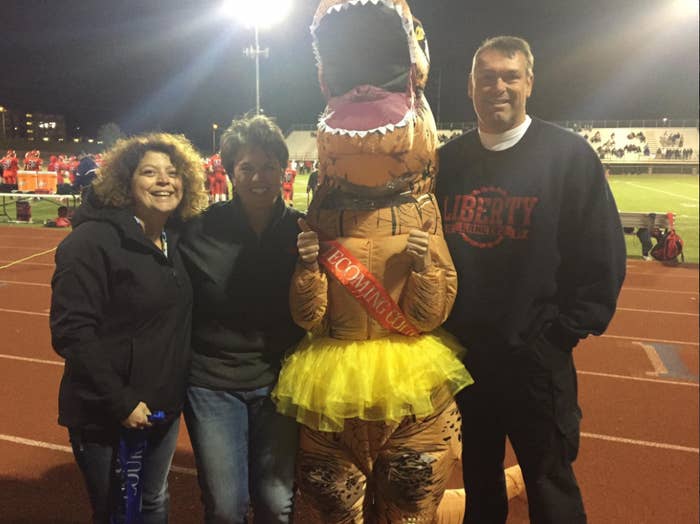 Her boyfriend was also crowned homecoming king. Sarah said she thought the whole thing was amazing and hilarious.
"When we won it just felt amazing, and I was laughing so hard and it was just so much fun," she said.
She later posted her costume on Twitter, where everyone thought it was an awesome idea.
They encouraged her to try to do even more in her costume.
Sarah added that she later got dressed up for the actual dance. But she still she can't believe all the attention her costume got.
"The way this has spread so quickly is really cool, but also a little scary," she said. "But mostly cool."