Brooke Bogin is a 22-year-old senior at James Madison University and comes from a very close family that loves to have fun.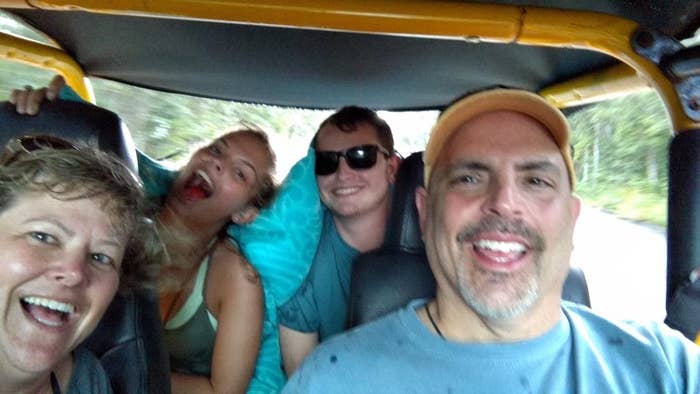 "My parents and I are really close and have been my entire life," she told BuzzFeed News.
"When we're all together we are usually trying to do something fun and it's always entertaining," she said.
This fun-loving spirit came out this year at a Halloween party, when Bogin's pun-loving dad Scott came up with maybe the best couple's costume ever for a party. Do you get it?
Bogin's dad is a dill pickle, while her mom, Karen, is a female deer. Together they were a dill-doe!
Bogin said her dad told her he was trying to think of a funny costume, and couldn't stop laughing when he came up with it.
She said it was a costume only her dad "could come up with," and was the first time her parents had dressed up for the holiday in awhile.
"This is one of the first years they are 'empty nesters' so they have a lot more time to devote to fun things like this party they went to," she said. "I always joke that they have more of a social life than I do!"
Bogin decided to share the photo on Twitter because she was proud of her awesome parents.
"I thought the idea was hilarious and I was really proud that they are my parents and doing something so witty, so I just wanted to share it with my friends," she said. "I've always tweeted funny things that happen with my family and my parents always joke, 'You've got to tweet that' when something funny happens."
Her tweet has since been retweeted thousands of times, with people praising the costume as totally genius.
And everyone wanted to try it out for themselves.
"I aspire to have a marriage like this," one person said.
Bogin said she had no idea people online would be so into the photo, and her parents are loving it.
"My dad said they should have invested stock in some pickle costumes," she said.