Cable companies have a long and well-documented history of treating their customers with a general disdain, but this one takes the cake.
A woman named Lisa Brown wrote to consumer advocate and journalist Chris Elliot this week for help after the name on her husband's Comcast account was changed from Ricardo Brown to "Asshole" Brown.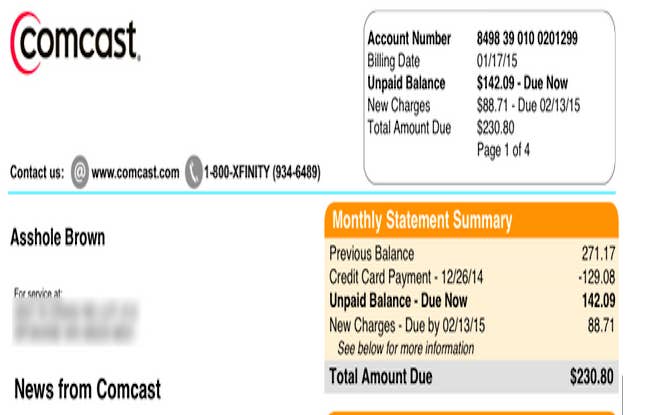 Brown, who lives in Washington, told Elliot that her family was looking for ways to cut costs after running into financial troubles. She said they decided to cancel the cable portion of their Comcast service, which comes with a $60 fee.
Brown told Elliot that when she called to cancel, she was transferred to a retention specialist who tried to convince her to instead sign a new two-year contract. The family later received a bill addressed to "Asshole."
"I was never rude," Brown told Elliot. "It could have been that person was upset because I didn't take the offer."
Comcast confirmed to BuzzFeed News that the incident occurred, and said they are investigating.
"We have spoken with our customer and apologized for this completely unacceptable and inappropriate name change," spokesman Steve Kipp said in a statement.
The company said in a blog post the employee has been fired, and they are using the incident to "reinforce with each employee just how important respect is to our culture."
After conversations with multiple Comcast representatives, Brown was given a full refund of her past two years of service and another two years free.
Elliott said Comcast's treatment of Brown is "unheard of."
"We know they're thinking it. But to put it on paper — that's very, very rare," he told BuzzFeed News.
Keep on with that great customer service, Comcast.