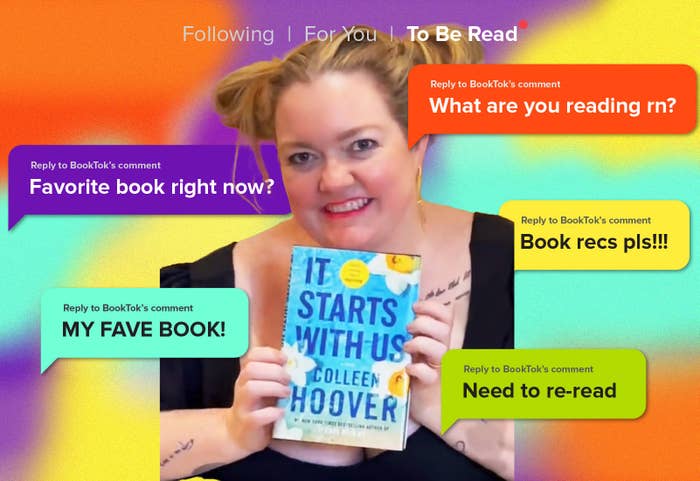 In March, a 20-year-old college student named Aliisha Keens posted a simple video on her TikTok account @beentherereadthat_. All she does is show the cover of a book, but the 10-second clip has now been viewed nearly 700,000 times and is one of the highest-performing videos she's ever posted.

The book? Reminders of Him by CoHo.
CoHo is fans' nickname for the beloved romance and thriller author Colleen Hoover. Hoover, a 42-year-old mom of three from Texas, has published more than 20 novels and novellas over the past decade, capturing the hearts of book bloggers, #bookstagram, and more recently, #BookTok.
Keens loved Reminders of Him, a romance novel about a young mom with a troubled past that came out in January. She also knew that if she posted about it, it would be #BookTok gold.
"Most of those viewers [on my TikTok] have read the book, know someone who has read the book or they want to read the book themselves," Keens, whose account has more than 11,000 followers, told me.
Online popularity has translated into explosive real-world success for Hoover. As of this writing, her books hold four of the top 15 spots on the New York Times bestseller list for combined print and e-book fiction, including No. 2 and No. 3. One of these books, 2016's It Ends With Us, has been on the list for 58 weeks, hit the No. 1 spot earlier this year, and has sold over 3 million copies, according to its publisher, Atria (the title also spent two weeks on the list in 2016 after its initial publication). According to Atria, Hoover's most popular books on TikTok have spent 151 weeks on the list combined, with no signs of dropping off, even though the most recent title currently in the top 15 was published four years ago, in 2018.
Hoover's dominance of the charts proves that #BookTok is not only a huge TikTok niche (the hashtag has been used on more than 60 billion videos) but also that the community of online book lovers can have a significant impact on sales. It also raised Hoover's cultural cachet. Although seven of her books were reviewed by trade publications like Kirkus Reviews upon release, major news outlets have taken notice recently as her popularity has grown.

Hoover's romance novels have always attracted devoted fans who relate deeply to her descriptions of tortured young love (some persuaded Atria to create a print version of one of her e-book titles with a meme campaign in 2014). Hoover's books are wildly emotional; fans often describe being flung from devastated to exhilarated to moved, all within one reading session. She writes with a flair for the dramatic and her characters have strong feelings that they don't shy away from expressing.
She's also known for dealing with serious issues in her work. It Ends With Us, arguably her most popular novel, is about a young woman attempting to break the cycle of domestic violence, abused by her husband after observing her father assaulting her mother as a child. (Hoover shared on TikTok that the book was inspired by her own mother's experiences and thanked BookTokers for helping the book sell so well that she could do nice things for her mom, including buying her a car.)
Sunny (who declined to provide her last name), a BookToker with 16,000 followers, first got into Hoover after reading It Ends With Us about a year and a half ago.
"It was such a powerful book that talked about the dark aspects of relationships and what it is like for the women to be in that situation, and how difficult it is to leave," she said.
When a book or author receives the stamp of approval from top BookTokers, they often race up the New York Times bestseller lists. Another notable author who has benefited from online support is Taylor Jenkins Reid, whose 2017 novel The Seven Husbands of Evelyn Hugo has spent 52 weeks on the chart after becoming a BookTok favorite. BookTok is large and diverse in its interests, but the books that tend to become the most popular among the group generally appeal to young women, with an emphasis on the romance and thriller genres. Other popular BookTok authors include romance novelists Emily Henry, Ali Hazelwood, Elena Armas, and fantasy author Sarah J. Maas.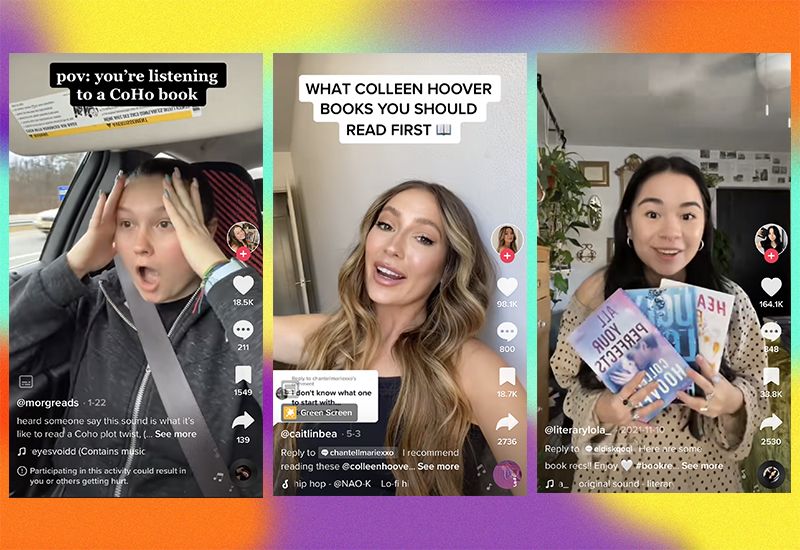 Authors who catch the attention of #BookTok can suddenly reach thousands of devoted readers who will add them to their #TBR (to be read) pile immediately. This community, made up primarily of young women, has real power in the industry, and they say the system and its effects are all organic.
"We trust each other's recommendations and opinions, meaning we have the power to really boost exposure on a book if enough people enjoy it and promote it," Keens said. "And Colleen has had book after book hit that BookTok popularity wave, making her name hold enough weight on its own."
It's true that no one is riding the #BookTok wave like Hoover. Videos featuring the hashtags #ColleenHoover, #ColleenHooverBooks, and #CoHo have nearly 2 billion views combined, and #BookTok videos featuring her work go massively viral on the platform.
Caitlin Bea, a 28-year-old lifestyle blogger, became a hardcore Hoover fan after reading Hoover's 2018 thriller Verity in 2020. "Her books are just so bingeable and full of deeper topics aside from just the romance, so you really feel something when you read her stories," she said.
Bea said she immediately enjoyed Hoover's writing style and story structure. "I started downloading more of her books to my Kindle and eventually decided to just read every single one of her books because I loved her writing style and stories so much," Bea told me. "All of a sudden I was reading her books in a day or less."
Soon, Bea started recommending her new favorite author to her friends. At the time, she was also starting to make content on the then-rapidly growing TikTok app. When she noticed that her books content did the best, she started to focus on that, bringing her enthusiasm for Hoover to that platform too. Her videos about #CoHo, she said, "definitely outperform most of my videos," and she has had at least two get more than a million views.
"I'm always blown away by the overwhelmingly positive response I get whenever I post videos about Colleen Hoover," she said. "I truly love her and love getting others into her books as well, so I think my excitement translates. I could just talk about her books forever."

Hoover is just the latest author to seize upon social media in book publishing, an industry with an old-school approach to marketing and publicity, and turn online fandom into real success.
For Hoover's romance publisher, Atria, this word-of-mouth explosion driven by young women on social media validates its decadelong belief in Hoover. It first signed her to a two-book deal, which included her self-published debut, in 2012. Ariele Fredman, the deputy director of publicity for the imprint, which has published 19 of Hoover's books, said that social media recommendations have led to many authors finding new readers in recent years. For example, she said, people often dismiss the impact of the Kardashians, but Hoover's books got a huge boost after two of the sisters posted the books on their stories.
Fredman was quick to point out that Hoover is not merely a lucky beneficiary of a random viral moment. She said all of the books Hoover had published with Atria made the New York Times bestseller list upon their release, and she has always drawn large crowds to her events.
That might have something to do with the fact that Hoover has been cultivating a relationship with fans online since the beginning.
When Hoover self-published her first book, a romance novel called Slammed, in 2012, she was already adept at promotion. In 2016, she started a Facebook group for her fans called Colleen Hoover's CoHorts, which has since swelled to more than 118,000 members. In the group, which has a strict "be nice" and "be respectful" policy, fans swap book recommendations, share photos they've taken of Hoover's book displays at various stores, and arrange to send each other CoHo memorabilia, like special editions of her books.
"Colleen has traditionally had all of these advocates, across social media, on Facebook, on Instagram — true romance readers who are CoHo evangelists," Fredman said.
Hoover is also good at social media, in a way that can't be taught.
Her TikTok account, for instance, is goofy, self-deprecating, and relatable. In one video, which has received 3.2 million views, she jokingly calls herself "overrated," adding "my publicist WiShES she had my login." She shares regular promotional content, like book covers and merch updates, but also glimpses of her personal life, like funny moments with her kids and mother, or posts about procrastinating while writing her next book.
Keens thinks that Hoover's social media presence has added to her popularity on BookTok because of how much she engages with the community through her posts and comments to readers. "Her content is funny while still promoting her work, and her personality online makes people love her alongside her books," Keens said.
Besides the active and engaged Facebook group, Hoover has 1.3 million followers on Instagram and more than 870,000 followers on TikTok, making her an influencer in her own right. According to Fredman, Hoover's social accounts are all her.
"Authors reach out to her, and they're like, 'What can I do to have your level of success, who should be posting for me?'" Fredman said. "She just posts what's interesting to her."

Like Keens and Bea, Sunny has found that videos featuring Hoover tend to do better than her other content. "Most times, even if my video … contains only one Colleen book, it does a lot better than a video that does not have a single one," she said.
Engaging with a popular topic on TikTok is a common strategy for boosting engagement. But these BookTokers say they are not posting about CoHo just to capitalize on Hoover's virality; they genuinely love her work, and they love supporting her. When Hoover recently posted an excerpt from her forthcoming It Ends With Us prequel It Starts With Us on Instagram, fans blew up her page with more than 900 comments, most saying that its October release date is too far away.
"I just wanna apologize in advance for the person I will become on October 18th," wrote one.
For Bea, being a part of a community that has brightened the spotlight on someone she admires has been incredibly rewarding.
"I walk into a bookstore, and there's a whole table dedicated to [Hoover's] books and BookTok recs," she said. "It's really fun to think we had a part in that, and I just can't wait to continue reading her books for years to come. Now I'm manifesting a follow or comment from Colleen, and my life would be complete." ●