Sarah-Louise Jordan is a 28-year-old freelance writer from England. A few months ago, she opened her "message request" folder on Facebook and found an unsolicited dick pic from a man who she had never met.
Jordan told BuzzFeed News the message with the photo "just said 'hi.'"
"I think an awful lot of women experience that on the internet," she said. "Either from total strangers, or from men they barely know. It's strange."
However, Jordan thought of a pretty brilliant response. She sent the man back a very eloquent "rejection" to his "penis portrait" submission.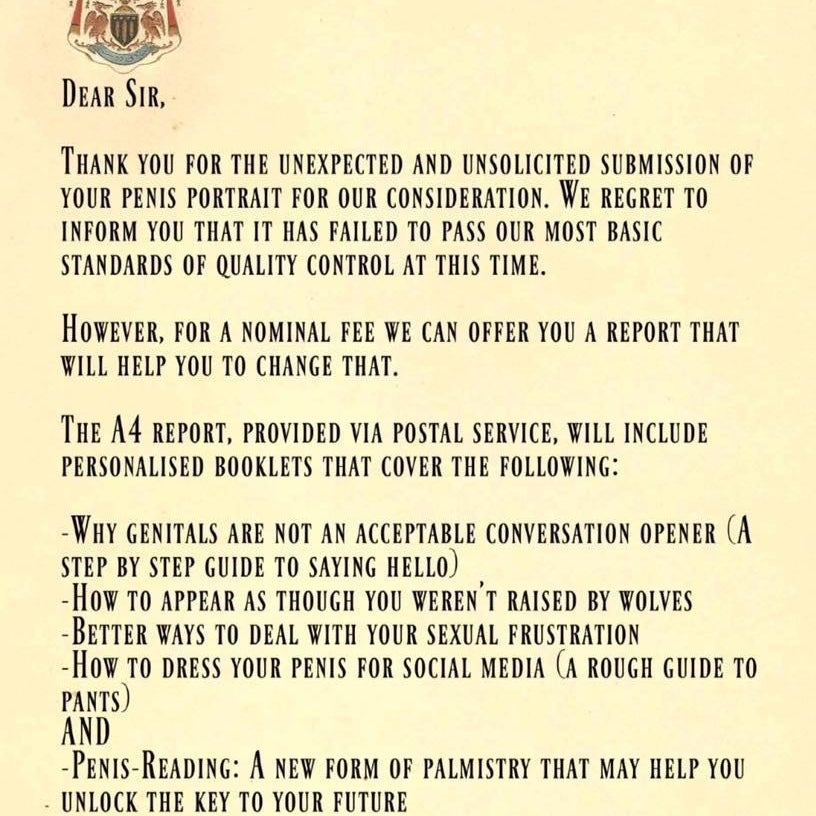 It read:
Dear Sir,

Thank you for the unexpected and unsolicited submission of your penis portrait for our consideration. We regret to inform you that it has failed to pass our most basic standards of quality control at this time. However, for a nominal fee we can offer you a report that will help you change that.

The A4 report, provided via postal service, will include a personalised booklet that cover the following: why genitals are not an acceptable conversation opener (a step-by-step guide to saying hello); how to appear as though you weren't raised by wolves; better ways to deal with your sexual frustration; How to dress your penis for social media (a rough guide to pants) AND penis reading: a new form of palmistry that may help you unlock the key to your future.

We will also answer questions you might have such as: Do I have too much time on my hands? And Why did my penis fail basic standards of quality control? (Note: The number one reason for this occurring is that it is attached to a bigger dick than itself.) Finally, as a gesture of goodwill we intend to offer two free samples with all of your future penis portrait submissions: An inventive critique of your pride & joy AND A surprise consultation with your closest available family member about your portfolio.

We trust this exciting offer is acceptable and look forward to working with you in the near future.

Yours faithfully
Jordan said she came up with the idea for the response and it "made her smile."
"I love to write and it seemed like the most English possible response as well," she said. "The comedian Rich Hall once said, 'You know an English person is angry when they write a letter.'"
She designed the fancy-looking letter using an app called "Write Behind."
"It lets you type in any text you want onto a background," she said. "I thought it ought to be on a fancy background to go with the style of letter I wanted to write, so I googled 'fancy paper' and found the parchment-type paper I then used."
Jordan shared the photos on her Facebook page in June, but they went viral this week after they were posted by a comedy club. The letter also made its way to Twitter, where it was retweeted thousands of times.
Everyone had a ton of praise for Jordan's genius.
"Hands down the greatest rejection letter I've ever read," one person wrote.
Others saved the letter to use themselves.
Or thought of a friend who could use it.
Jordan said her letter going viral has been "a little overwhelming, but lovely."
"People are very kind, and my friends have made it delightful by being so enthusiastic and supportive and excellent, which they always are," she said.
Jordan added, however, that she doesn't think the recipient of the letter was as big of a fan.
"No, he never [responded]," she said.