You also know her as a legend of Twitter, both of tweeting on her own and destroying people who come for her.
She also likes to tweet about politics, and she has opinions!
So, when the Trump administration decided to "rescind" the DACA program on Tuesday, Cher unleashed her thoughts.
The icon also declared that she would personally be welcoming DREAMers into her own home for protection.
One woman (name blurred to protect the dragged) decided to challenge Cher on her promise. It did not go well.
Cher not only noticed the woman's response, but responded with FIRE. "Then keep your eyes open bitch."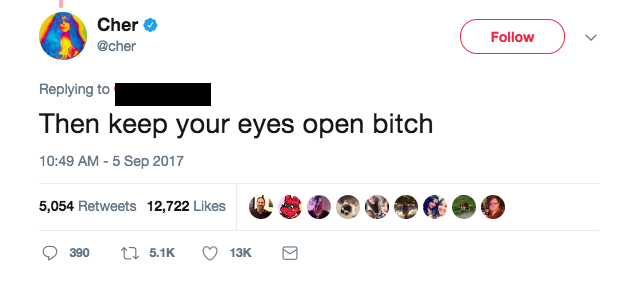 People on Twitter were, frankly, shook.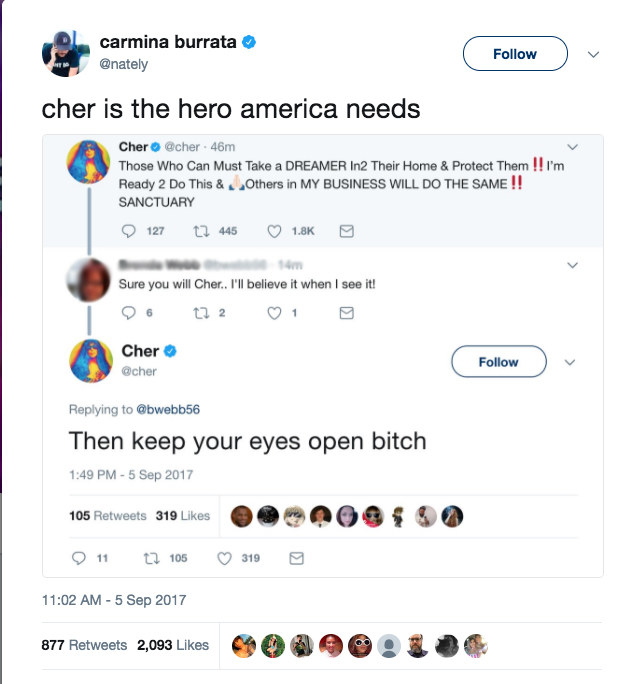 They were singed by the burn.
And many applauded Cher for her stance.
She went there!
"Cher did NOT come to play with you hoes."
They began to express their appreciation for the troll in song.
"Do you believe that they just took that L?"
Others wondered if the person could ever come back from that.
The woman has since deleted the tweet and made her account private. But she did have one final missive.