Dylann Storm Roof, 21, was charged in the mass shooting at a Charleston, South Carolina, church that killed nine people.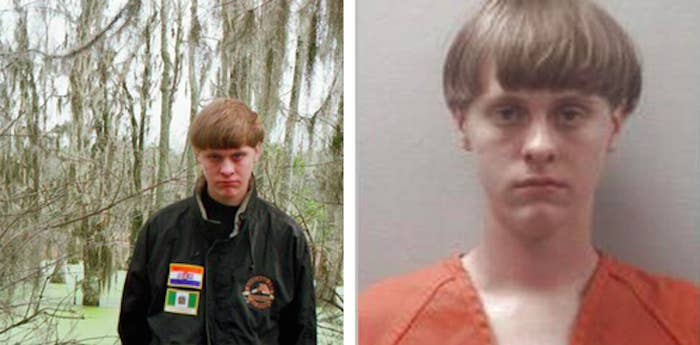 In this photo on Roof's Facebook page, he is seen wearing a jacket with flag patches.
The flag patches on Roof's jacket appear to represent two white-rule-era African states. The top flag represents apartheid-era South Africa, which held its first free elections in 1994.
The bottom flag represents Rhodesia, a former British colony which was under white rule until 1979, after which it became Zimbabwe.
Roof is from the city of Lexington, which is about two hours from Charleston, according to authorities.
According to Sylvia Johnson, a relative of one of the victims, Roof spoke to the church members before opening fire.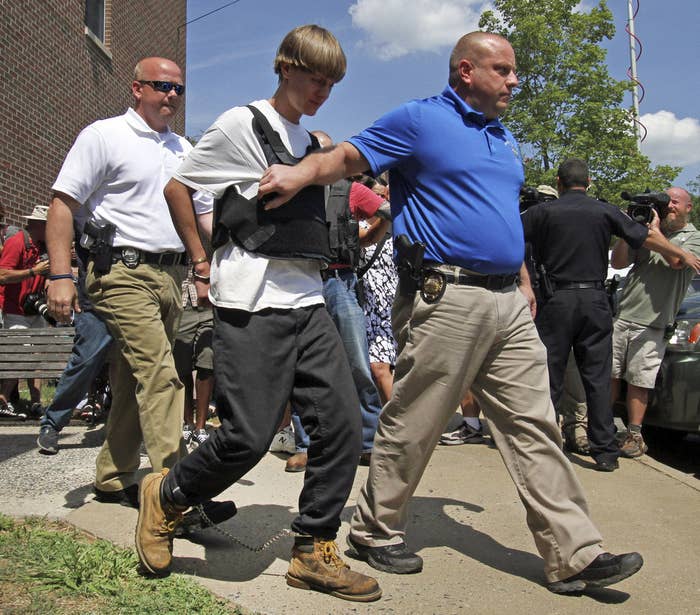 Roof allegedly sat at the Bible study at the church for an hour before opening fire.
Initially Roof listened to the others before he began disagreeing with them about scripture, Kristen Washington, a family member of some of the survivors and victims, told theNew York Times.
Nearly an hour after he sat down at the study session, Roof pulled out a gun. Washington said that her cousin, 26-year-old Tywanza Sanders, told Roof, "You don't have to do this." Roof responded, "Yes. You are raping our woman and taking over the country."
When Roof aimed his gun at Sanders' 87-year-old aunt, Susie Jackson, Sanders asked him to point the gun at him instead, Washington recounted. Roof then said, "It doesn't matter, I'm going to shoot all of you."
Sanders stood between Roof and his aunt to save her, and the first bullet struck him. He was the youngest victim of the shooting, and his aunt, the oldest.
Roof drove a black Hyundai, and wore a gray sweatshirt and jeans the night of the shootings, officials said.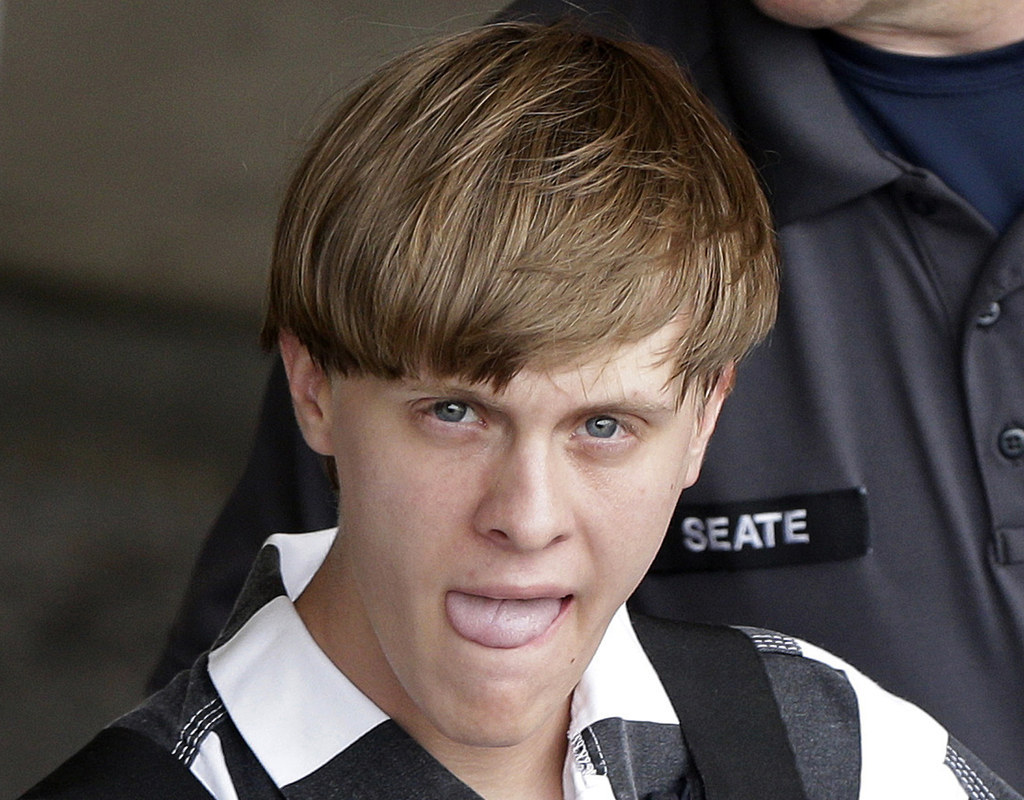 A few weeks before the shooting, Roof complained to a friend that "blacks were taking over the world" and "someone needed to do something about it for the white race," the Associated Press reported.
Joey Meek, who went to the same school as Roof, told the AP that he reconnected with Roof a few weeks ago and both got drunk on vodka. Meek said that Roof told him he had used his birthday money from his parents to buy a .45-caliber Glock pistol and that he had "a plan."
Meek told the New York Daily News that Roof "wanted to do something big like the Trayvon Martin case" which he was upset about.
"He said he was planning for about six months to do something crazy," Meek told the Daily News. "He wanted it to be segregated. He wanted it to be white with the white, black with the black. All the races segregated."
Meek, a resident of Lexington, recognized Roof in the surveillance footage from the gray sweatshirt he had on when the two friends played Xbox video games in Meek's home the morning of the attack.
Meek said he was scared that Roof would do something silly when he was drunk, so he took Roof's gun from his car and kept it in his house for a day.
Roof's uncle, Carson Cowles, told Reuters that Roof's father had gifted him a .45 caliber pistol for his 21st birthday, which made him happy. Cowles, who said he spoke to Roof after his birthday, told the Daily News: "He (Roof) said, 'I got to go, I'm outside shooting target practice right now.' He sounded happy about it," Cowles added.
Roof's former roommate, Dalton Taylor, also said this Roof's parents had bought him a gun. Taylore told ABC News that he saw Roof the week before the attack.
"He was big into segregation and other stuff," Tyler said. "He said he wanted to start a civil war. He said he was going to do something like that and then kill himself."
He also said Roof had an "on and off" relationship with his parents, Amy and Ben Roof.
It is unclear whether the gun Roof used in the shooting was one he bought himself or was gifted to him by his father.
It is illegal to give guns to felons or those with felony indictments, but South Carolina doesn't require background checks for private gun transactions, the Washington Post reported.
Court records show that Roof has been arrested at least two times in the last few months.
On March 2, he was picked up in Lexington County and booked on drug possession charges, and then on April 26 he was arrested in Richland County for trespassing, according to court records.
Ken Mathews, a lawyer representing Roof in his ongoing drug-possession case, told Mother Jones he was "very shocked" to hear Roof was the suspect.
"The dealings I had with him, he was just a normal kid." He added he saw "nothing that would indicate that [Roof] would take this type of action."
Meek told the Associated Press that Roof had recently made surprising, racist comments.
As the AP reported:
Meek says that Roof's racial comments came completely out of the blue and that his friend had been nothing like that before he moved away.
Meek says he could tell something was troubling his friend recently, but he wasn't able to find out what was bothering him before the shooting.
The local police have called the shooting a hate crime. Mathews says he has seen no signs that Roof harbored any racial animus: "I had no inkling of anything like that in the dealings I had with him."
Mathews has known the Roof family for years, dating back to a custody dispute between Dylann's father and mother over visitation rights concerning Dylann. Mathews says he spoke to Dylann's father this morning, and "it's very, very difficult."
This story has been updated to remove an anecdote from one of Roof's Facebook friends who claimed to BuzzFeed News she met him at a party in Lexington. A member of the 4chan community claimed, after publication, that the information in the anecdote was false. BuzzFeed News has re-contacted the source of the information.