"Star Wars" Actress Carrie Fisher Is Now In Stable Condition
Fisher was reportedly traveling from London to Los Angeles when she went into cardiac arrest. Hours later, her brother said she had been stabilized.
Star Wars actress Carrie Fisher in now in a stable condition, her mother said Sunday, two days after she was rushed to the hospital after reportedly suffering a heart attack on a flight to Los Angeles.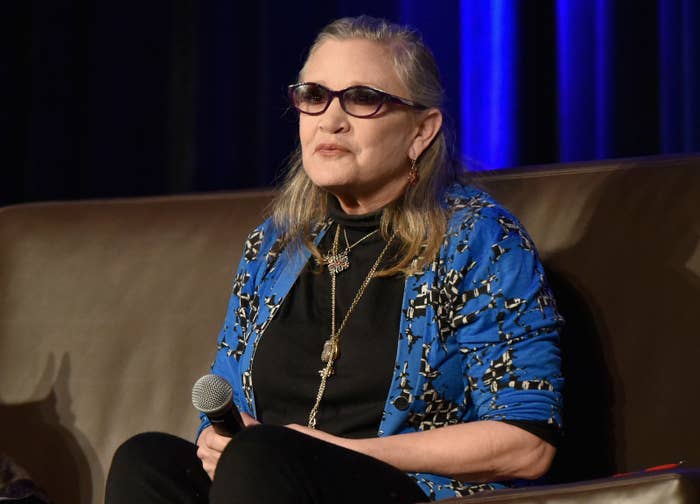 Fisher, 60, was traveling from London to Los Angeles when she suffered the medical episode, according to TMZ.
The flight was about 15 minutes from landing at the time, the website reported.
Flight attendants called out for assistance, and an EMT rushed to help. She was taken to a local hospital when the plane landed, and there was no word on her condition.
A spokesman for United Airlines confirmed to BuzzFeed News that a passenger did have a heart attack, but didn't identify the passenger.
"Medical personnel met United flight 935 from London to Los Angeles upon arrival today after the crew reported that a passenger was unresponsive," he said. "Our thoughts are with our customer at this time and any requests for additional information should be directed to local authorities."
The Los Angeles Fire Department said that paramedics provided "Advanced Life Support and aggressively treated" the patient while in transit to a local hospital.
Hours later, Fisher's brother told the Associated Press that she was "out of emergency" and stabilized, although he declined to discuss what happened.
He also told ABC News that she was being treated in an intensive care unit.
"She's a real survivor and always has been and I would expect the best from this," he told the network.
Debbie Reynolds, Fisher's mother, said her daughter was in "stable condition" in a Facebook post on Sunday.
A woman named Anna Akana wrote on Twitter she was sitting near Fisher and saw her "stop breathing."
She said Fisher was not breathing for "10 minutes or so."
"Hope she's gonna be OK," she wrote.
Another passenger, Brad Gage, said he was sitting next to Akana and in front of Fisher when the incident occurred.
He said Fisher was "taken off the plane by EMTs."
"I'm in complete shock," he wrote, adding, "I don't know what happened. Not really sure what to do right now but I hope she is OK. I hope she is OK."
In audio recordings released Friday, the pilot can be heard coordinating with the control tower for an "unresponsive passenger."
"We have some passengers, nurses, assisting the passenger," the pilot says. "We have an unresponsive passenger. They're working on her right now."
As the news spread, many fans began to share messages of support for Fisher, including William Shatner.
"I ask everyone to stop for a moment and send special thoughts to @carrieffisher," he wrote.
BuzzFeed News has contacted reps for Fisher, the LAX police department, and United for comment.