The Honest Company, co-founded by actress Jessica Alba, is an organization that seeks to provide customers with organic and safe wellness products that both adults and kids can use.
The company, which was valued at $1 billion last year, sells a variety of household goods with the promise of ensuring they "empower people to live a healthy life."
But the company has recently come under fire after many parents said the company's SPF 30 sunscreen doesn't work.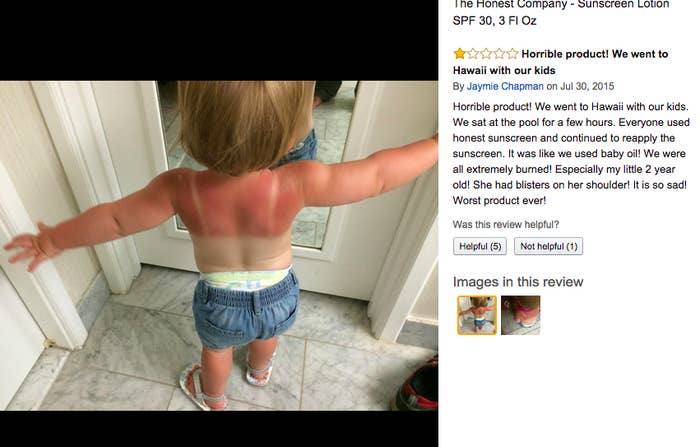 The sunscreen currently has 2.9 stars on Amazon, where parents are sharing photos of their very red kids.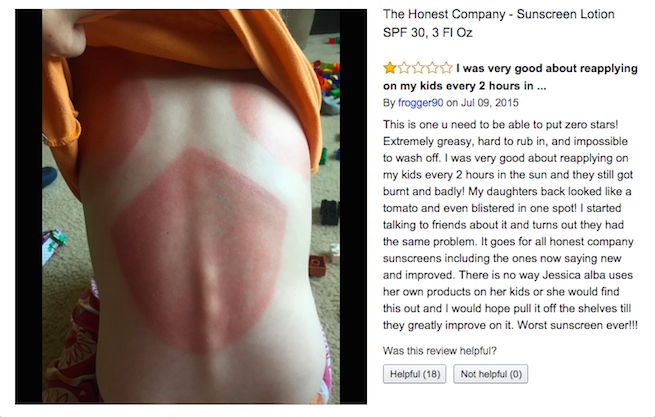 Some also said they have used the sunscreen on themselves, with painful results.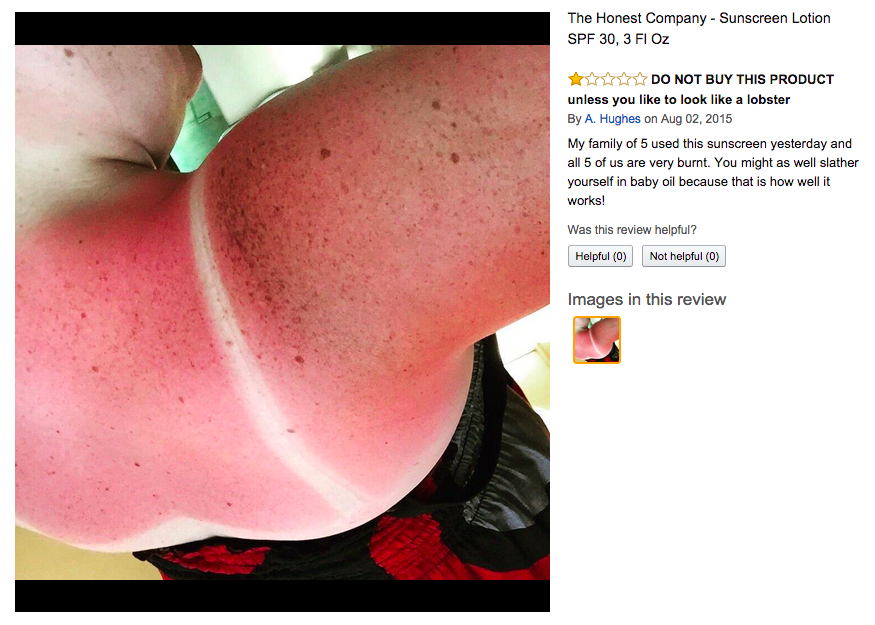 People are also complaining about the sunscreen on social media, saying they are getting burned after just one hour outside.
"Don't buy @Honest sunscreen unless u want to look like this. Second time I've tried this stuff and got fried," this user wrote.
In addition to causing painful burns, customers said the sunscreen also left a white residue on their skin.
The controversy began to gain traction after a post by Illinois mom Gretta Stabler was picked up by NBC Chicago. Stabler told the station she reapplied the sunscreen three times on her daughter Maggie, but her child still was burned.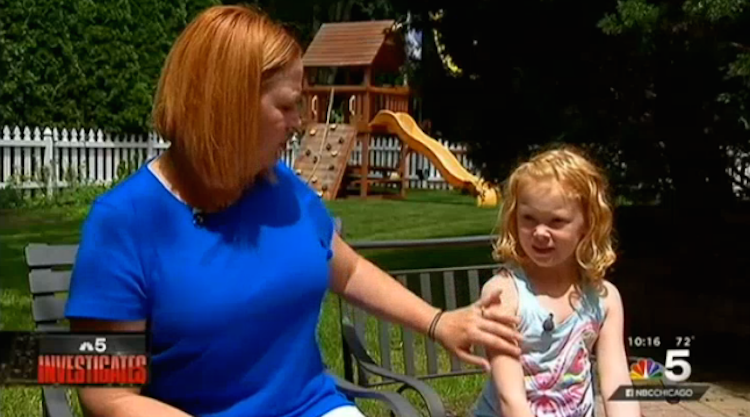 In a statement to BuzzFeed News, the Honest Company said that the complaints represent a small fraction of their sunscreen customers:
The Honest Company is committed to providing safe and effective products, and we take all consumer feedback very seriously. Our Sunscreen Lotion was tested, by an independent 3rd party, against the protocols prescribed by the U.S. Food & Drug Administration's (FDA) monograph for over-the-counter sunscreen products. The results showed that our product is effective and safe for use as an 80 minute water-resistant (FDA's highest rating), SPF 30 sunscreen lotion in accordance with FDA regulations when used as directed (Shake Well. Apply liberally and evenly 15 minutes before sun exposure. Reapply after 80 minutes of swimming or sweating, immediately after towel drying and at least every 2 hours). The number of complaints received on our own website about our Sunscreen Lotion constitute less than one half of one percent of all units actually sold at honest.com. We stand behind the safety and efficacy of this product.
However, some customers defended the company, saying they haven't had any problems with the lotion.
Alba and her Honest Company co-founder Christopher Gavigan posted a blog to their company's website on Monday in defense of their sunscreen.
They said that they use the sunscreen on their own children, and it "pains us to hear that anyone has had a negative experience."
They added that the sunscreen has met what they called its "highest standards" for a product.
"We've gone through extensive third-party testing in accordance with government regulations and our sunscreen lotion passed all SPF 30 testing requirements," they said. "It also received the best score possible from the Environmental Working Group (EWG). We care about taking every precaution possible to ensure that your product experience will keep you healthy and happy."
Gretta Stabler lives in Illinois. A previous version of this article misstated where she lived.