A rare Mandarin duck has appeared in a pond in New York City's Central Park and birders and residents are delighted.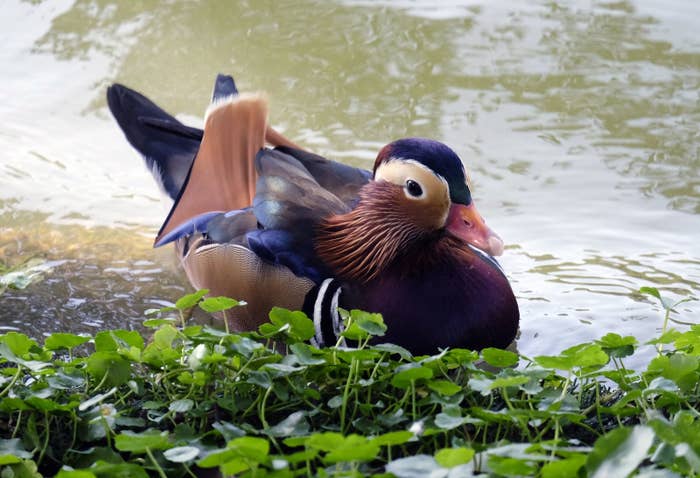 According to Gothamist, the duck first appeared in October. Since then it has stayed put, and seems to like being a New Yorker.
It's a mystery how the duck ended up in NYC, because the bird is rarely seen in North America, and does not migrate anywhere near the city. It's actually native to East Asia, Dave Barrett of Manhattan Bird Alert told Gothamist.
The most likely way the bird ended up in Central Park is that it is someone's escaped pet, BuzzFeed News reporter and resident bird enthusiast Katie Notopoulos said on AM to DM.
Initially, the parks department planned on capturing the bird and bringing it to safety. However, ranger John McCoy told the Gothamist on Thursday the department changed its mind and has decided to let the bird be.
"The animal, from what we've seen and heard, is healthy. It's able to fly, it's able to feed, and it seems to be social with the other water fowl in the park," he said. "So, there's no risk of anything bad or negative happening, and the animal itself isn't hurt, from what we can see. So right now we're going to leave [it] alone."
He also said the bird most likely got into the park because it was a pet and its owner abandoned it. Pet ducks are illegal in the city.
The parks department shared a video on Thursday of our new friend enjoying his new home.
And New Yorkers have been flocking to see it.
He's the toast of the town!
This guy said he even skipped his lunch to see the bird IRL.
He's even inspired Halloween costumes!
WERK IT.
We stan a queen.
Other ducks could never.
In conclusion, New York now officially has some big duck energy.