The way locals tell it, Bear Creek, which runs alongside Kittredge Park in Kittredge, Colorado, is one of those places childhood dreams are made of.
Tall, majestic pine trees surround a babbling brook full of rocks perfect for skipping and cool water for playing. Children laugh, dogs bark, and parents watch happily. It's the kind of place that inspires what some millennial parents on social media call "core memories"; when your kid grows up and reflects on their happy childhood, they will think of this.
But one day in spring 2022, a sign appeared next to the creek. "Private Property," it read. "Residents and Invited Guests Only." In June 2022, another joined it, reading, "No Trespassing."
Community members were aghast. What was going on? In Facebook groups and on the app Nextdoor, the questions began flying. Why was someone trying to keep locals off land that had been a safe haven for years? Who was this person, anyway?
Soon, rumors started circulating. "I started seeing things in the groups," Colleen Duke, a member of neighborhood groups, told me. "[People were] saying these terrible things."
They alleged that a woman from out of town had bought the home next to the creek during the pandemic and claimed that the land beside the creek was technically her property. And she wanted the locals, their kids, their dogs, and their coolers out of there.
"They started talking about her character and saying, She's just so rude and she'll yell at your children and she'll intimidate you with dogs," Duke said. "It just sounded like horror story after horror story."
Why was someone trying to keep locals off land that had been a safe haven for years? Who was this person, anyway?
Duke had her own happy memories of taking her two oldest children to the creek, where they could wade in the calm water and she could relax in the sun. She read theories about how the new landowner was probably a developer who just wanted to sell off the land, and she felt indignant. When she read they were "yelling at children," she began adding her own comments to the Facebook threads.
"I would say like, 'That's not right. Why is this happening?'" she recalled.
"First of all, this is a very special place to everyone … you're not sensitive to our memories," she said. "And you're treating us so terrible when we're your neighbors. It was like, You're not gonna just come in here and take something from us for your profit."
Pretty soon, the issue spread from the internet to real life. Angry parkgoers sneered and yelled outside the house where the Evil Lady lived. They complained at public and private forums. They demanded something be done.
And so, the local government did something. In July 2022, the Board of County Commissioners in Jefferson County, Colorado, filed a lawsuit against the homeowner, asserting that it retained rights to the land she claimed was hers and asking a judge to declare it was open to the public.
That's one side of this story. On the other side is the woman who owns the house and property, Taralyn Romero, and her fiancé, Michael Eymer. They say they have watched in horror as their attempts to assert Romero's rights have made them the targets of an unyielding social media hate campaign that has left them traumatized, and seriously concerned for their safety and that of Eymer's 11-year-old daughter.
Angry parkgoers sneered and yelled outside the house where the Evil Lady lived. They complained at public and private forums.
"The more that I tried to defend myself, the more aggressively I got attacked, and eventually, they just blocked me completely from these groups," Romero told me last month. "I was robbed of a chance to defend myself. And that's where things are going from online drama to real-life danger."
Much discourse has been devoted to the impact of online groupthink and how social media can whip groups into a frenzy. These dynamics also play out on a micro level. Kittredge has a population of fewer than 1,000 people and yet, fueled by Facebook rumors and social media infighting, a community dispute has become a toxic battle leading to real-world confrontations, a lawsuit, and death threats.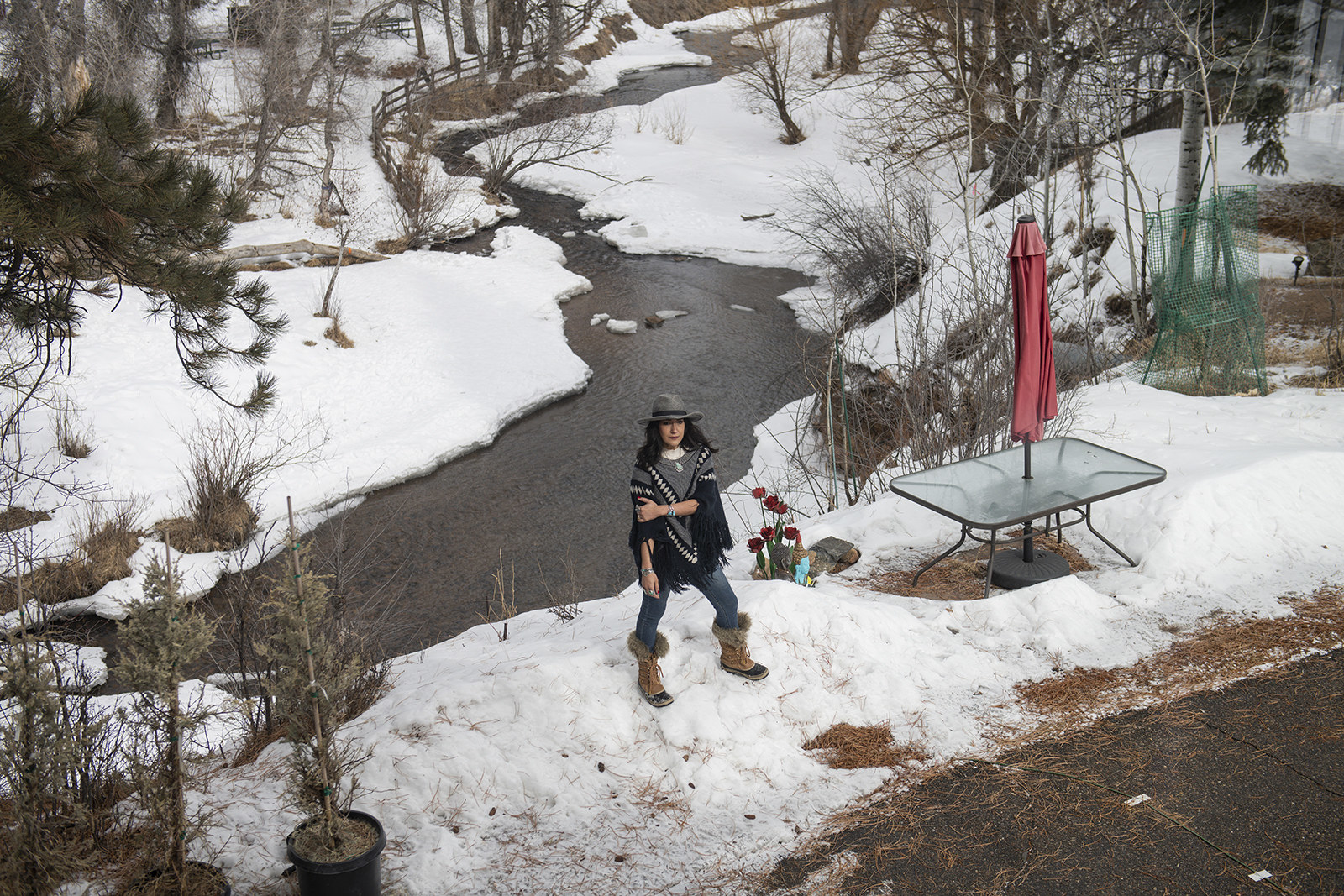 Taralyn Romero isn't a developer. She isn't some rich outsider. She's a native Coloradan who works in the healthcare industry. When she bought the disputed property in 2021, she said she just wanted a nice place to live, enjoy nature, and build a new life. She ended up in Kittredge in a way that is now almost clichéd: She got tired of living in a big city during the pandemic. Following a divorce, Romero had been living in a high-rise apartment in Denver. There, she met Eymer, and when COVID hit, the couple decided they wanted more space. They rented a house about 30 minutes outside of the city, and, when their lease came up in early 2021, decided to stay in the area.
Romero had wanted to purchase a property, and when they saw the house in Kittredge, near where they were living, they fell in love. It was large and rustic, and while it didn't have a ton of land, a creek ran through its backyard.
"[When] I found out I got the house, I was overjoyed," Romero said. "Couldn't believe my luck."
Although Romero bought the house on her own, she, Eymer, and his daughter, who the couple has custody of half of the time, moved into the house in March 2021, and for a while, everything was perfect.
"Then, when summer rolled around, I was like, Oh, there are people in my backyard," she said.
At first, Romero was confused. She knew her property was right next to Kittredge Park, a public space, and there was no fence, so it was understandable that people might accidentally wander onto her property. In the beginning, it was just a few people, mostly fishers.
"That quickly turned into 55 people on my property in my backyard accessing the creek from Kittredge Park, every single day of the week, no break whatsoever, for the entire day," she said.
Romero's house sits on Bear Creek, south of Kittredge Park. Jefferson County owns the land the park is on. For decades, the prior owners of Romero's property had allowed visitors to access Bear Creek by way of their property.
At first, Romero was curious about the influx of strangers. So she wandered down and asked them what they were doing. Many told her that this section of the creek had been a beloved community gathering spot for years.
"I was finding that people were driving 90 minutes one way, just to come to my backyard, because they had heard about it, and they wanted to come and see what the fuss was about," she said.
Romero says she didn't necessarily want to kick everyone out, but she was bothered by the trash left behind. So, she put lawn furniture out, to indicate that someone did live there. As the property owner, she was also worried about potential liability for any visitors.
"It's not a free-for-all," she said. "It's not a place to come and trash. It's a place to enjoy and to respect because I learned that prior owners had given them permission, and that meant a lot to them. And I was incredibly sympathetic to that."
Then, she became bothered by the digging. Children and pets were digging on her property, she said, and it was damaging the vegetation. No big deal, she thought, I'll put up a "No Digging" sign.
Most people — Romero said about 90% — were respectful of her boundaries. Some were rude. Then there was the real-life confrontation that started it all.
According to Romero, she had seen some children digging on her property and went down to ask them to abide by her sign. The children's grandmother, who was with them, grew upset. The exchange was tense, Romero said, but not overly so.
Then, Romero said, the woman turned to the internet.
"And that's where I lost the narrative," she said.
Romero began to read things about herself on Facebook and Nextdoor. Posts claimed she was screaming at people setting her dogs on them and cursing. In screenshots from private groups, which Romero shared with me, people said they were planning on tearing down the signs she had "vandalized our park with." They encouraged people to call the city to complain.
"The scary thing is people really love the drama — it's a small town, right?"
According to Romero, things spun out of control quickly.
"It started off in a private group … and it quickly escalated in the coming weeks and months, to other Facebook groups for the community," she said. "We're probably talking about an audience reach of maybe 26,000 people when you combine the different groups. The scary thing is people really love the drama — it's a small town, right? So what I was observing was that people were not only exaggerating encounters with me, but they were making up stories, just to be a part of the story."
But then Romero created her own social media army and fought back.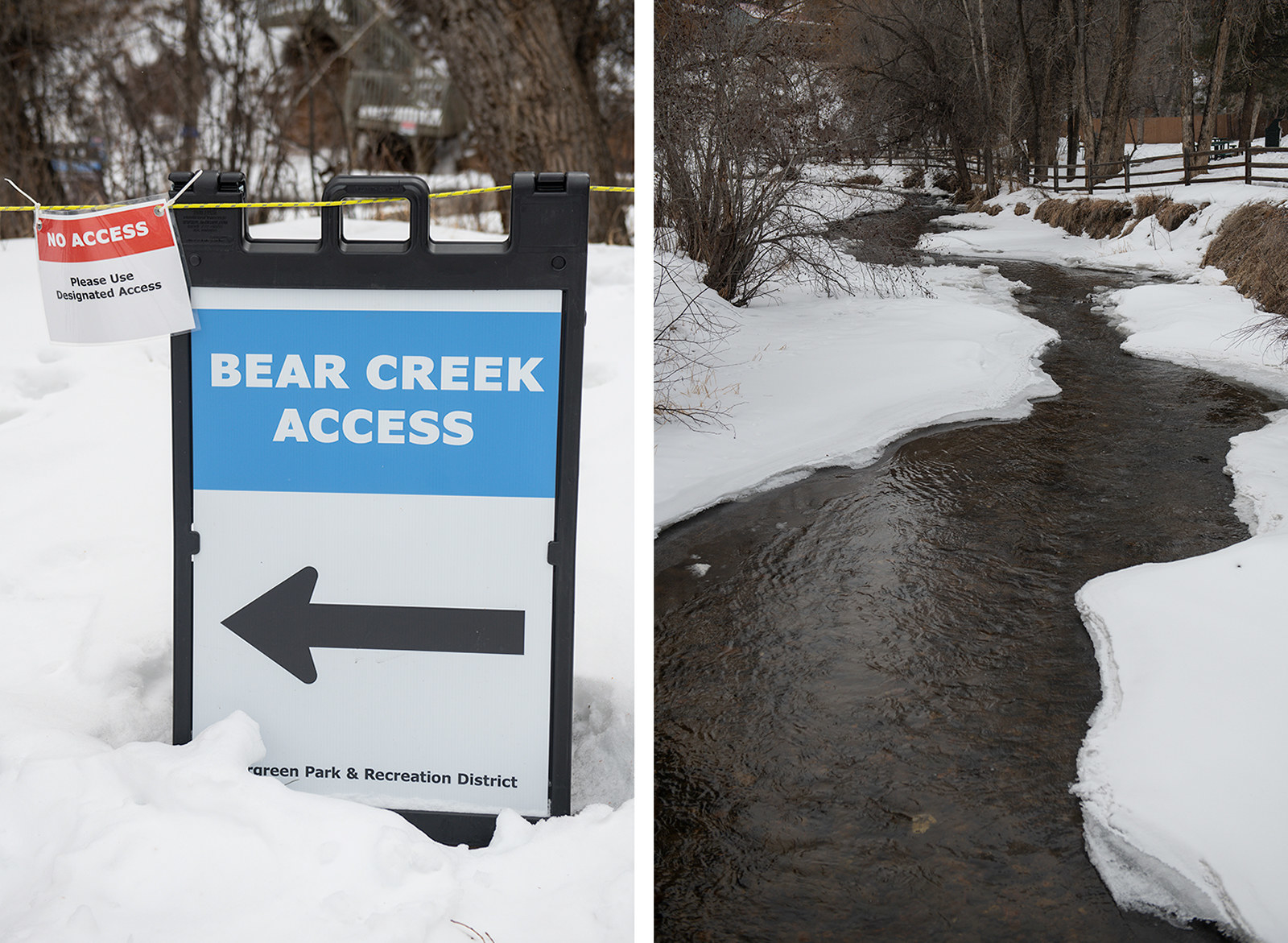 One of the private Facebook groups that got ugly is now moderated by a local man named Jimmy Dickson. He told me that discussion of the park in the group got "so negative and hateful," several admins eventually quit.
"Some of my neighbors that I really respected, I've seen a new side to them," Dickson told local news station 9News.com in October.
It got nasty IRL too. Romero filmed encounters with people calling her a "horrible person" and a "fucking psycho," and yelling, "suck my dick."
She and Eymer began to seriously wonder whether they were facing real threats here. Eymer said he has seen online death threats directed at himself and Romero, and that his 11-year-old has also been the target of "veiled threats of violence."
"We're legitimately in danger," he told me. "That's where this has gotten to."
In summer 2022, they'd had enough. Romero roped off the land with a perimeter wire, cutting off access to the public. She said she had been negotiating with the county to lease a portion of the land or in some way allow access while respecting her rights. Jeremy Fleming, a spokesperson for the county, confirmed that the county had engaged in discussions to resolve the issue but declined to elaborate on what those entailed.
Instead, she said, the Board of County Commissioners in Jefferson County sued her for access to the land in July 2022.
In the lawsuit, the county asked a judge to grant them rights to the land based on, in part, adverse possession — meaning that because the land has been treated as an open space for so long, it should be granted to them, and therefore to the public. It asserts that the creek should be the boundary between the public land and Romero's land, based on a 1986 deed the county was granted when it created the park.
"Bear Creek has slowly meandered south from its course over time and lies south of where it was when the legal descriptions were originally created," the lawsuit states. "Ms. Romero now claims ownership of the land south and north of Bear Creek and asserts that the County does not have any rights to the North Parcel property along the northern bank of Bear Creek."
Romero and her attorneys argue that where Bear Creek is now was never intended to be the property boundary. They say there is clear language in the deed that ties the boundary between her property and the park to a map, not the creek.
In the lawsuit, the county notes that the community has long enjoyed access to Romero's land, and is asking the judge to grant it rights to the land based on "deeds, the law of accretion and reliction, as well as the doctrines of adverse possession and acquiescence."
"The sandy beach area along the north side of Bear Creek featured prominently in community use of the Park," it states. "Members of the public and neighborhood adults specifically used that area for themselves and their families to access the creek. Families and neighbors recall with fondness children playing in the sand and the creek bed daily over the warmest months of the year."
The county also accuses the couple of acting with "aggression and intimidation towards Park visitors and children," which Romero and Eymer deny. (Romero called the allegation "frustrating and heartbreaking.") Fleming, the spokesperson for the county, declined to comment further for this article, citing ongoing litigation.
For Romero, the lawsuit was a low point. She said she felt she had been targeted by the community and the county.
So, in a moment of desperation, she turned to the internet.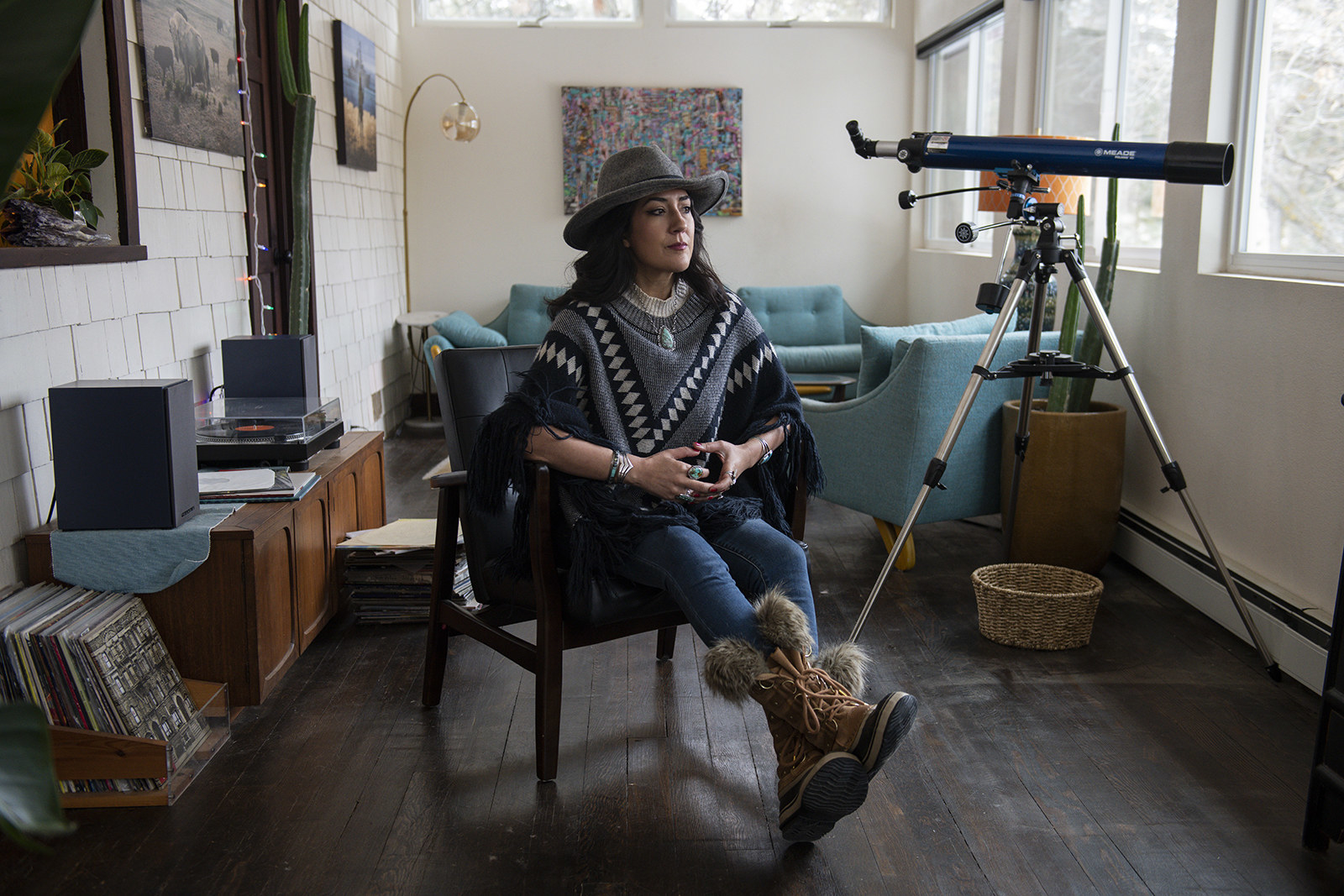 In one of her first TikTok videos, Romero superimposes herself onto a video she took of a group of people in her backyard and the creek. She's wearing a black cowboy-style hat, looking similar to the badass woman rancher character Beth Dutton on Yellowstone (unwittingly, she says). Her face is affixed with a grimace.
"True story. They told me it was 'no big deal'; to 'stop being so selfish,' and that its my fault for buying property next to a Public park," she wrote in the caption.
Romero said she started posting TikToks last August to "process her trauma." She made her handle "The Wicked Witch of the West," an attempt at making fun of what her neighbors thought of her. She viewed her videos as creative expression, a way to make light of the situation. But then people started watching — a lot of people.
4.4 million people have since viewed that video. Some people hated on her, but others agreed that the situation was unfair.
"Immediately, there was a dialogue," Romero said. "There was a fire around it."
So she kept posting. In video after video, she explains her perspective, sharing clips of what she calls rude encounters with visitors and acting out interactions she said she has had. She talks about paying her legal fees, includes photos and maps of her land, and does "storytimes."
"Fighting big government takes big money. Im thankful to be able to currently fight. Thank you besties for cheering me on," reads the text overlay in one video.
Pretty soon, people began to shower her with support. "Stand your ground, we support you!!" one commenter wrote. "You're the BEST! I hope when you win, they will cite your case when government tries to do this to others. Be BRAVE!!!" another said. Some even offered legal advice.
She made her handle "The Wicked Witch of the West," an attempt at making fun of what her neighbors thought of her.
Since starting her account last summer, Romero has received more than a million likes on her TikTok videos; she has nearly 120,000 followers. When she posted that the court date for her case against the county had been set, supporters promised in the comments to attend the trial virtually or even drive there from other parts of Colorado.
"For the first time ever, I'm able to speak without being shut down," she said.
Community members like Dickson say that now their online spaces have been flooded with hate from Romero's supporters.
"We've been getting a lot of social media trolls that have not only threatened the community but threatened moderators and individuals in the community," he told 9News.
Romero also has got herself into some hot water. After mentioning a community member by name in a few TikToks, the woman filed a restraining order request against her. Romero took down the offending videos, and the litigation has since been dismissed.
Disputes aside, Romero said her TikTok has helped change the hearts and minds of other Kittredge residents.
"I cannot tell you how many people have reached out to me… and said, 'You know what? I'm so sorry. I am one of the people who picked on you. I'm one of the people who spun stories about you. … And now that I'm getting to know you through your TikTok, I realized that I was wrong.' And that's been such a blessing."
One of them was Colleen Duke. When Duke read on social media that Romero had started a TikTok to explain her side of the story, she was intrigued. When Duke delved into Romero's videos, she felt ashamed.
"I did really begin to understand the bullying she went through, and I feel really empathetic towards that," Duke said. "Whether she was misunderstood or not, that was just terrible to see."
After seeing a video in which Romero asked if anyone in the community had changed their mind about her, Duke decided to reach out and apologize for what Romero had been through.
"That was a sacred spot for me," she said she told Romero of the creek. "But now that I know your side of things, I believe it's your land. And I'm really sorry for how we've treated you."
Duke's message filled Romero with an overwhelming sense of gratitude.
"It takes a big person to keep an open mind, and to give someone like me ... a second chance," she said.
Eymer said he's learned the internet can be a double-edged sword. The only way, to fight an online mob, in his opinion, is to respond in kind.
"You do need to use the same tools that the online mob is using against you to drive awareness and gain support," he said. "I believe that's the only way to do it. Otherwise, you're on an island. You're by yourself."
Since the creek drama tore Jimmy Dickson's group apart, things have calmed down on Facebook. He was chosen as an admin because of his "cooler head," and he and another admin have cleaned things up. The group he manages no longer allows any discussions about the park, and has deleted all of the nasty posts about Romero and the dispute.
"The page is intended to bring neighbors together and no matter how hard the previous admins tried it was accomplishing the opposite," he said, adding that now on the page, "you'd mostly just find posts about weather, bears, mountain lions, local businesses promoting their services, garage sales, and local events."
The online discourse has died down, but Romero still has her court fight with the city ahead of her, scheduled to take place on May 23 and 24. She said she's had to dip into her savings to afford the legal fees. At the end of the day, she said, she just wants to be able to enjoy her land in peace.
"My ideal outcome is for all of this to go away," she said. "On day one, [for the judge to say] this lawsuit should have never happened. This whole thing is either dismissed or it's ruled in favor of Ms. Romero. And goodbye." ●