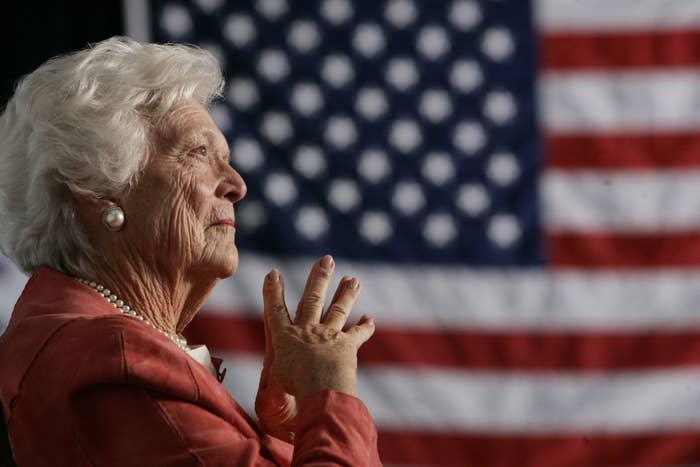 Barbara Bush, who served as first lady during the 1989–1993 presidency of her husband, George H.W. Bush, and was the matriarch of a Republican political dynasty that dominated conservative politics for decades, died Tuesday. She was 92.
Bush family spokesman Jim McGrath announced the death Tuesday on Twitter.
George H.W. Bush held Barbara's hand all day and was at her side as she died, according to Jean Becker, the former president's chief of staff.
"He of course is broken-hearted to lose his beloved Barbara, his wife of 73 years," Becker said.
On Sunday, the family announced that Bush was in failing health and would not be seeking further treatment after a series of hospitalizations.
"It will not surprise those who know her that Barbara Bush has been a rock in the face of her failing health," the family said in a statement at the time, "worrying not for herself — thanks to her abiding faith — but for others."
The mother of six was a staple in American politics as she supported the political career of her husband and her son President George W. Bush. Another son, John Ellis or "Jeb," served as the governor of Florida and was a candidate for the Republican presidential nomination in the 2016 election.
In a statement posted on Facebook, Jeb Bush said his mother was a "force of nature."
"I'm exceptionally privileged to be the son of George Bush and the exceptionally gracious, gregarious, fun, funny, loving, tough, smart, graceful woman who was the force of nature known as Barbara Bush," Jeb Bush wrote. "Thank you for your prayers, and we look forward to celebrating and honoring her life and contributions to our family and great nation in the coming days."
His brother George W. Bush also paid tribute, saying in a statement that his mother kept the family laughing until the end.
"Laura, Barbara, Jenna, and I are sad, but our souls are settled because we know hers was," he wrote. "Barbara Bush was a fabulous first lady and a woman unlike any other who brought levity, love, and literacy to millions. To us, she was so much more. Mom kept us on our toes and kept us laughing until the end."
Bush's dedication to improving literacy rates became a hallmark of her time as first lady. In 1989, she founded the Barbara Bush Foundation for Family Literacy, which runs literacy programs for low-income families.
President Trump highlighted her work on Twitter as one of her "greatest achievements."
But "Bar," as she was known, also committed herself to a number of other causes while she was in the White House, including homelessness and volunteerism.
"Today we can say that our country is a better and a stronger force for good in the world because, more and more, we are a people that serve," President Obama said in 2013. "And for that, we have to thank President Bush, and his better half, Barbara, who is just as committed as her husband to service, and has dedicated her life to it as well."
On Tuesday, Obama said in a statement that Barbara lived her life "as a testament to the fact that public service is an important and noble calling."
Bill Clinton cited her "grit & grace, brains & beauty" in living an "honest, vibrant, full life."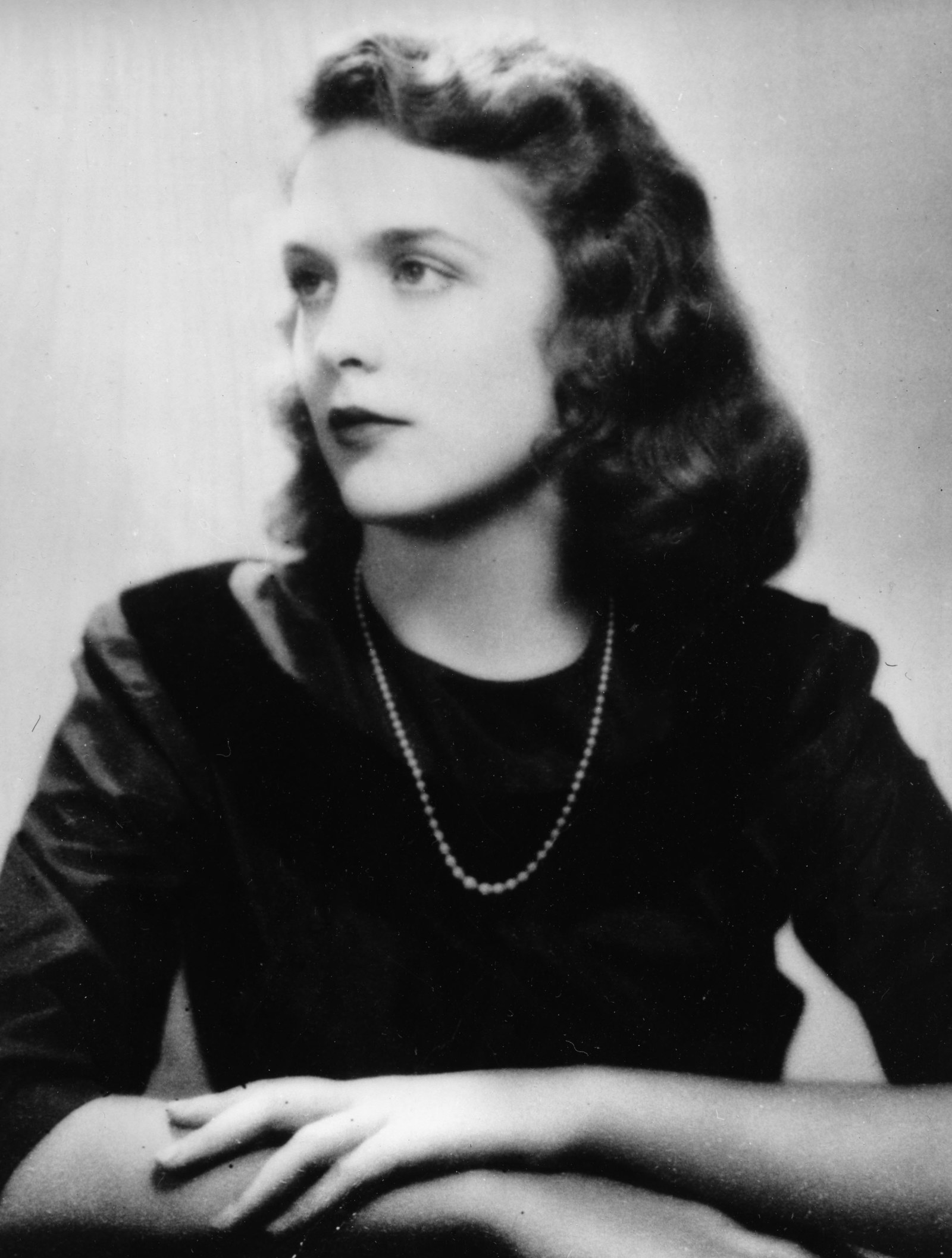 Bush was born Barbara Pierce in Rye, New York, in 1925, as the third of four children, according to the National First Ladies' Library. She was the granddaughter of an Ohio Supreme Court justice and the daughter of a magazine publisher who was a distant relative of Franklin Pierce, the 14th US president.
The future Mrs. Bush had an early love of reading, a passion she would later pursue through her foundation. She also was athletic, enjoying swimming and biking.
She met her future husband when she was 16 at a dance during her Christmas vacation from Ashley Hall, a boarding school for girls in Charleston, South Carolina.
The pair got engaged a year and a half later, and the future president headed off to fight in World War II. She headed to Smith College but dropped out when George returned from the war. They married on Jan. 6, 1945, in Rye.
Following President Bush's time at Yale University, the couple headed to Odessa, Texas, to work in the oil industry.
Barbara and George Bush had six children: George Walker Bush, Pauline Robinson "Robin" Bush, John Ellis "Jeb" Bush, Neil Mallon Bush, Marvin Pierce Bush, and Dorothy "Doro" Bush Koch.
Their daughter Robin died at age 3 in 1953 of leukemia. Bush told her granddaughter Jenna Bush Hager in a 2012 Today show interview that her young daughter never left her heart.
"Robin to me is a joy. She's like an angel to me, and she's not a sadness or a sorrow," she said.
While living in Houston, George H.W. Bush began getting involved in politics.
He was elected to the US House of Representatives in 1966 but lost a run for Senate in 1970. He was then appointed UN ambassador by President Richard Nixon and the director of the CIA by President Gerald Ford in 1977.
After mounting an unsuccessful bid for the Republican nomination in the 1980 election, Ronald Reagan selected Bush as his running mate.
During her husband's two terms as vice president, Barbara Bush championed literacy and was seen as an asset to her husband's popularity.
"Her friendly, forthright manner won her high marks from the voters and the press," her White House biography proclaims.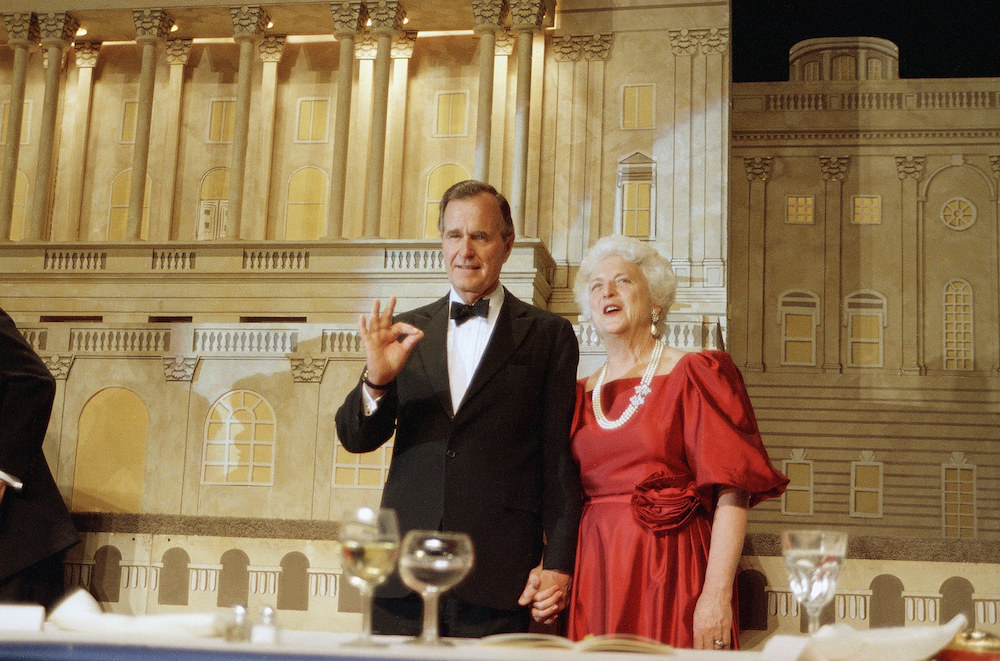 After Reagan endorsed George H.W. Bush as his successor in the 1988 election, Barbara became the first spouse of a nominee to ever address the Republican National Convention, according to the National First Ladies' Library, using her speech to tout her husband as a family man.
George H.W. Bush won the election and his wife again focused on literacy as her main cause during her tenure as first lady.
"The American dream is about equal opportunity for everyone who works hard. If we don't give everyone the ability to simply read and write, then we aren't giving everyone an equal chance to succeed," she once said.
Bush served one term as first lady. Her husband lost the 1992 presidential election to Bill Clinton.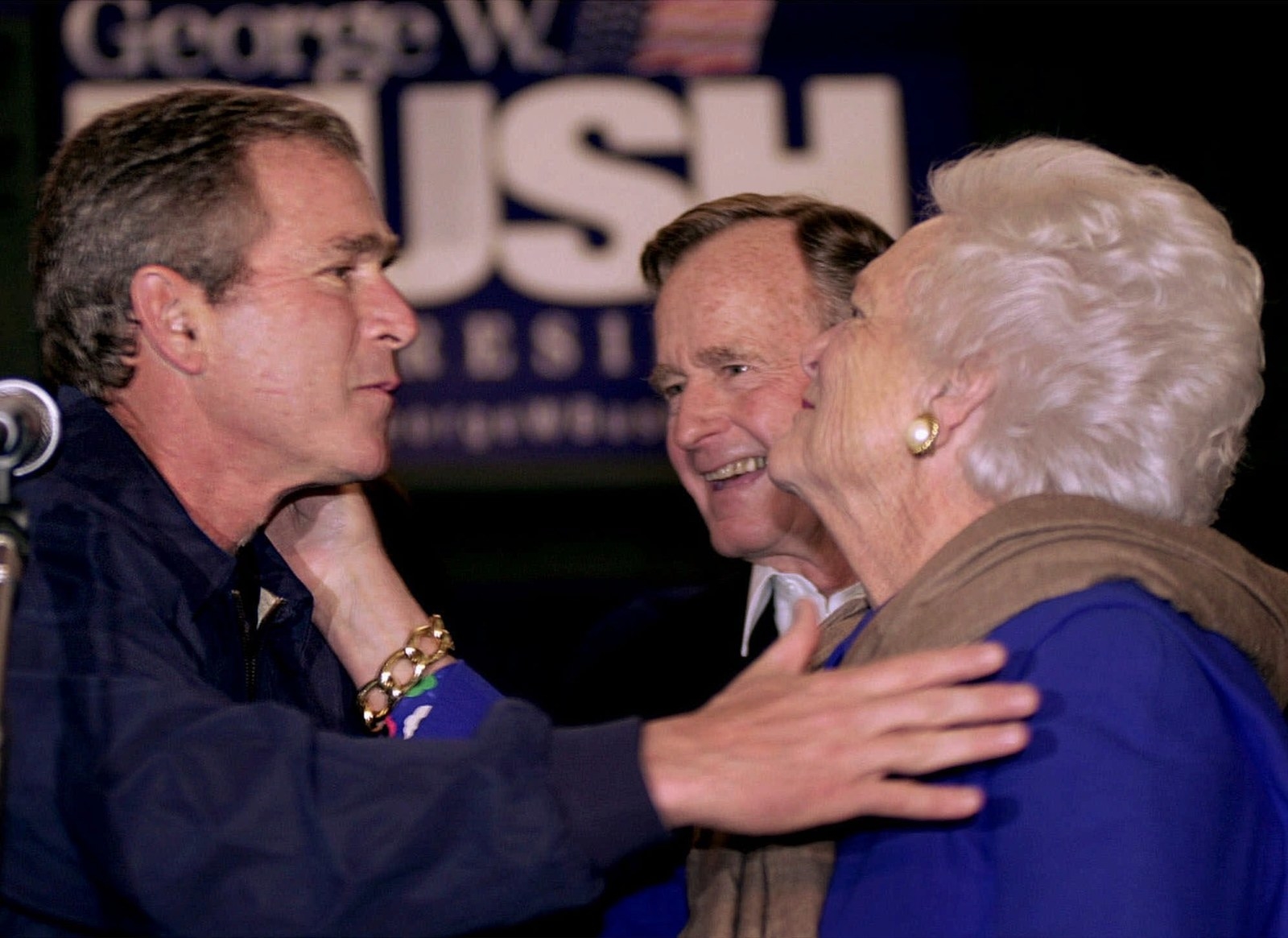 After her husband's loss, Barbara and the Bushes returned to Houston, where she continued her advocacy work.
She was also active in the political careers of her sons, former president George W. Bush and former Florida governor Jeb Bush.
Bush, then 75, spent "two or three days" on the campaign trail a week vouching for her son in the 2000 presidential election, the New York Times reported at the time, and drew many adoring fans to her appearances.
"I know about our son, what he's accomplished, what he believes in, what kind of person he is and what kind of president he'll be," Bush said at a rally, according to the Baltimore Sun. "He's always been surrounded by strong women. Sometimes by choice, sometimes by birth."
George W. Bush went on to serve two terms as president. Her son Jeb served as governor of Florida and then ran for the Republican presidential nomination in 2016.
In her later years, Bush spent her time devoting her time to her family and her work promoting literacy. She continued to work with her foundation, where her daughter, Dorothy Bush Koch, serves as an honorary chair.
In 2009, she wrote a column for Newsweek about the movie Precious and her commitment to literacy.
"After 30 years promoting literacy, I've never felt more energized. Watching this movie, I was reminded why it's important that we keep working so hard," she wrote.
Throughout her life, Bush remained a devoted partner to her husband. The couple celebrated 73 years of marriage in January 2018, making them the longest-married presidential couple ever.
In 2011, the former president teared up on the Today show as he read a letter he had written to his wife in 1994.
"You give me joy that few men know," he wrote. "I've climbed perhaps the highest mountain in the world, but even that cannot hold a candle to being Barbara's husband."