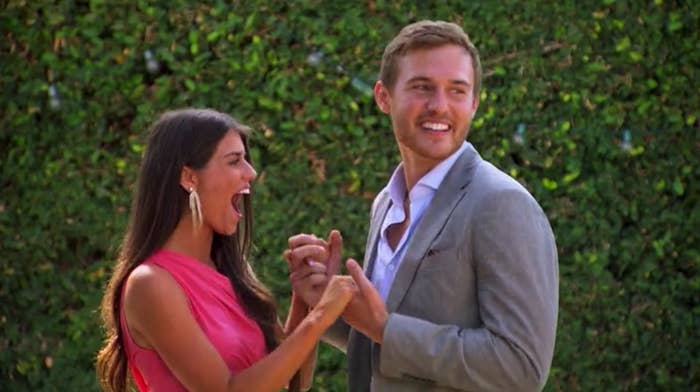 A contestant on the new season of The Bachelor is getting roasted online after she was caught using her own Instagram account to write flattering comments on one of her photos.
People are speculating she made herself a fan page and had meant to comment from that account but forgot to switch.

The Instagram account @BachSleuthers spotted the comment from Madison Prewett to herself on Thursday night and shared a screenshot on its story.
Prewett had shared a photo of herself with Bachelor star Peter Weber from their first date on the show, which aired Monday.
She then commented on her own photo: "Beautiful date Madi. You are so genuine and real ❤️."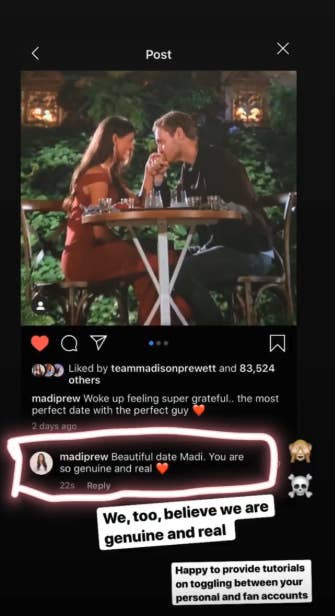 A screenshot of the Instagram story exposing the mistake then made its way to the r/thebachelor subreddit. Fans thought it was pretty hilarious.
"Nothing says 'genuine and real' like having a fake instagram acct to comment compliments on your public one!!" wrote one person.
The general vibe was oh, honey, noooo: "i want to hide under a blanket. the cringe is too much," one fan said.
"Omfg commenting without switching to a fan account of yourself is embarrassing enough, but commenting that you're so genuine and real is SENDING ME what a nightmare combination of cringe," said another.
Some could relate.
"This is giving me ptsd from the time I accidentally posted a flexing gym mirror selfie to the IG story of my biggest WORK account I run that has 154k followers," wrote one person.
Her finsta fail, which appears to have been deleted, soon made its way to Twitter as well.
Fan Instagram accounts for Prewett then began to step up to defend her. One, @teammadisonprewett, claimed in a story that the mistake had actually been made by Prewett's sister, who has access to her account.
Prewett didn't return a request for comment.
Another friend also appeared to take credit for the mistake on Instagram.
That didn't stop Instagram users from poking fun at the mistake by commenting on the post about how "genuine and real" Prewett was.

She shouldn't worry, though, because she DOES have tons of apparently real commenters who are rooting for her to win.
Lesson learned: Be careful with your finsta!