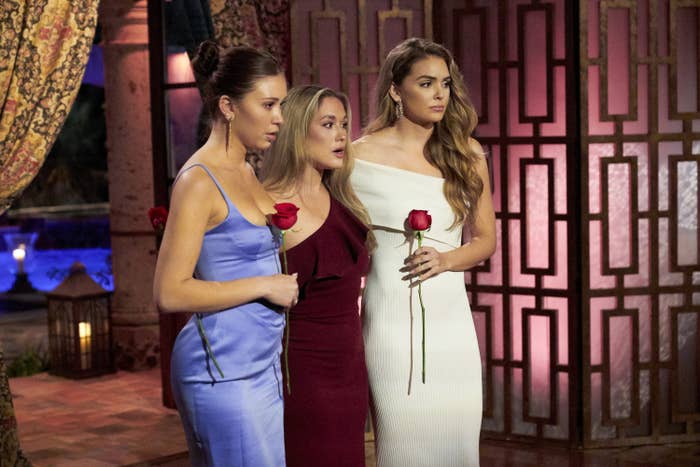 Honestly, I thought The Bachelor was over. The show's format had become stale, it had continuously refused to answer for its issues surrounding race, and new dating shows like Love Is Blind were more compelling.

With its 26th season, The Bachelor finally jumped the shark. But unexpectedly, I'm back in.
Former NFL player Clayton Echard's "journey to find love," which ended in Tuesday night's finale, was so absurd, so poorly handled, and so messy that it clearly demonstrated how ridiculous the show's premise has always been. Usually, viewers watch two grown adults insist solemnly that the show is a serious endeavor and that they really did fall in love after a handful of dates and plan to enter an actual marriage, even though we know that, statistically, their chances of staying together are slim.
Yet this time, we watched a well-intentioned but emotionally unintelligent himbo try to navigate three relationships at the same time and enjoyed what happened when it inevitably blew up in his face.
Echard, a bumbling former college football player who once ate a piece of dog poop thinking it was chocolate, was cast as the lead after appearing on Michelle Young's season of The Bachelorette in 2021, where he came in eighth place. Echard's casting immediately drew controversy, as fans questioned why he was chosen over other contestants, especially men of color, when he'd had a rather forgettable stint on the show. (Many assumed that the producers had wanted to return to having a white lead after the first Black Bachelor, Matt James.)

However, maybe The Bachelor was trying a new tactic: Take some dude who clearly cannot handle such a high-pressure environment, throw in dozens of women, and watch him fall apart.

For someone who had already been through the wringer once, Echard seemed extremely unprepared for the shark tank of The Bachelor, with all its quirks and strange rituals. When the first villain of the season, Shanae Ankney, began to fight and cause drama with the other women in the house (she mocked another contestant for having ADHD), Echard seemed utterly flummoxed. He kept Ankney around for weeks despite being told by other contestants that she was causing issues. The Women Tell All reunion special devoted a significant amount of time to it: As woman after woman berated him, Echard sat there like a golden retriever being yelled at by his owner for peeing on the rug, but without the sentience to understand why.
The season's real mess began, however, when Echard whittled his choices down to three women: 31-year-old Gabby Windey, 28-year-old Susie Evans, and 26-year-old Rachel Recchia. It seemed like he was in love with every one of his final choices, which confused him greatly. How could he be in love with three people? Which one would he choose? From a real-world perspective, of course he was at a loss. The show's premise — that you can go from dating 20 or more women to confidently choosing one to marry in approximately one month — is absurd on its face.
Previous leads have had clear favorites from the beginning, or have at least been able to fake it enough to come out the other side with a successful match and an intact reputation, but this was too tall an order for Echard. Confusion and terror appeared on his face in every one of the final episodes; he was being told that he had to give each relationship a fair shot, but also needed to choose just one woman in a matter of days. He seemed totally out of his depth, and thus, the mayhem began.
The first incident that led to Echard's downfall was his final date with Evans, which came after his fantasy suite dates with the other two finalists (for those unfamiliar, fantasy suites are the contestants' chance to sleep with the lead). At their dinner, Evans announced that she would no longer want to continue their relationship if Echard had had sex with one or both of the other women, and/or told them he was in love with them. Oops: Echard had done both with both Windey and Recchia, which meant Evans was out. She left him after the two exchanged angry words, and fans labeled Echard a "gaslighter" for his cold reaction to Evans' concerns.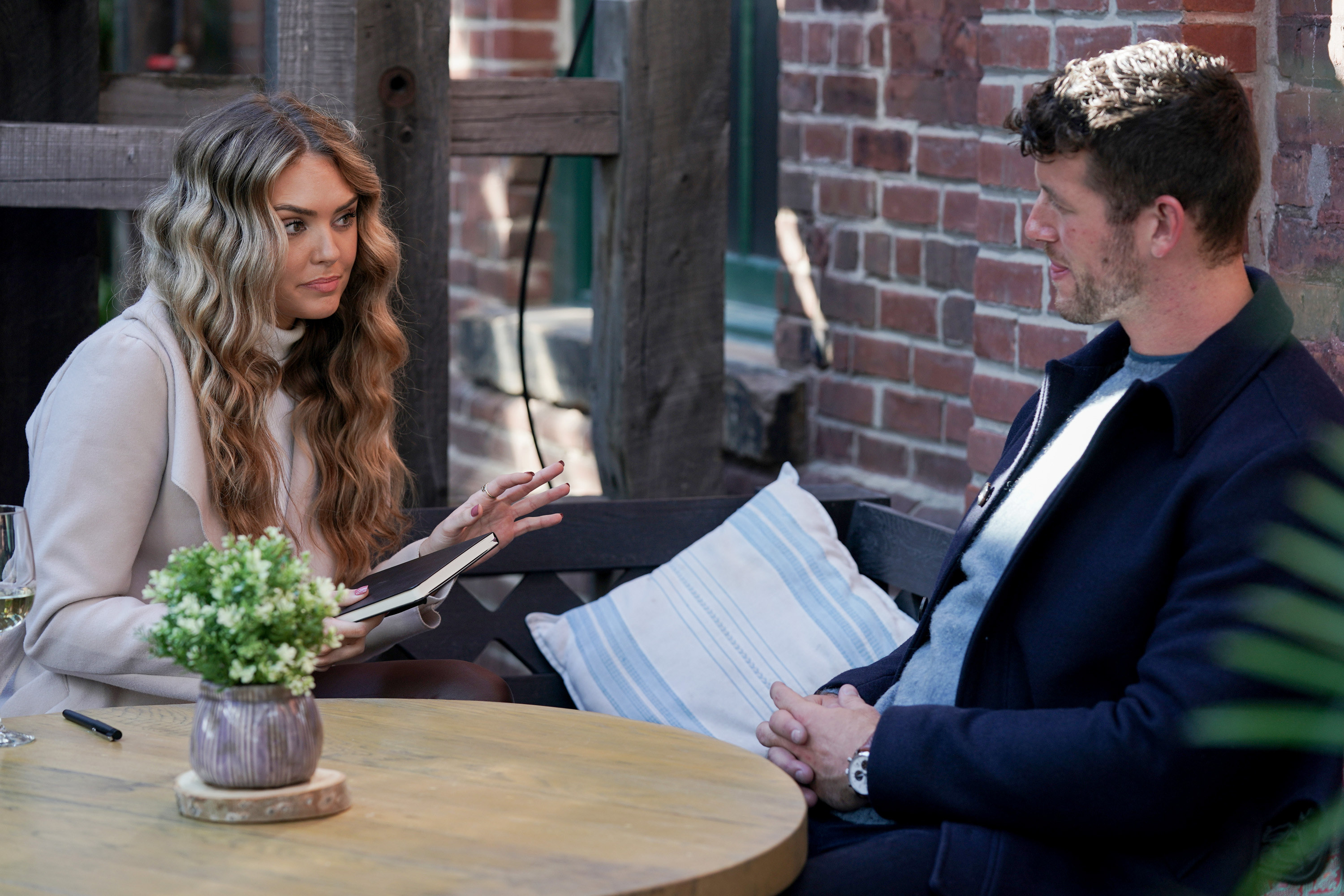 In his grief over losing Evans, Echard decided to try a new, yet also completely doomed strategy: radical transparency. At the last rose ceremony, he decided to announce to Windey and Recchia that he had slept with both of them, and had told both of them he was in love with them. Oh, and he was also in love with Evans. Of course, this didn't go well. Why would anyone think this would go well? Both women were devastated. Watching Echard make these boneheaded decisions was like watching a train crash in real time, and I was hooked.
After what new host Jesse Palmer dubbed "the rose ceremony from hell," the hits from Echard just kept on coming. First, he begged both Windey and Recchia to stay, and despite their obvious reservations, they agreed. He introduced both women to his parents and brothers, and then, after dragging them through this ritual, decided he actually wanted neither of them. Despite the fact that she had dumped him, it was Evans he wanted. He announced this to his family, who were understandably confused.
"You've put yourself in this situation, and this circumstance," Echard's dad, Brian, a gruff boomer who had enough emotional intelligence to empathize with the women over his son, told him. "You screwed the pooch, in my opinion."
Did Echard listen to his parents, and take a step back to figure out if he really was in love with Evans, or just wildly, hopelessly unsure about what to do next? Of course not! Instead, it's like he looked at the situation and thought, What's the absolute stupidest thing I can do here? Then he gathered Windey and Recchia in a room and dumped them both at the same time.
Windey summed it up when she told Echard he sounded "ridiculous" doing this after having begged them to stay.
Echard did not treat Windey and Recchia very well, and many viewers are angry. However, I enjoyed watching this absolute mess without guilt because I am confident both women will be fine. Once they are out of the highly artificial and public "Bachelor bubble," I am sure they will realize, like many before them, that they didn't really want Echard anyway. If not, becoming co-Bachelorettes for next season, which ABC announced on Tuesday, should dry their tears.
The icing on the cake was when, after all that, Evans decided to give Echard one more chance before turning around and dumping him in the final rose ceremony. Come on! After all that, she just kicks him to the curb? It was hard to watch, but isn't that what reality TV is all about?
Palmer had told the audience multiple times in the lead-up to the episode that the finale would be, as the show has promised many, many times in the past, the most "dramatic" ever. But this time, he may have been right. (Disgraced host Chris Harrison, who delivered that line for nearly 20 years, must be seething with jealousy right now.) It had everything: a man screwing up continuously and being called out for it, extreme twists and turns, and drama exaggerated to the highest possible degree. But then, there was one final twist: Evans announced during the reunion that she had decided to take Echard back, and they celebrated with a Say Anything–inspired photo shoot in People magazine. Hilarious!
Look, all this should remind Bachelor Nation what we've known all along: There is nothing normal about how this show presents relationships. But perhaps the producers knew they had to change the game after the two last seasons of The Bachelorette premiered to record-low ratings for the series. By casting a lead who took the show completely off the rails, the producers have made the most entertaining iteration that they have in years. It worked a charm on viewers; the Wrap reported this week that the season finale, which aired over two parts on Monday and Tuesday, was a ratings hit for ABC.
Maybe producers should just keep leaning into the mess. I thought I was done with this show and its tired antics, but this season I couldn't get enough. If this is the future of The Bachelor, I'm all the way back in. ●