A mom in Indiana says she was horrified to learn a viral video showing a baby being doused with water featured her own infant daughter while she was under a babysitter's care.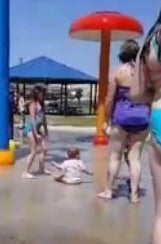 Desiree Howell of Indianapolis took the video at a local splash pad Wednesday after witnessing what she thought was disturbing behavior by the babysitter.
The video shows the infant being doused by a big bucket of water while the babysitter stood by.
The woman quickly scoops up the child after she is hit with the stream.
Howell said she felt the behavior was abusive.
"Baby is crying. And swallowing this water. Pray this baby won't drown in her sleep," she wrote.
Howell told BuzzFeed News she had seen the babysitter do the same thing "multiple" times before she shot the video.
"I wanted to be able to get the video to put it on Facebook so I could find and notify the mother," she said.
The video soon spread through the community, and was shared 5,000 times. It eventually made its way to the baby's mother, Brittany Dixson, who said she was horrified to realize the child was her daughter Annora.
Dixson told WISH TV she took Annora to the doctor, who said the child is fine.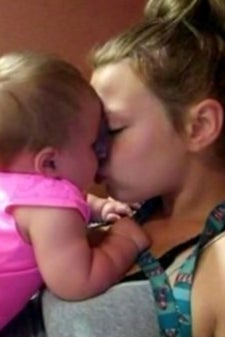 However, she said doctors believed the 7-month-old might have experienced a dry drowning, whereby someone inhales water through the nose or mouth and it causes a spasm in an airway.
Dixson said that she has fired the babysitter.
"It's just really stressful to think about somebody would do that to her no matter how many times you put a child under water," she told the TV station. "They're not going to like it and they're going to cry every time."
Investigators from the Greenwood Police Department told Indystar that they referred the case to child services.
Howell said she couldn't believe how quickly she was able to find Dixson and the experience has been "crazy."
"All I wanted was to find the parents of the sweet innocent little girl. I didn't think it would explode like this," she said.