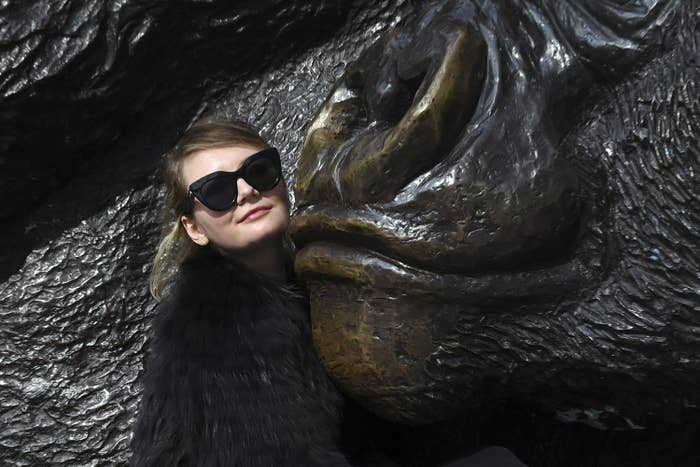 Over the weekend, Anna Sorokin, aka Anna Delvey, ignited an online feud with her rival both in life and in the courtroom, Rachel Deloache Williams. In a seven-part Instagram story screed that would have made a pugnacious YouTuber proud, Sorokin blasted Williams for, whining about her in the press.
"Don't you just love the irony of watching Rachel Deloache Williams constantly adjust her (very) flexible moral standards depending on the prospective amount of $ she stands to profit based on her unfortunate association with me?" read one story, set to the song "Wicked" by JMB Juvie.
If you didn't know anything about Sorokin or Williams, you might have assumed that they were two run-of-the-mill content creators, engaging in an online feud for drama. But the story is much more complicated than that.
Sorokin is a notorious scammer, a fake NYC rich girl who was convicted on eight fraud charges in 2019 and sentenced to four years in prison. Williams, a former photo editor for Vanity Fair, is one of the people who claimed Sorokin conned her during her crime spree. In a 2018 viral essay for her employer, Williams alleged that Sorokin had bilked her out of $62,000 on a trip to Marrakech, leaving her deeply in debt. Sorokin was acquitted of the charges related to Williams' allegations, and Williams wrote a book about her experience, My Friend Anna, in 2019.
Sorokin seemed angry that Williams had been speaking out against the Netflix show Inventing Anna, which is based on a viral New York magazine article about the case. The show, produced by Shonda Rhimes, came out Feb. 11 and chronicles Sorokin's rise and fall. Williams had written in Air Mail that "because of Netflix, Anna emerged from behind bars financially net positive, with legions of followers and a level of notoriety from which she'll presumably continue to profit."
Sorokin was released from prison in February 2021, the New York Times reported, and was promptly arrested by immigration authorities for staying past her visa expiration date. Currently, she is in Immigration and Customs Enforcement (ICE) custody in New York state, but that hasn't stopped her from posting on Instagram and becoming even more famous.
People have been enamored with Sorokin since the New York magazine article came out, calling her a "grifter queen"; there were articles and even an Instagram account devoted to her fashion choices in court. But since Inventing Anna's release, Sorokin has been carefully crafting her image into that of an unapologetic influencer. From ICE custody, she has embarked on a kind of press tour about the show, chatting with the Times Style section and writing a piece for Insider about the injustice she feels she is facing in detention.
She's also been cultivating her brand on her Instagram account (where she goes by Anna Delvey), where she has shared the press she has been doing; her thoughts on Inventing Anna (for which she was paid more than $300,000, although that reportedly went to restitution, fines, and fees); memes of Julia Garner, who plays her in the show; and cheeky drawings of her current situation. She's talked up her friendship with recent headline grabber Julia Fox, who frequently comments on her Instagram account, and is followed by the gossip account Deux Moi. And now, she is drawing followers in by starting a public feud with Williams. Even the way she talks about her Instagram account in the press is perfectly sardonic Rebel Influencer 101.
"I always saw my social media as satire," she told the Times. "It was never meant to be serious."
Doesn't that quote kind of make you kind of want to follow her? If it does, you aren't alone. A week after Inventing Anna came out, Sorokin's Instagram following had grown by more than 200,000. She now has nearly 600,000 Instagram followers, up from approximately 150,000 on Feb. 8, who leave fawning comments like "obsessed" and "#legend."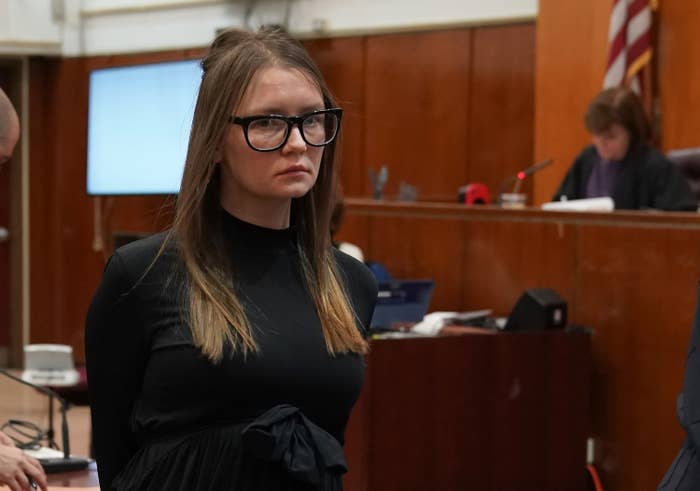 It seems like Sorokin is well on her way to becoming an even bigger internet celebrity, which means she could start to make big money on the platform. I don't mean that Sorokin will suddenly start posting try-on hauls and swipe-ups to the Nordstrom Anniversary Sale. But as long as people have been creating content on the internet, there has been at least one type of more controversial influencer: the villain. These are people who, despite being despised by the majority of their followers, are able to make thousands of dollars a year thanks to their notoriety. And that's because, in many ways, villains can be even more fun and engaging to follow than a noncontroversial influencer.
Take Caroline Calloway, the Instagram influencer and aspiring author who went viral a year after Sorokin for allegedly scamming her followers by putting on a $165 workshop where fans could meet her and eat "super soul salads" while they discussed creative pursuits (when I interviewed her in 2019, Calloway took umbrage with the comparison to Sorokin, saying she shouldn't be lumped in with someone in prison). Calloway has been dragged over the coals for scandal after scandal, and as well as supporters, she has a devoted group of hate followers, who might arguably be more obsessed with her than her fans. They dissect and pick apart her every move in a dedicated subreddit with the fervor of a Taylor Swift stan. The online conversation only increased her visibility and following, and despite her "bad" reputation, she told me she was able to completely support herself by selling her artwork to people on Instagram. Instagram fame, even if it's infamy, sells.
There's no reason to think Sorokin couldn't do the same with her new Instagram account. Whether it's motivated by love or hate, people are following her. In her comment section, debates rage about whether Sorokin is a hero or a villain, or perhaps, misunderstood.
"If you lived off of rich people's money who accepted you just bc they thought u were also rich you're already my hero," one approving comment read. "Nice to see someone getting some money back from the banks and financial institutions who set the game up for themselves and fuck everyone else," another person said.
On the other hand, there is plenty of criticism too. "I don't understand why people support this narcissist. This is so wrong. I hope she gets deported and her 5 minutes of fame end. She doesn't deserve recognition," one commenter wrote. It doesn't really matter what these people say, though — it's all engagement.
It's not surprising that people are flocking to Sorokin's account and hanging on her every word. Americans love true crime, and Sorokin is the perfect type of criminal to attract social media fame. She may have hurt people and stolen money from banks and committed felonies, but she didn't kill anyone. The relative palatability of her crimes means people feel free to follow her escapades without guilt. (Although, if Ted Bundy had an Instagram account, you think people wouldn't follow it?)
With Sorokin's huge Instagram following, she could make serious money, and fast. She could post affiliate links or do brand deals, if companies are willing to partner with her. She could release a line of "scammer" T-shirts and beanies. She could sell her artwork, her clothes, or even her time. I'm 100% sure she will eventually show up on Cameo.
Sorokin's new online persona is no accident. Now that we have anointed her with fame, she can do what she wishes. In her interview with the Times, she teased that she was working on a "little something" with Fox, and that she has a podcast and a book project in the works. "There is definitely a lot more to my story that I'd like to share," she said.
And she has also said she's interested in a time-honored tradition for influencers who have weathered a scandal: a rebrand.
"Will I forever be judged by my early-to-mid 20s?" Sorokin wrote in Insider. "Will I forever be stuck in a past not entirely of my creation without getting a chance to move on?"
But it seems like she is already moving on. Take it from someone who knows her well: Williams, who thinks Sorokin is only getting started.
"The con-as-content model seems well on its way to becoming an aspirational career path," she wrote. ●