The beauty brand Anastasia Beverly Hills says it will "not be continuing" to collaborate with multilevel marketing company Rodan + Fields after a ton of fans slammed ABH for partnering with a company they called predatory.
Rodan + Fields announced the collaboration on Tuesday as a "Galentine's Day" exclusive special. The "ideal brows kit" featured a "limited-edition collaboration featuring ABH brow products at a special savings." Both companies count TPG Capital Partners as a minority investor as of 2018.
Six of Anastasia Beverly Hills' bestselling brow products were included in the kit.
A spokesperson for Rodan + Fields told BuzzFeed News the company was proud to partner with Anastasia Soare, the founder of Anastasia Beverly Hills, as she is a "fellow female entrepreneur."

"Core to our entrepreneurial roots, Rodan + Fields is always looking to find a way to provide new opportunities for our consultants and consumers," they said.

Fans of Rodan + Fields were stoked for the collab.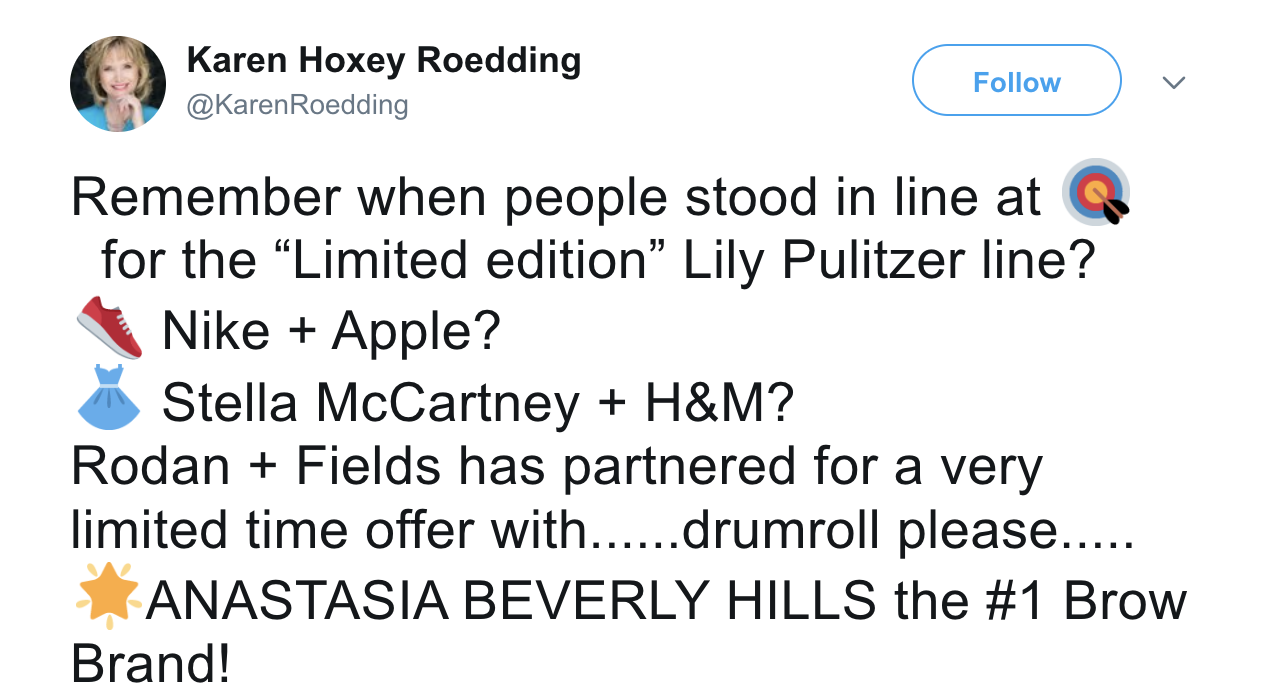 However, a lot of Anastasia's customer base wasn't happy.
Their main complaint was that Rodan + Fields engages in the "predatory" business practices of a multilevel marketing structure.
"Time to dump your Brow-wiz and Dip Brow for supporting pyramid schemes."
Some even said they would stop buying Anastasia Beverly Hills products in protest.
Many fans also reached out directly to Claudia "Norvina" Soare, Anastasia Soare's daughter who is the president of the company, to speak their minds.
And Norvina noticed. She promised fans she would look into their concerns soon after the partnership was announced.

In another tweet she wrote: "I am all over this. I had nothing to do with it but this is top priority now. We care too much about the community to deter our relationships with consumers. I've been on it since it was called to my attention."
In direct responses to fans, Norvina seemed to imply she hadn't realized Rodan + Fields was an MLM when she approved the collaboration. BuzzFeed News has contacted Anastasia Beverly Hills for further comment.
On Wednesday, Anastasia Beverly Hills officially spoke out. In a statement, the company called the brow package a "test marketing effort" that it "will not be continuing."
ABH said that the brow packages were limited supply and had been selling quickly. The company will not restock them, it said.
"We have not previously participated in MLM marketing," ABH said. "We do not have any plans to do so in the future."
It's unclear how many of the packages are still unsold, and whether they are still available.
In response to the backlash, a Rodan + Fields spokesperson told BuzzFeed News the company is "proud to deliver dermatology-inspired products through our powerful consultant community."
"It's unfortunate that misconceptions about our business model have led to negative sentiment surrounding a pilot designed to celebrate women," the spokesperson said.

UPDATE
Rodan + Fields sent out the following email to consultants on Thursday night, saying they are ending the offer due to "misconceptions on the business model."