A former schools police officer in Georgia has been arrested in the deaths of at least two police dogs that were placed in his care.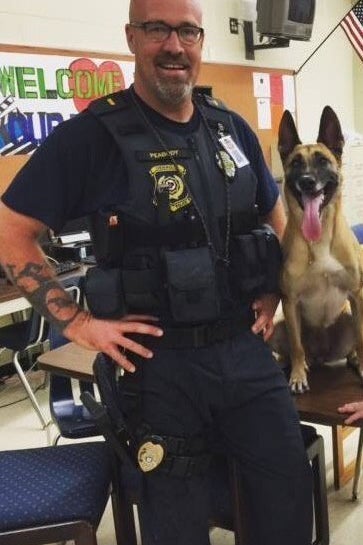 Authorities began to investigate Daniel Peabody, a Cherokee County School Police Officer, after his K-9 died in a hot car last month.
Peabody told officers from the Cherokee County Marshal's Office he had come home around 4:00 p.m. and accidentally left his Belgian Malinois, Inca, in his vehicle.
He said he realized his dog was trapped a few hours later, and found the animal dead inside his car.
During the investigation into Inca's death, authorities found evidence that Peabody had shot a killed another police dog in 2012, the Atlanta Journal-Constitution reported.
That dog, a yellow Lab named Dale, was assigned to Peabody from 2007 to 2012, the newspaper reported.
"Peabody initially claimed Dale's death was accidental due to Dale choking on a toy," the Marshal's office told the Atlanta Journal Constitution. "However, the investigation yielded evidence that Dale was in fact shot and killed."
During the search for Dale's remains at Peabody's former home, authorities found the remains of a third dog, a 10-year-old Belgian Malinois, the office said in a statement to BuzzFeed News.
That dog was also likely shot and killed, they said.
Peabody has been charged with aggravated cruelty to animals and making a false statement to investigators, the Atlanta Journal Constitution reported.
He has also resigned from the police force, where he served 16 years, the Marietta Daily Journal reported. He had worked with dogs for five years.
Cherokee County Marshal's Office Chief Ron Hunton told the Marietta Daily Journal that Peabody appeared distraught at the hot car death of Inca.
"He is very, very upset about the death of his dog," he said.
Peabody's attorney said in a statement to BuzzFeed News that the charges against his client were "absolutely baseless," and Inca's hot car death was "a horrible and unintentional accident."
"As their vast network of friends, family and law enforcement colleagues will tell you, Lieutenant Peabody and his wife, Tyler, love and adore animals," the attorney said. "Lieutenant Peabody would never, ever intentionally abuse or show cruelty towards any animal, especially his beloved companion, Inca."