A College Student Says She Was Kicked Out Of Her School's Gym For Wearing This Outfit
Grace DiChristina says she is speaking out because she feels the rules at the gym are "blatantly sexist."
An 18-year-old college freshman is speaking out after she was asked to leave her school's gym because her stomach was showing in her workout attire.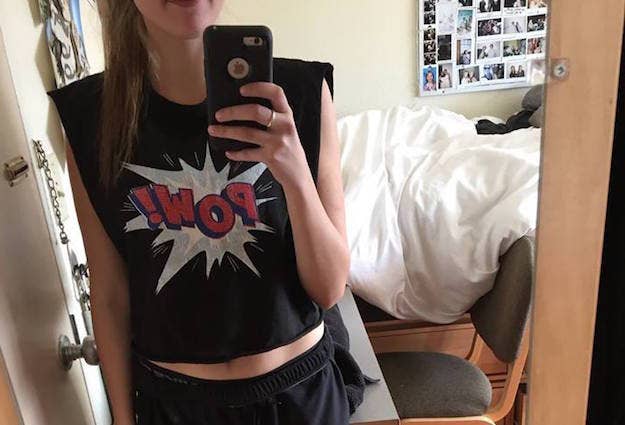 Grace DiChristina is in her first year studying sociology at Santa Clara University in Northern California, she told BuzzFeed News.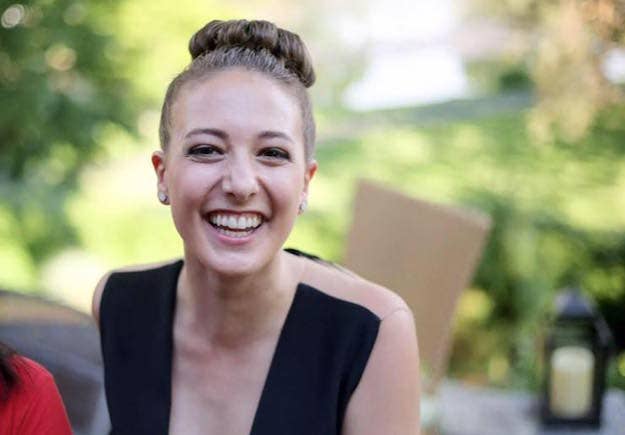 DiChristina said she considers herself someone who always tries to stand up for what she believes is right.
"I am very opinionated and when something doesn't feel right or fair to me, I have to do something about it," she said.
In fact, DiChristina fought back against what she considered to be a fat-shaming dress code at her high school a few years ago, when she was a sophomore.
A few weeks ago, DiChristina was in her school's gym working out when she said she was approached by a staff member and asked to leave the facility.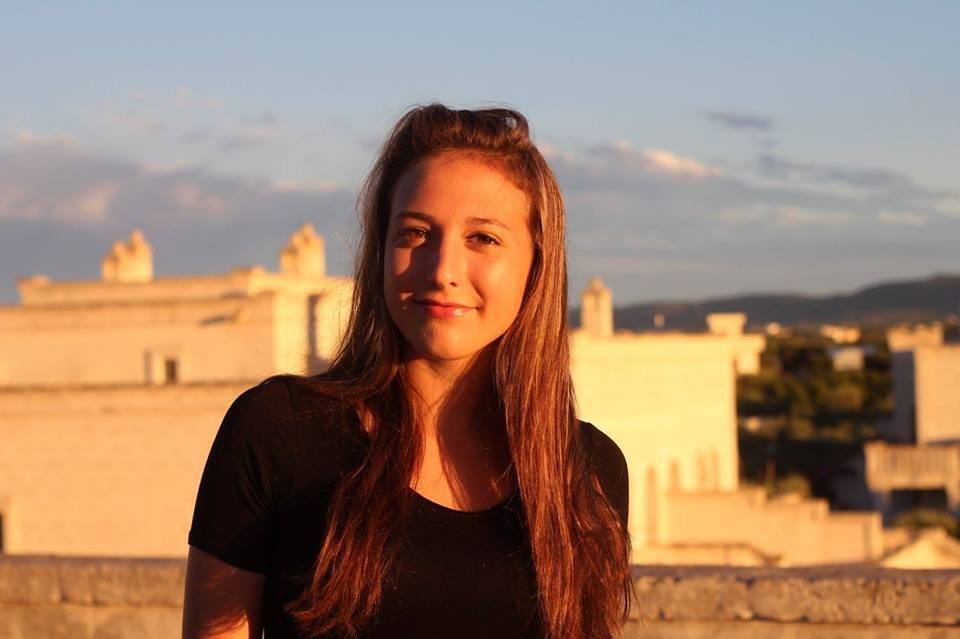 The reason? A sliver of her stomach was showing in her workout outfit.
"A weight room assistant came up to me as I was about to get on the elliptical and told me she had been radioed to ask me to leave," DiChristina said.
A staff member had told her before that the shirt was "inappropriate," which DiChristina thought was unfair. But she said she didn't know there was a dress code at the facility, nor that it was an offense you could be kicked out for.
"I've never seen anyone else get in trouble or heard of anyone being removed from the gym before," she said.
Before she left, DiChristina said she asked to speak to a supervisor, and was sent to the athletic director. She said the man told her the dress code was in place both because Santa Clara University is a Jesuit school and to help prevent MRSA.
MRSA (methicillin-resistant Staphylococcus aureus) is a type of staph infection that lives harmlessly on many people's bodies, according to the San Francisco Department of Public Heath. However, it can sometimes cause a minor skin infection or a more serious infection internally.
The risk of this kind of infection increases in places like a gym, where people are touching pieces of equipment shared with other people and engaging in skin-to-skin contact, according to the Centers for Disease Control and Prevention, which recommends good hygiene to ward off infection.
School spokeswoman Tina Vossugh told BuzzFeed News that the midriff policy is in place solely to prevent the infection, not because of concerns over Jesuit standards.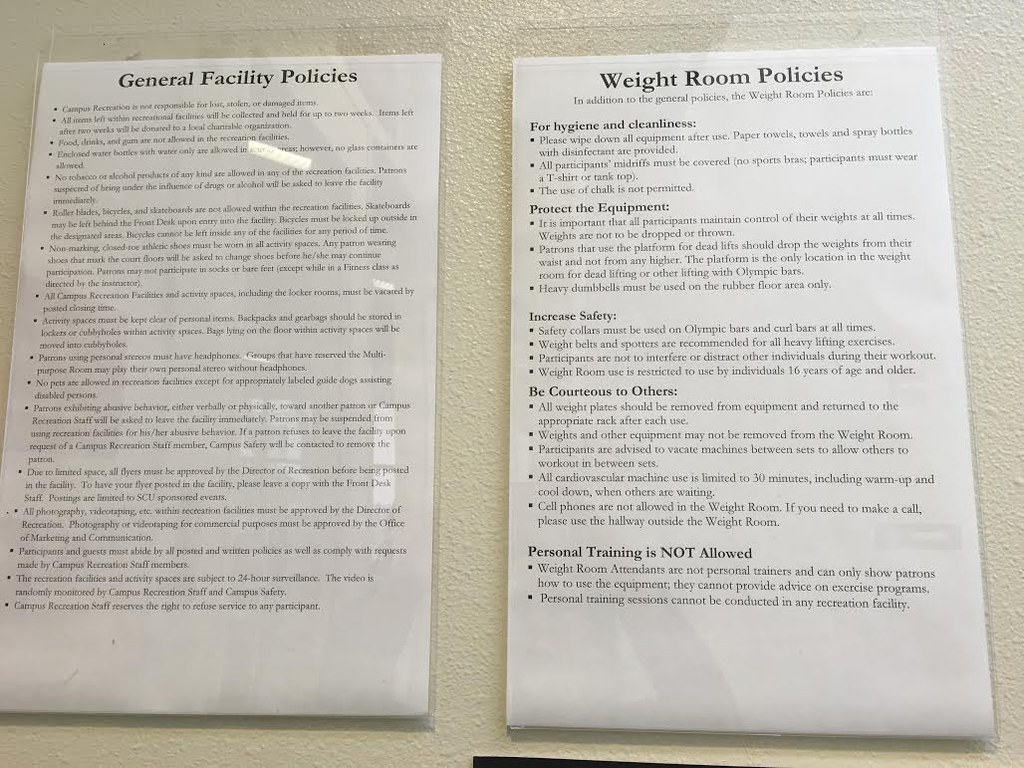 Vossugh said that according to the policy, gymgoers may not wear just a sports bra and "participants must wear a T-shirt or tank top."
"MRSA thrives in sweat and that is why our university and many others nationwide are working toward limiting as much skin contact as possible with equipment and wearing enough clothing to catch sweat as you are working out," she said.
When asked about the Jesuit comment DiChristina cited, Vossugh said she didn't have knowledge of the conversation.
Although DiChristina said she understands the risk of infection, she felt discriminated against because plenty of men wear outfits exposing just as much skin.
"Muscle tees with long armholes are extremely popular for men," she said. "If you walk into Leavey Center, the first thing you see is that the gym is packed with men sweating directly onto the equipment."
DiChristina said she felt singled out because she is a woman, which she found "humiliating." She decided to post her outfit on Facebook, saying "the fact that this is a Jesuit school should absolutely not be linked to the dress code at the gym."
She continued in part:
I do not go to the gym to be sexualized or looked at by other people — I go to improve my health and my self-confidence. Being told to leave the facility because my outfit is inappropriate is more than just annoying; it's humiliating and degrading.

My workouts become much less enjoyable when I have to worry about people looking at my body. Santa Clara Broncos advocate for becoming strong and fit, but the fact that I was kicked out means that I could not work out today.

I absolutely agree that MRSA is a serious illness and we should address it. However, shaming women for what they wear to the gym is not the way to prevent it.
Her message received many messages of support from her friends, who said she was "an inspiration." But she did get some messages of hate on YikYak, which she also posted on Facebook.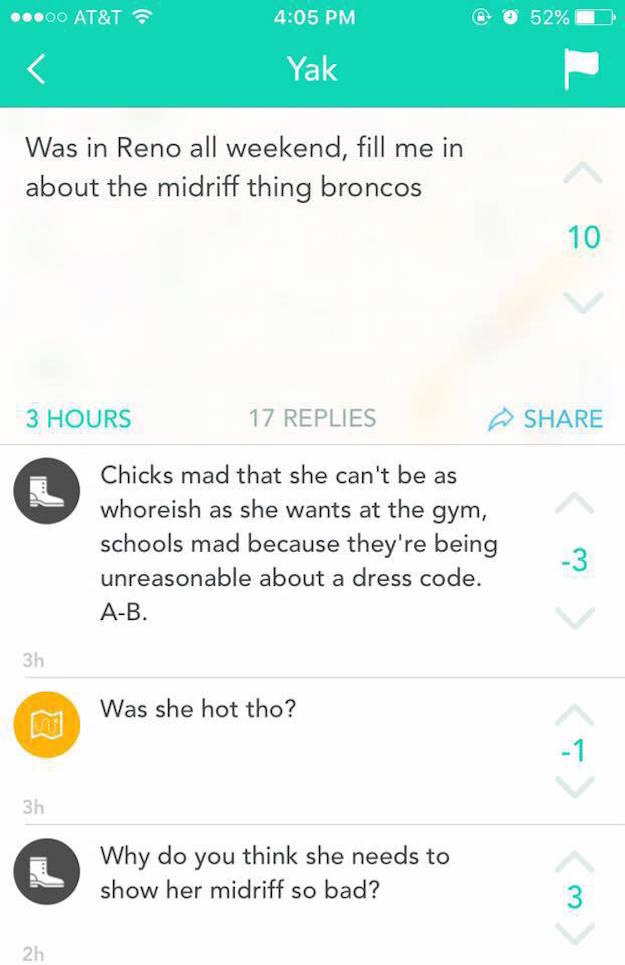 DiChristina said the messages didn't bother her, calling them "funny and ignorant" and adding that she was just trying to stand up for herself and her beliefs.
"I decided to post on Facebook because I was confused, upset, and outraged at the blatant sexism behind these rules," she said.
Vossugh said the school is working to make sure the policies are written so they are applied fairly to both men and women at the facility — and men will not be able to expose skin in "bro-tanks" either.
"We are working to formalize the above in our current policy and add that bro-tanks cannot be modified or cut in any way to expose the chest," she said.