Here's Everything You Need To Know To Save Money During Wedding Season, According To A Professional Bridesmaid
The average woman spends a ton being a bridesmaid. I can help you spend less.
Hi, I'm Stephanie. I'm 28 years old, which means I am in the middle of what people call ~wedding season~. In my case, it has been more of a wedding typhoon.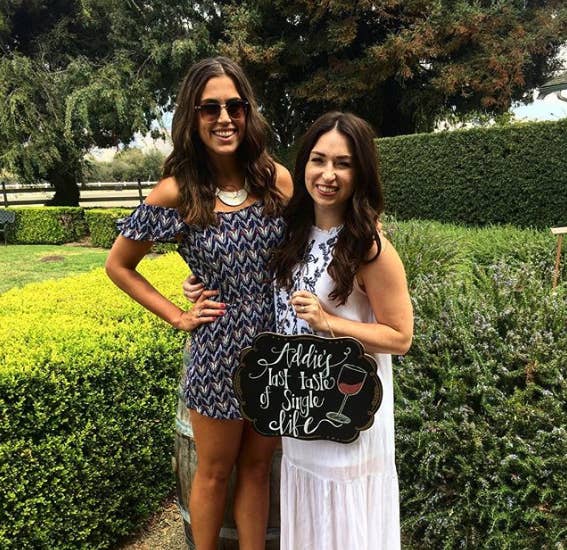 I got married in July 2016. Since then, both my siblings and most of my friends have gotten married or engaged.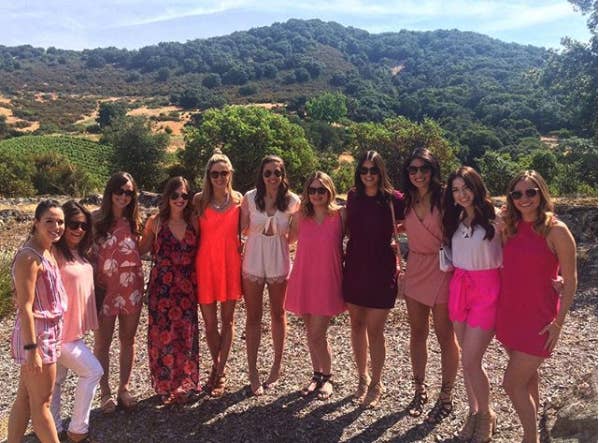 That means I have been to, or am going to, 10 bachelorettes and 12 weddings in approximately two years. When this is all over, I will have been a bridesmaid seven times.
It's been a blast, and I've also learned a lot about weddings and planning events with tons of moving parts and sometimes dozens of women.
Along the way, I've learned a lot about how to save money and still be the best bridesmaid you can be. Here is all the advice I have to share:
1.
Create a budget for each wedding and stick to it.
Jen Glantz, professional bridesmaid-for-hire and the author of All My Friends Are Engaged, told me on BuzzFeed News' AM to DM that the average person spends around $1,500 on being a bridesmaid.
"If you don't set up a budget before you start you can spend so much more than that, because being a bridesmaid — yes, it costs a lot of money, but there are a lot of small costs that creep up on you that you don't even realize," she said.
Spreadsheets, in this case, are your friend. Make one for all your weddings with the costs for everything you need.
This can help you know how much you need to save, and how much you can allocate toward variable costs like flights and gifts.
2.
Realize you don't need to buy or do ALL THE THINGS.
When I was getting married, I was incredibly obsessed with making sure everyone in my wedding got the best experience ever.
This led to me going absolutely WILD on everything from gifts to decor to make sure my wedding looked exactly like the ones you saw on Pinterest.
Problem is: This stuff costs a ton of money. From those robes to matching cups and totes, it really adds up. You can easily spend just a couple hundred alone on JUST decor for a bachelorette party. Those giant ring balloons ain't cheap.
So, when I started planning bachelorette parties for my friends, I tried to focus on what really mattered. Do we really need 100 different decor items to decorate the house? Probably not. Do we need EVERYTHING personalized? Nope. Will people really use all of the beauty products and candy in their goody bags? Maybe, but they may also toss them as soon as they get home.
What matters is good times together with friends — and any event that has that will be perfect for the bride-to-be.
3.
Learn how to do your hair and makeup yourself, and invest in a few quality products.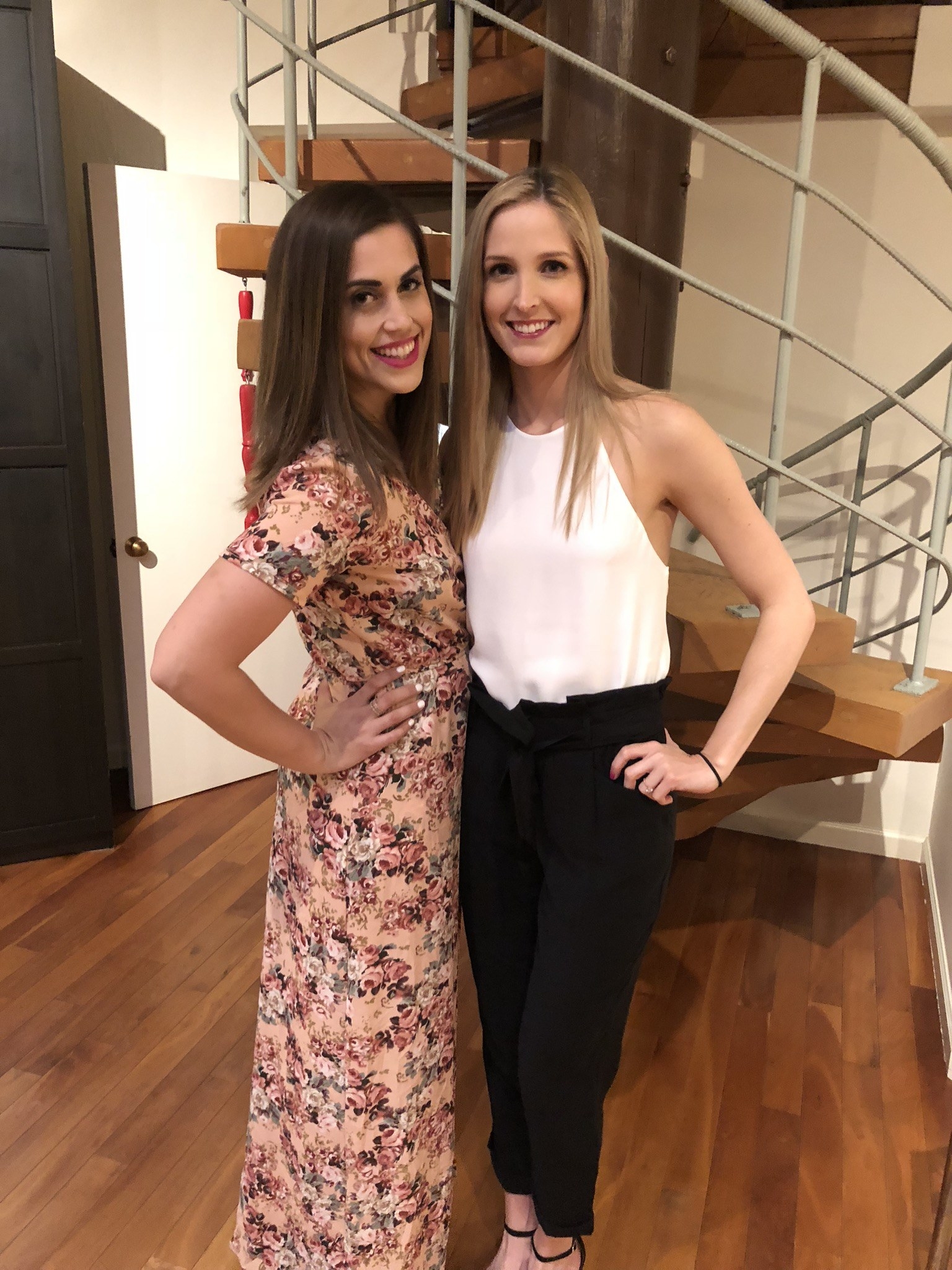 Of course, it is always nice to get pampered by getting your hair and makeup done, but these services add up. Many times, people say they feel like they have to pay for these just because they are too nervous to do it themselves.
I used to be very wary of doing my own makeup for weddings, but over the past year have learned and taught myself a ton about makeup and makeup application. You can teach yourself using YouTube or Instagram videos, or even hit up a local makeup store for a free makeover and ask the artist for help and advice.
I now feel totally confident doing my own for my friends' big days, which can save me at least $100 per wedding on average.
I also have invested my money in some good products so I don't have to worry about sweating it off or not looking as polished as the other ladies on the big day.
4.
Reuse or rent outfits when you can, and resell the ones you will never use again.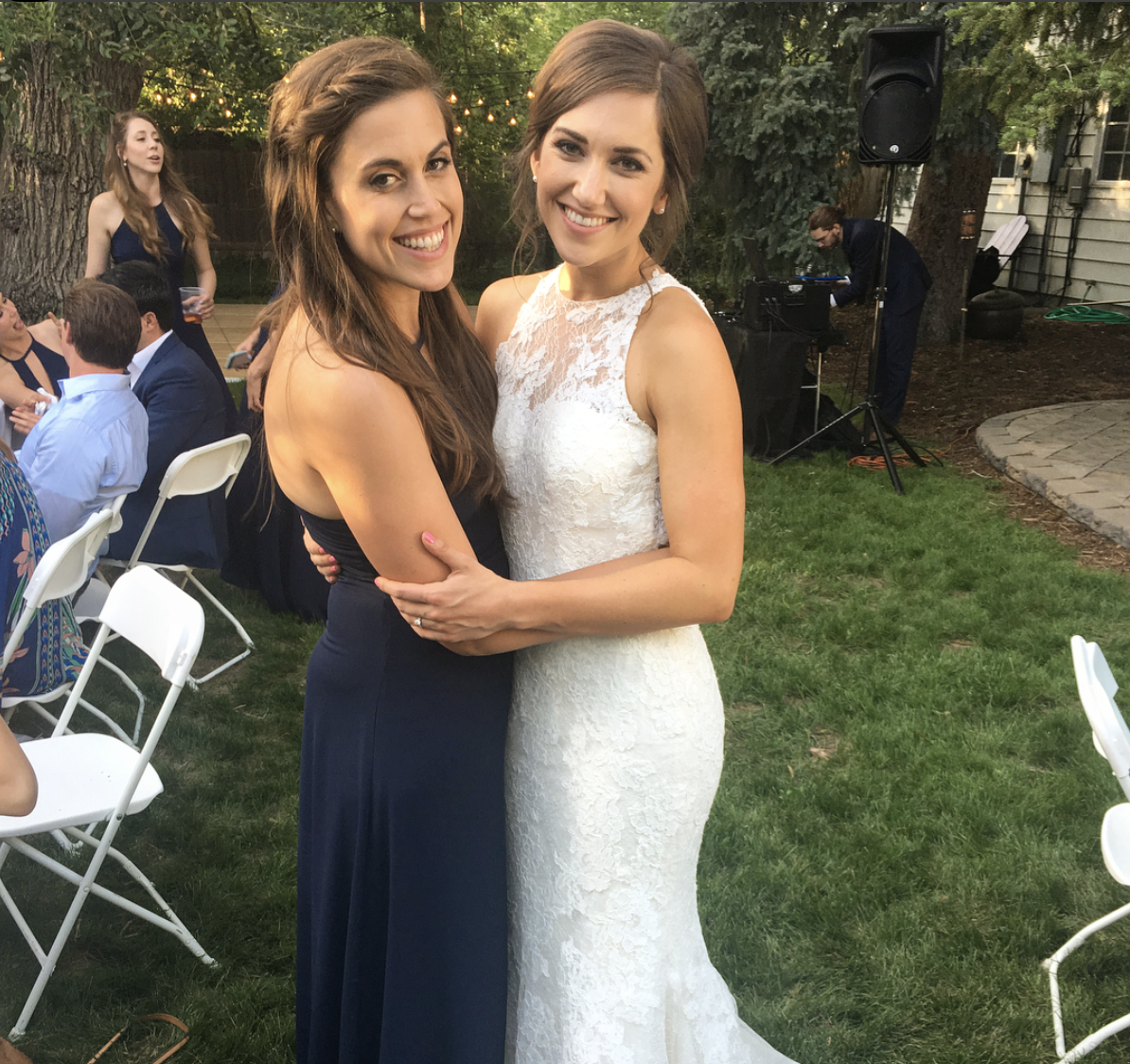 People love to talk about saving money on a bridesmaid's dress, but that is only one of many outfits you may feel pressure to buy as a bridesmaid.
With all the events being featured on Instagram, it can feel like mandatory to have a new outfit for every occasion. Most bachelorette parties usually include photo ops in a black outfit, a brunch outfit, and a bathing suit, and no one wants to be an outfit repeater.
I definitely fell into this trap, and now I have a bunch of party dresses that I am not getting a ton of use out of. It is a much better idea to use a rental service like Rent the Runway for this stuff so you aren't stuck with these after wedding season is over.
Glantz said she advises women to "never buy a dress that's not used or that you haven't rented for a bridesmaid's dress."
"See if you can find it for a discount, if you can buy it used, or if you can rent it and just ship it back when the wedding is over," she said.
But what if you can't rent your outfits or your bridesmaid's dress? You can recoup some of your costs by selling your clothes on resell sites like ThredUp or Poshmark after the wedding.
For example, I recently resold the dress I am wearing above online for about half the cost.
It was a win-win — and totally supported by the bride, I might add!
5.
Use credit card points for hotels and travel — and book early.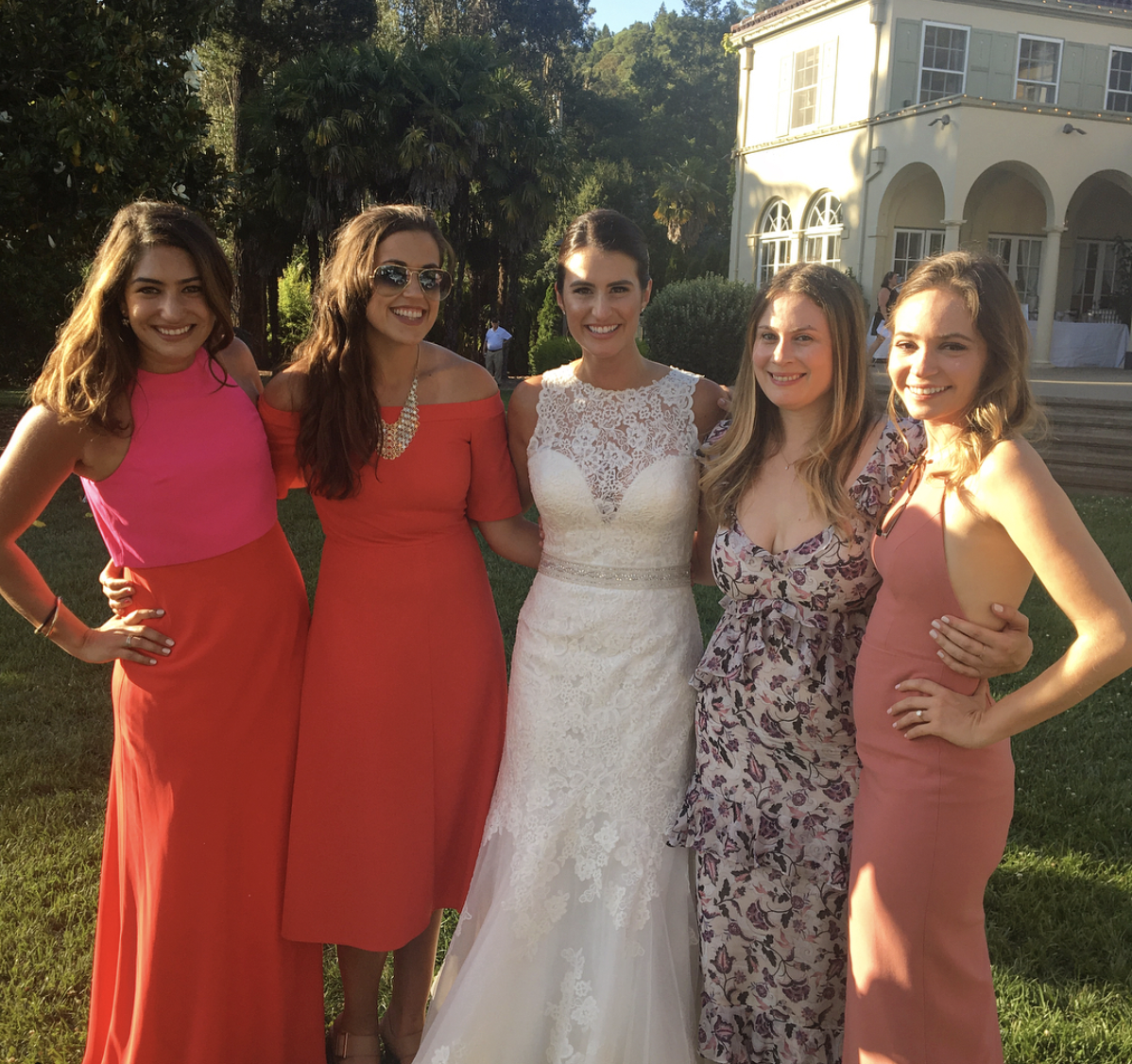 I was born and raised in California and moved to New York City about five years ago. This means I usually have to travel to the West Coast for most wedding events. This has led to a ton of flights back and forth over the past few years.
Glantz says her biggest tip for travel is "set alerts" for the places you need to go for wedding events.
"Make sure you set alerts months before you need to buy your flights," she said.
Travel websites like Skyscanner and Google Flights and apps like Hopper have been lifesavers for me in booking deals for travel.
I also have opened credit cards with bonus offers specifically for trips, using websites like the Points Guy and Nerd Wallet to figure out the best ones for what I need (but please be responsible with your credit!).
Glantz also suggests bunking with friends to save money on a hotel room, such as splitting a room with another couple or sleeping on a local friend's couch.
6.
Travel at off-peak times or in the middle of the week.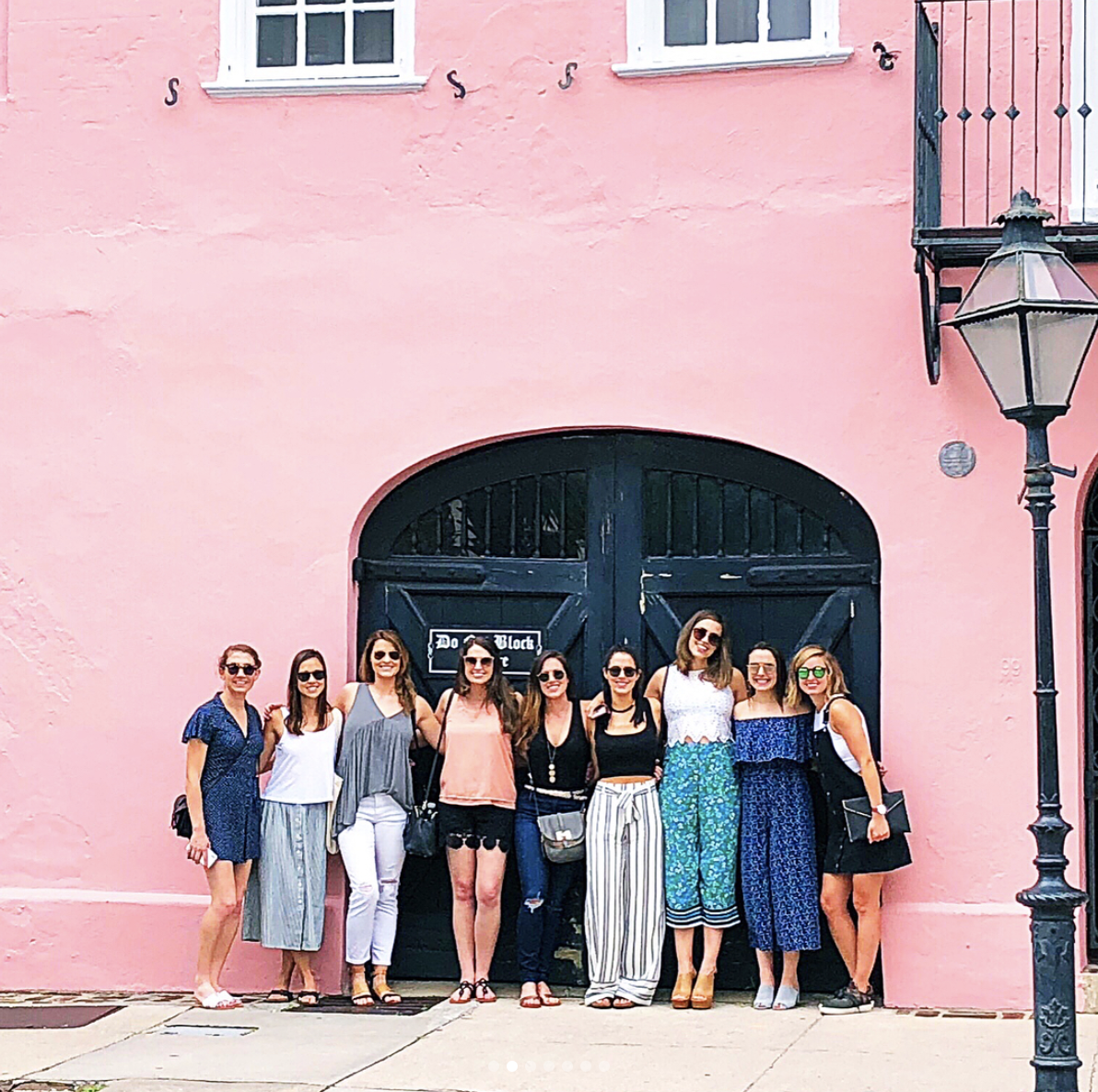 As anyone who has booked flights before knows, the most expensive type of trip is one where you leave on Friday and return on Sunday.
So when I can, I try to fly on cheaper days to get better deals, or I try to fly out of different airports.
For example, I attended a bachelorette party in Santa Barbara, but have family in San Diego. So, I booked a cheaper, midweek flight and stayed with family before and after the trip. I got to see my family and I saved money. Win-win!
Another option is searching for nearby airports. The flights to your destination may be super expensive one weekend, but you could get a deal to a nearby city and hop on a cheap bus to your destination.
7.
Get your wedding gifts during Black Friday — or other big online or holiday sales — and use coupon codes.
In my experience, people usually set up their wedding registries pretty far in advance of their big day, probably because it is really fun!
This means you can and should take advantage of holiday sales. Most websites run promos on Black Friday, Memorial Day, and many other holidays. These are great times to stock up on a bunch of gifts at once.
Glantz says that wedding attendees should always be on the hunt for coupon codes.
"I cannot stress this enough," she said, "because all of the things on the registry come from third-party sites which always have sales going on. So never — I mean never — buy a gift for a wedding that's full price."
DIY gifts can also be an option when your short on cash, Glantz said.
"Look through different memories you've had with the bride," she said. "What's something special or personal you can create for the bride?"
8.
Plan ahead for little ways to save while traveling for wedding events.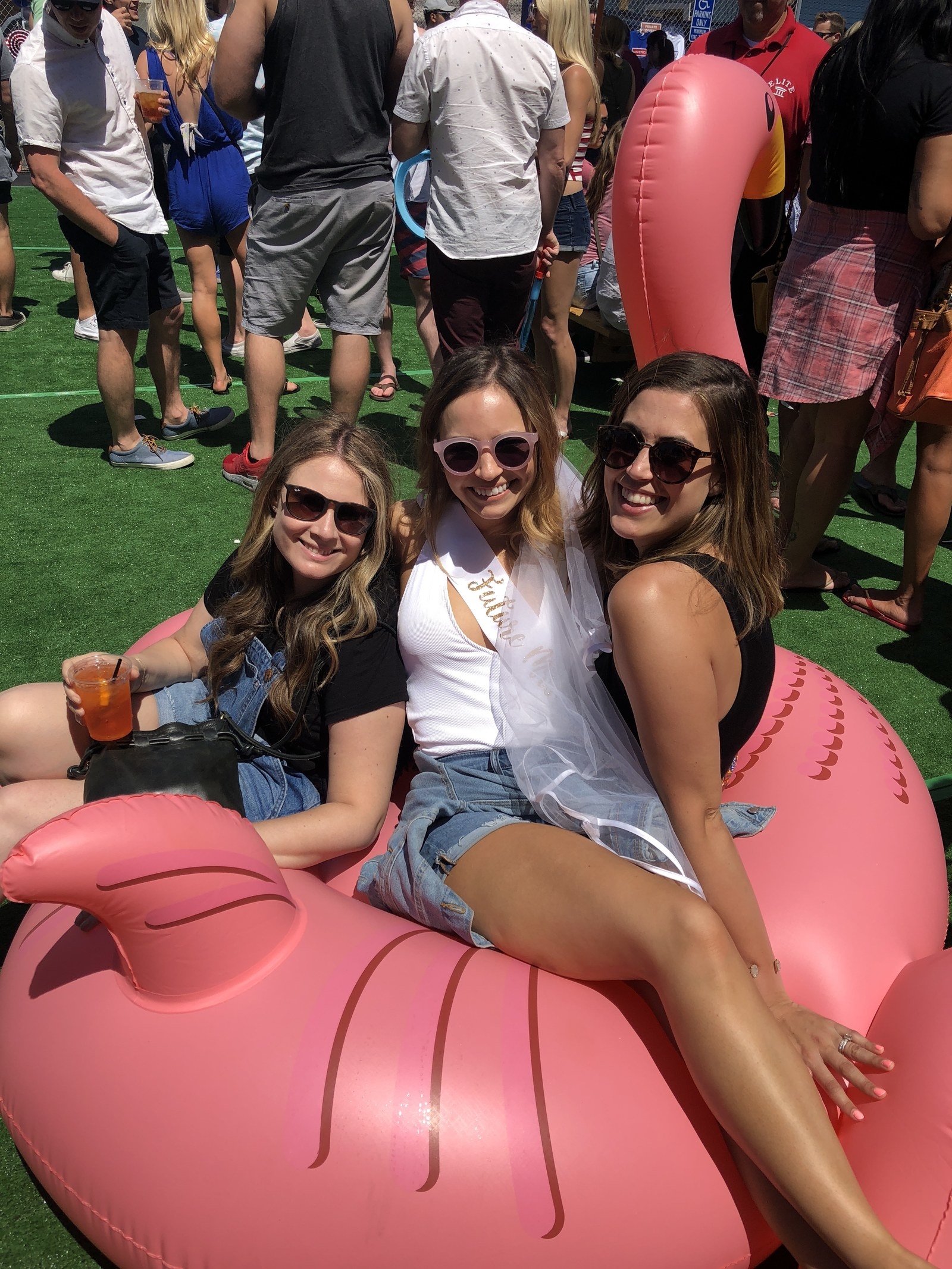 There are little ways to save when you're traveling that can really add up in the long run.
For example, I never take a car to the airport. I always take the subway, even if it means I have to leave about two hours earlier. When you're going to multiple wedding events, these costs can really add up, and it's an easy way to save. I also pack snacks and protein bars in my purse so I will be less tempted to buy pricey airport food.
Also: Think before you automatically sign up for the room block at the hotel suggested by the bride and groom. There may be ways to save.
For two weddings I have coming up, I booked my husband and me in hotels that have complimentary breakfast in the morning.
This means we will have at least one meal a day covered. And I usually hit up a grocery store so we can have food in our hotel room to hold us over until dinnertime.
The nice thing is: These hotels are usually the same price, or sometimes even cheaper, than the hotel booked for the wedding guests.
9.
Try not to stress out, and have fun!
I am being honest when I say this has been the most fun time of my life. I love seeing all of my friends from different walks of life and celebrating them and all they mean to me.
I'd advise anyone feeling stressed about wedding season to take a step back and focus on what matters. You are getting the honor to stand by someone you love on one of the biggest days of their life. Enjoy it!