Thousands of dollars in donations are flooding in for a Detroit man who walks about 21 miles to work every day because he has no other way to get there.
James Robertson and his marathon commute were the subject of a lengthy profile in the Detroit Free Press on Sunday and his story soon spread across the country.
The 56-year-old has a perfect attendance record at his job at Schain Mold & Engineering, which is about 23 miles away from his house, the Free Press reported.
To get there, he walks about 21 miles a day to make up for gaps in bus service. Robertson says he has made the journey five days a week since his car broke down a decade ago.
Schain Mold & Engineering told BuzzFeed News it would not comment on its employees.
Robertson sometimes gets a ride from friends such as UBS banker Blake Pollack, who noticed him walking every day. Pollack began offering Robertson rides when he is able, according to the Free Press.
But most of the time, Robertson is on foot. He makes the journey year round, even through Detroit's bitterly cold winters, leaving at 8 a.m. for his 2 to 10 p.m. shift, where he makes $10.55 an hour.
His trip also takes him through some dangerous areas of the city, but he told the Free Press he relies on faith to keep going.
"I'm not saying I'm a member of some church," he said. "But just before I get home, every night, I say, 'Lord, keep me safe.'" He later added, "I should've told you there's another thing: determination."
As Robertson's story began to spread, three different online donation pages were established to try to earn enough money for him to get a new car.
One of the page owners is 19-year-old Evan Leedy, who is a student at Wayne State University. Leedy told the Free Press he contacted the other page owners to consolidate their efforts.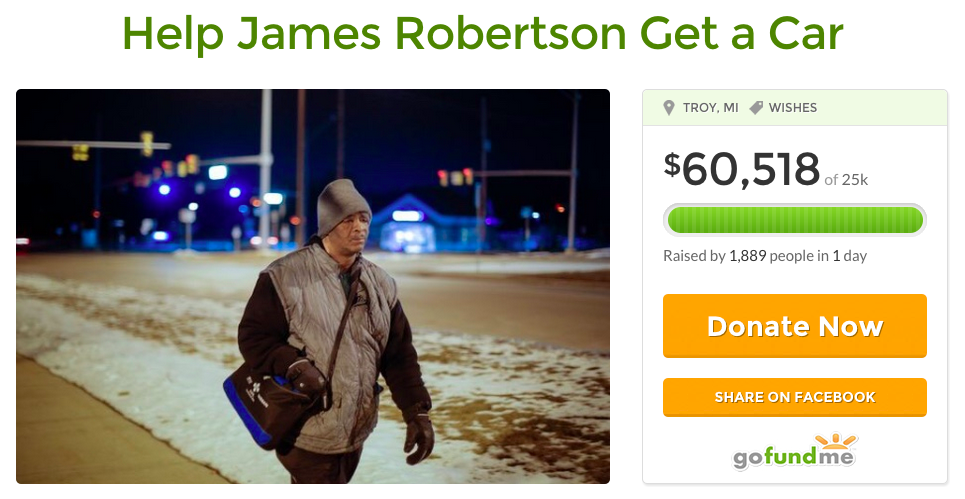 Pollack, Robertson's co-worker, told the Free Press he is planning to work to establish some sort of board to oversee the donations for Robertson.
"Putting a car in his driveway and just handing James the keys or filling his pockets with cash is not the answer," he said. "But with these resources now, we should be able to do something very positive for the guy."
As for Robertson, he was blown away by all the support. "Are you serious?" he said when told of the donations by reporters.