A Syrian Refugee Says He Is Spending His Saturdays Cooking Food For The Homeless
He wants to "give something back" to those who helped him.
A Syrian refugee who now lives in Berlin says he is now spending his Saturdays cooking food for the city's homeless population as a way to say thanks to the people who helped him start his new life.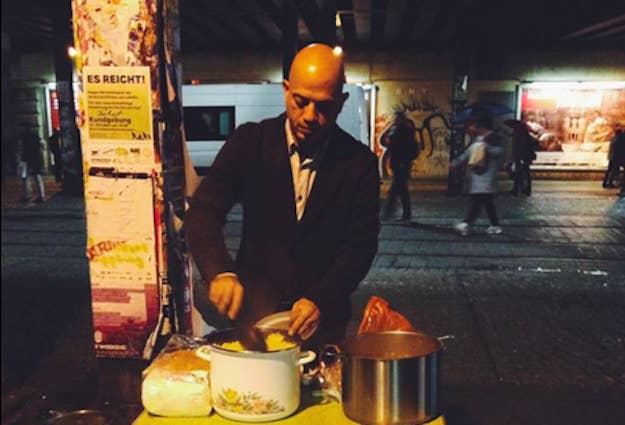 Alex Assali is gaining attention worldwide after his friend, Tabea Bü, posted about him serving others on her Facebook page.
Bü wrote that Assali had to leave everything behind in Syria because his life was in danger, and still does not have much.
However, she wrote, her friend still wants to show appreciation for the German people who helped him when he had nowhere to turn.
So, he goes down to a square in Berlin on Saturdays and cooks for the city's homeless.
He carries a sign that reads "Give something back to the German people."
"So I have the feeling like, God bless him so he is a blessing for so many more people," Bü wrote.
When BuzzFeed News contacted the email address on the sign in the photo, we received a response from a person saying he was Assali.
He said that he left his hometown of Damascus in 2007 because he was in danger over "political matters," and fled to Libya. He came to Germany last September.
Assali said he started cooking on his own to give back in August, and he usually feeds about 100 people. He said he saves about 120 Euros per month so he can offer his meals twice a month.
The experience of giving back is usually very emotional for him, he said.
"Usually some words they say make me cry really," he said. "Because just they thank God."
He said his goal is to "is to be closer to this kind of people."
Bü told German magazine Stern she met Assali through an organization called Sharehaus Refugio, which provides assistance to people who have lost their homes or were forced to flee their homes. The group thanked Bü on Facebook for spreading the word.
Assali said that he has tried to find a job in Berlin, but has so far been unsuccessful.
But, he said he hopes in the future he can continue to establish himself and continue to give back.
"My dream [is] to have in [the] future a big house to support [these] people and do something positive for them because many of them need someone to guide them to the right way," he said.