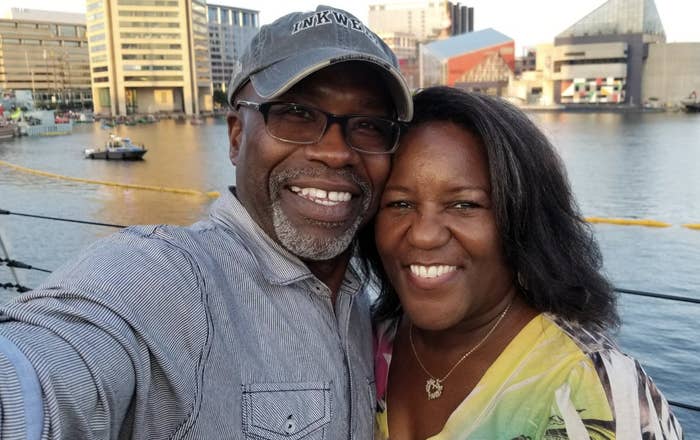 People are calling for justice for a Baltimore mom and engineer who was allegedly killed while trying to give money to a woman she thought was holding a baby in the cold.
Jacquelyn Smith, 54, was in the passenger seat of a car on Saturday when she spotted a young woman panhandling, the Baltimore Police Department said in a statement.
The woman, who was black, was carrying a bundle and had a sign that read "Please Help Me Feed My Baby," police said.
When Smith reached out to give the woman money, a black male appeared and stabbed Smith, according to the police statement. Both of the suspects fled.
Smith later succumbed to her injuries.
Her husband, Kevin Smith, was with her in the car. He told local media he and his wife had been out celebrating his daughter's birthday and that his wife "just felt moved" to help the woman when she saw her on the side of the road in the cold.
Smith said his wife "waved her over," and then the man appeared "out of nowhere."
He told the Baltimore Sun the woman then did something chilling.
"This girl actually said, 'God bless you' after the man stabbed Jacquelyn," he said.
Smith was an electrical engineer and mother to a college student, 19-year-old David Hood. Hood told the Associated Press that his mother's generosity was in her character.
"I think it was a split-second decision of wanting to help somebody else. She really cared for everybody. She loved everyone and was very compassionate," he said.
Local reports about Smith's story have been spreading online.
Many people were shocked that such a violent act could have occurred from an act of kindness.
"Heartbreaking and infuriating."
"Jacquelyn Smith tried to do a good deed and the worst possible outcome took place."
On Tuesday, her story even reached Oprah.
"This story struck my heart. I've done this a 1k times. But will think twice before ever doing again," Oprah tweeted.
A spokesperson for the Baltimore Police Department told BuzzFeed News in an email there has not been an update in the case since the statement Saturday.
Both suspects are still at large and are being sought by police. "Anyone with information about either are asked to call detectives at (410) 396-2100," the statement said.
Kevin Smith told the Sun he wants to create a law in his wife's name banning panhandling in the city. The Baltimore city code already prohibits asking for money from someone in traffic "whether in exchange for cleaning the vehicle's windows or otherwise."
"Something needs to be done, because now you don't know whether or not you're going to give and this person's going to take your life or they're going to say thank you," Smith told the newspaper. "There are some desperate people. They don't need help, they're trying to hurt you."
The city's interim police commissioner Gary Tuggle warned people that the pair is still at large and using the panhandling ruse.
"We also want to caution the public about engaging with panhandlers and recognizing that not all of them have honest intent," he told the Sun. "Not all of them have real need."