A woman in Texas has sparked a huge debate online after she defended her right to let her boyfriend drive her 7-year-old daughter around on his motorcycle.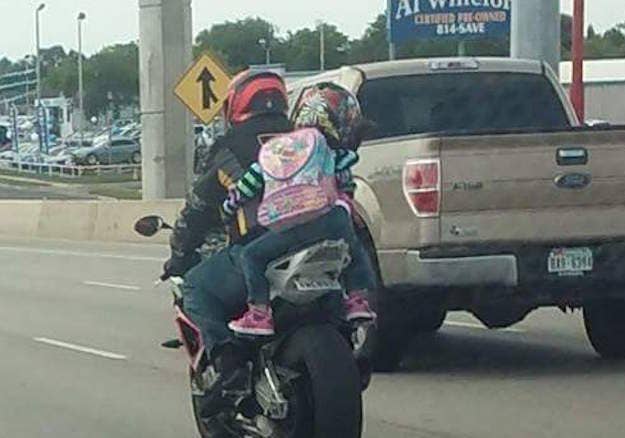 Mallory Torres is a mother of three from Corpus Christi. She is also expecting her first child with her boyfriend, John Hays, he told BuzzFeed News.
Hays, 37, said he has been riding motorcycles for more than 20 years.
A few months ago, he began bringing Torres' 7-year-old daughter, Mackenzie, along with him on the back of his bike. He said the child loves to ride and begs for him to let her come along.
"She just loves the entire experience," he said.
Hays said he is extremely cautious when he rides with Mackenzie, and discussed at length with her how to ride before she ever hopped aboard.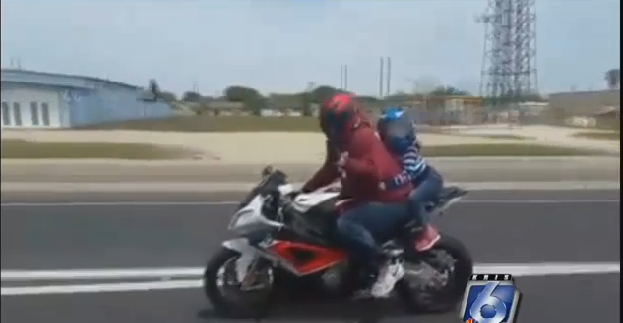 "We took several short trips before ever going for a real ride," he said. "She wears a full face helmet, a jacket; she usually has her gloves on."
Texas law states that a child must be at least 5 to ride a motorcycle, and must wear a helmet if they are under 21.
Recently, a driver snapped a photo of Hays driving Mackenzie home from school on the back of his bike. The driver shared it to a local motorcycle page, and it began to spread to other community pages.
Most of the comments on the original photo were positive, Hays said, but as the photo spread, people began to get nasty. They called Torres a bad mom for letting Mackenzie on the bike, and even sent Hays threats.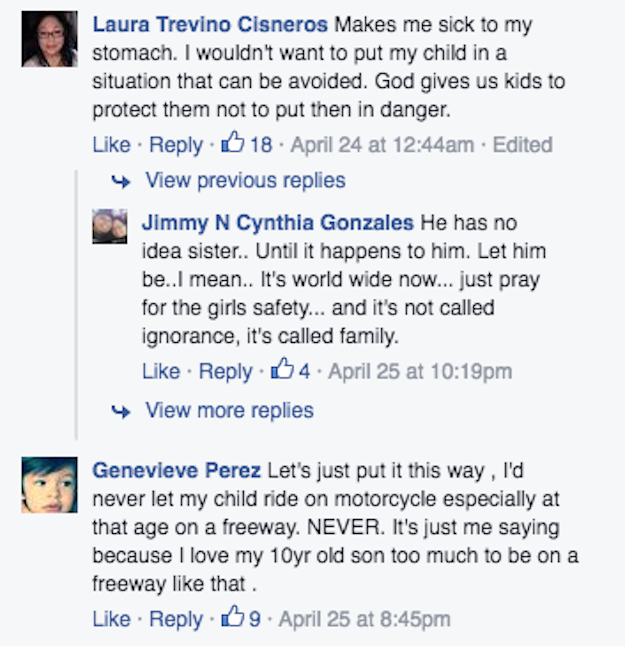 "People began to attack Mallory as a mother, and I had people tell me I should be killed or thrown in jail — just some real mean things," Hays said.
So, Torres decided to write a Facebook post defending herself. It struck a chord with people and has since been shared more than 40,000 times.
She said, in part, that her daughter was perfectly safe, and she didn't want to keep Mackenzie from experiencing things because of fear.
If you want to keep your child in a bubble, by all means go for it. If you wouldn't allow your child on the back of a motorcycle, then don't, that's your choice as a parent and I support you. But do not call us bad parents because we don't lock our kids in their bedroom with iPads and cell phones. Don't call us bad parents for allowing our children to experience LIVING. Don't call us bad parents for enjoying putting a smile on our kids face every now and then with a motorcycle ride home after school. I WILL continue to allow my daughter to ride if she wants to. I WILL continue to be the best parent I can be. I WILL continue to keep my kids happy and pray that they are safe whether it be at school, at home, at a friend's house, on the basketball court, or on a motorcycle. I'll tell you what i WON'T do though. I won't keep my child from riding just because a handful of close minded, ignorant people think they are the definition of a "perfect parent".
Many people responded to Torres saying they agreed with her, and relayed their own positive experiences on a bike.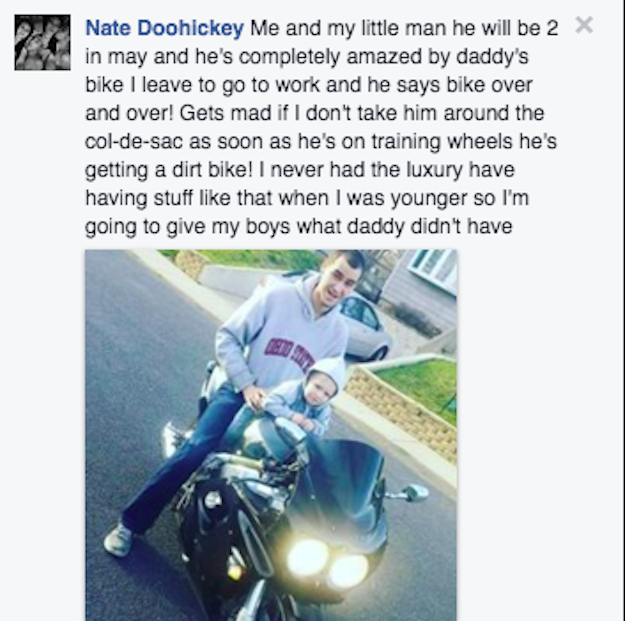 But others argued it wasn't safe.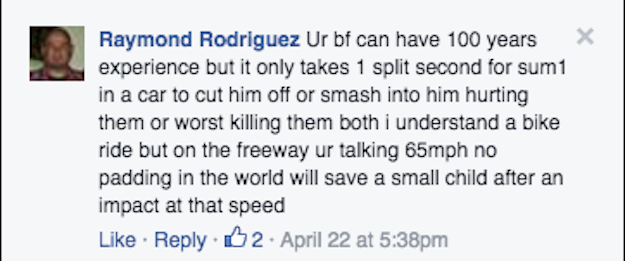 Hays said all the attention and media interviews have been "overwhelming," but he is happy to get his message out there.
"Parent how you chose, but if no laws are being broke and your children are taken care of, then good for you," he said. "Opinions are welcomed, but bashing someone is not an opinion."
He and Torres are planning an event to spread awareness of motorcycles and to teach others how children can ride.
"The main thing we want people to realize it not a 'biker,' it's a dad, a mom, a brother, a sister, a son, a daughter," Hays said. "Kids ride all the time so please just watch for us."