A mom in North Carolina had the below photo created in January, featuring her at her 2-year-old daughter's grave with a ghostly image of her child behind her. Two months later, the mom was charged with killing the girl.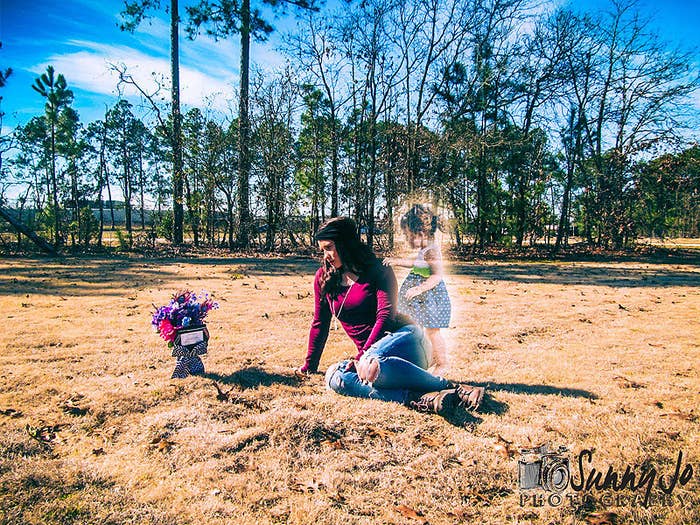 Jeanie Ditty, an active duty soldier at Fort Bragg, and her boyfriend, Zachary Earl Keefer, were charged with first-degree murder in the death of Macy Grace Ditty last week.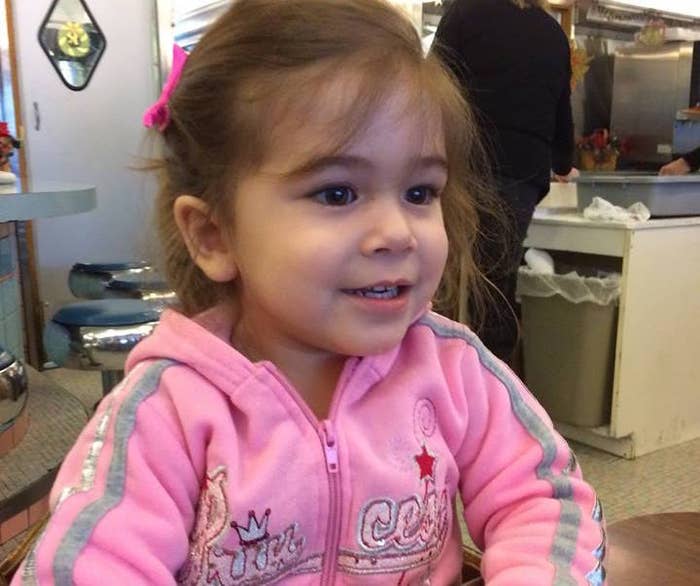 The toddler was rushed to a local hospital on Dec. 2 covered in bruises and unresponsive, according to a report from the Fayetteville Police Department.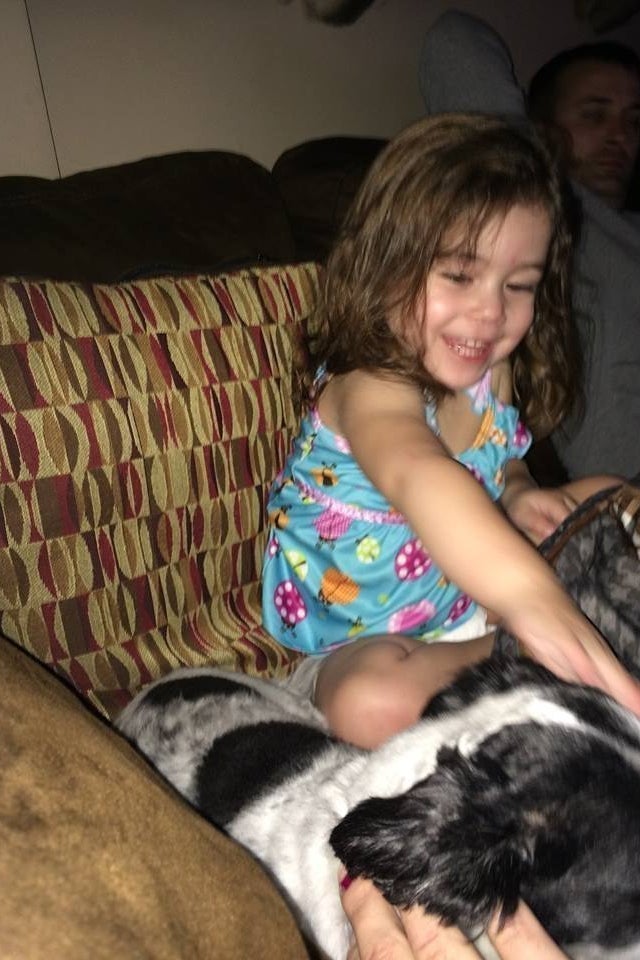 The injuries were "consistent with child abuse" and had occurred within 24 hours of her being brought to the emergency room, police said. Doctors tried to save Macy Grace, but she died of her injuries two days later.
Ditty told police that she noticed her daughter was acting like she was sick the night she was hospitalized — so she called Keefer to check her out, the Fayetteville Observer reported.
Keefer, a paramedic, told authorities Macy seemed fine to him, but later he heard a strange noise and realized she was choking on her own vomit, the Observer reported. The couple then took the child to the hospital, but it was too late.
Ditty is still legally married to Macy's father, Kevin Ditty, who is also a soldier stationed at Fort Bragg, Macy's maternal great-aunt, Michelle Smith, told BuzzFeed News. The couple had split shortly before Kevin Ditty deployed, and he was overseas when Macy Grace died, she said. He was flown home after his daughter's death.
Exactly a month after Macy's death, Pennsylvania-based photographer Sunny Jo told BuzzFeed News that Ditty contacted him.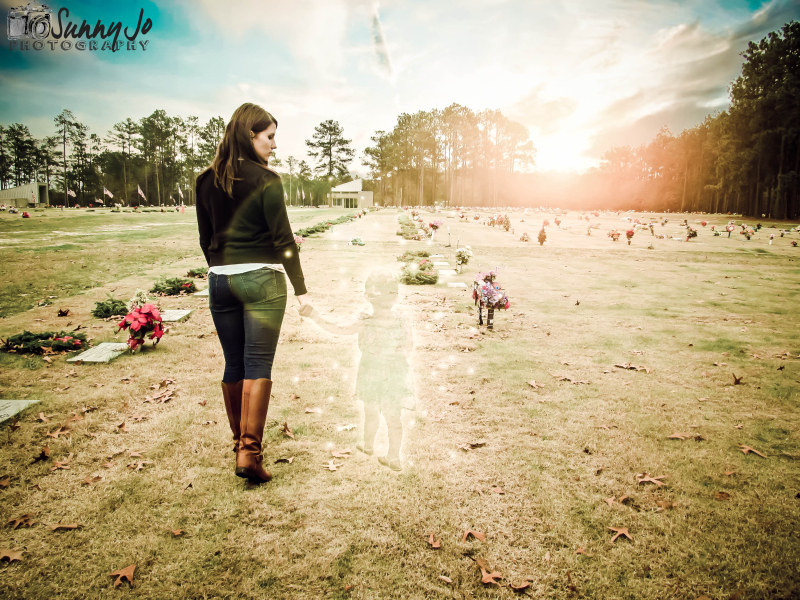 Sunny Jo specializes in "heavy-effect Photoshop editing."
One of the services he offers is "one more time tribute photos," where he photoshops a loved one into a photo as a memory for a grieving family. He doesn't take the photo, but just provides the editing.
"It's my number one seller," Sunny Jo said. "It's made for people to remember people they love the most."
The photographer said Ditty explained she had lost her daughter and asked him to create tribute photos for her. He said he was so moved that he commissioned the pictures at no charge.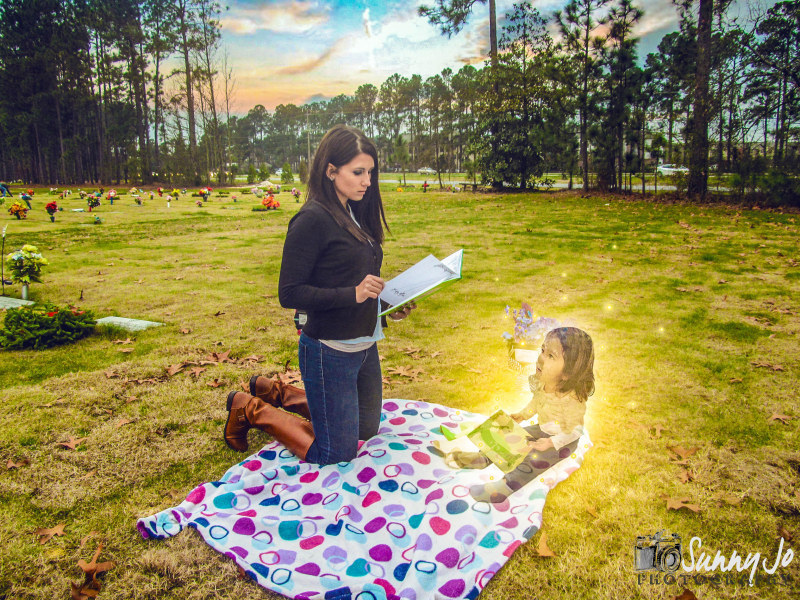 "She loved them," he said.
Sunny Jo said that police told him they believe Ditty decided to have the photos commissioned to portray herself as a "grieving mother."
"It's sick, knowing I was used," he said.
A Facebook account apparently belonging to Ditty also left a review of the photos on Sunny Jo's Facebook page: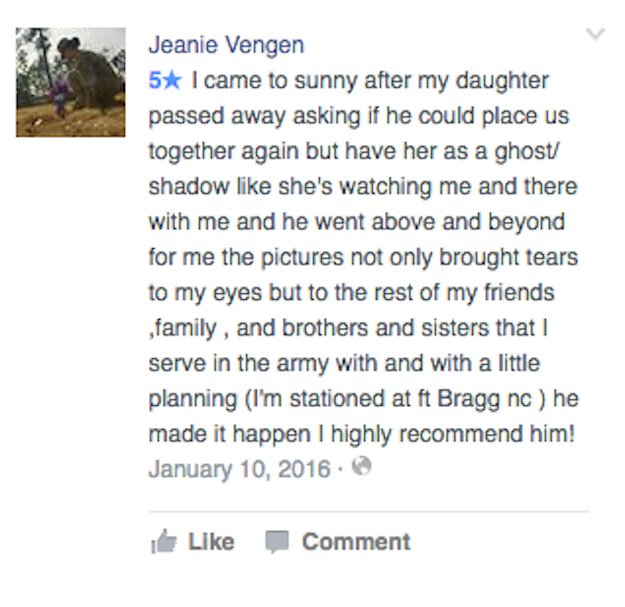 She wrote that the photos brought "tears to her eyes."
Last week Ditty and Keefer were charged with first-degree murder and negligent child abuse inflicting serious bodily injury.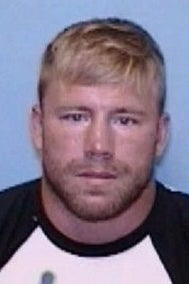 The pair had a court appearance on Wednesday, during which District Attorney Billy West said that what was done to Macy was "homicidal."
"This is a truly innocent victim and we are going to do everything we can to get justice for this child," he told WNCN.
Macy's family has set up a Facebook page, where they hope to raise awareness about child abuse in her honor, said Smith, the great-aunt.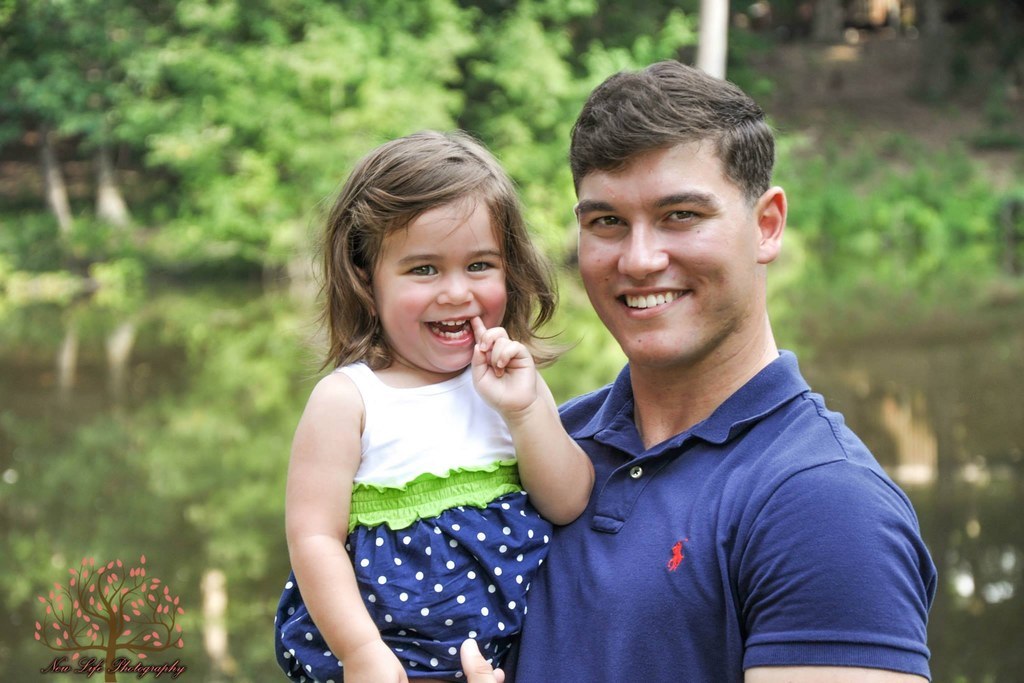 "Macy was love," she said. "It is the perfect word to describe her. She loved everything."
Sunny Jo said that he has been horrified at the whole ordeal. "It's disgusting that someone would do this," he said.
He said the situation led him to delete the "tribute photos" section from his website and that he initially wasn't planning to do them anymore. However, he said he got messages urging him to continue and has decided to keep making them for grieving families.
"I decided I'm not going to let this negative situation stop me from doing good," he said.