A homeschooling program promoted by the Duggar family has distributed documents in the past that offer troubling advice about how to handle sexual abuse in the home.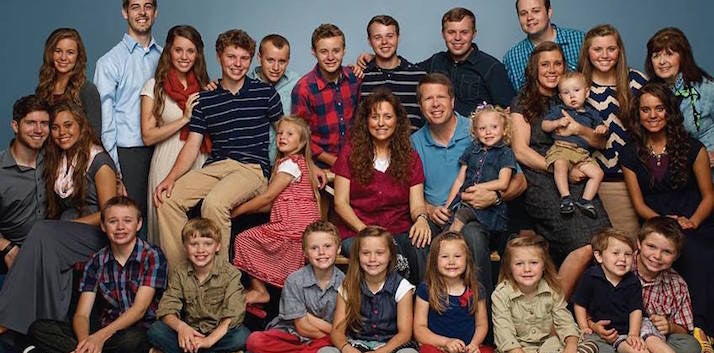 The documents from the Advanced Training Institute (ATI) discuss a situation in which an older brother sexually abuses younger siblings, but blames the immodest dress of his sisters for his behavior.
The revelations come after it was revealed the eldest Duggar son Josh was accused of sexually abusing his younger sisters when he was a teenager.
Duggar, who is now 27 and a father of three, with another child on the way, released a statement last week in which he confessed to acting "inexcusably." He also resigned from his position on the Family Research Council.
His parents, Jim Bob and Michelle, who star with him on the TV show 19 Kids and Counting, said in a statement that their son made "some very bad mistakes" but has confessed and recovered.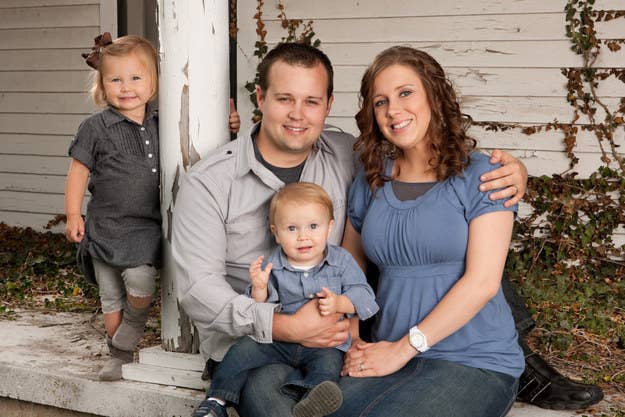 According to its website, the ATI is a "home education program" that provides parents with curriculum and support to teach their children with a Biblical worldview.
The ATI operates under the Institute of Basic Life Principles, a conservative Christian nonprofit group.
The group came under fire last year after its founder, Bill Gothard, resigned in the wake of sexual harassment allegations against him.
Gothard was accused of hiring young women, some of them teens, to work for him and then making unwanted advances toward them. The allegations stretched back for decades, the Christian Post reported.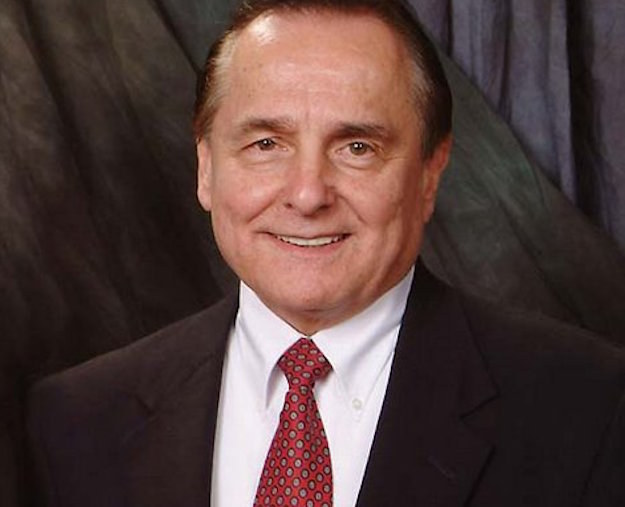 The Duggar family has been a proponent of the ATI's programs for years, having advocated for it on both their blog and 19 Kids and Counting.
The Duggars list ATI's homeschooling program on their website as being among the curricula they use to educate their children.
In addition, the Duggars attend an ATI homeschooling conference every year in Big Sandy, Texas. The conference is mentioned many times on their blog and the family has discussed attending the conference on their show.
The Duggars are so committed to attending the ATI's annual conference it is included in the "Duggar trivia" section on their website: "Where do the Duggars travel each year for the ATI homeschool conference?" the site asks.
The family has also discussed sending their sons to an ATI program called ALERT, which "focuses on training men in Biblical disciplines and character within the framework of learning skills for crisis response and ministry support."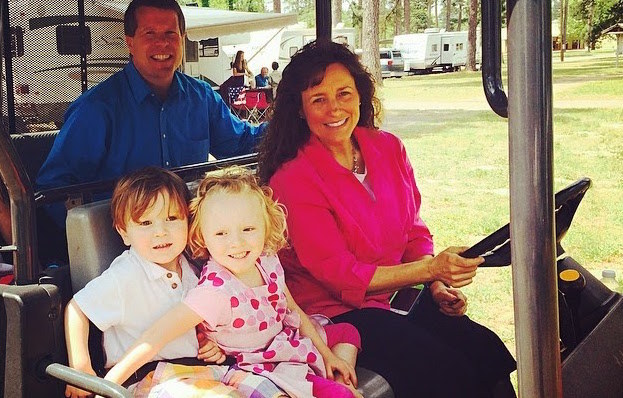 After the sexual abuse allegations against Josh Duggar emerged, documents from ATI's programs about sexual abuse came under heavy scrutiny.
One document in particular, called "Lessons From Moral Failures in a Family," is particularly striking because it describes circumstances eerily similar to what allegedly happened in the Duggar home.
The document was shared by Recovering Grace, a website dedicated to those impacted by the teachings of Gothard and ATI.
The website says the document was distributed in the late 1990s by ATI at several of its conferences.
The document describes a situation in which social workers visited a home and informed the parents that their oldest son had sexually abused younger members of his family.
According to the document, the boy repented for what he had done and was later asked to answer a list of questions in writing to shed more insight on what happened.
The questions included asking what factors had contributed to his sin, what could have been done to prevent it, and what factors "in the home contributed to immodesty and temptation."
"The information he gives is so helpful that every parent should read it and diligently apply the lessons that this family learned the hard way," the document states.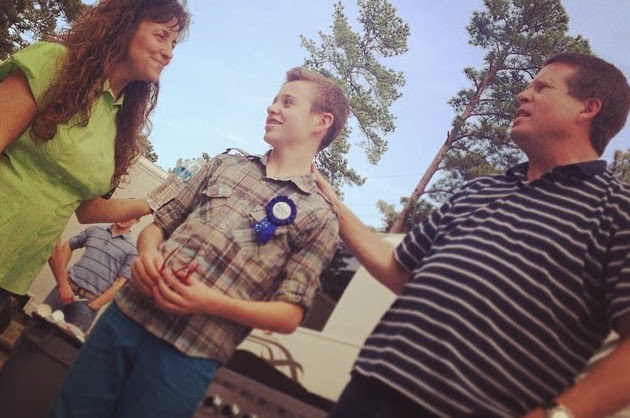 The most striking part of the document comes when the boy seems to blame his actions on the lack of "modesty" in his home, especially when it came to his young sisters.
The boy wrote that modesty was a "factor" in his actions because it "was not at the level is should have been in my family."
"It was not uncommon for my younger sibling to come out of their baths naked or with a towel," he wrote.
He also said his younger sisters acted inappropriately when they wore dresses, saying they "did not behave in them as they should."
He then said his sisters didn't realize what they were doing to him because they didn't realize their "own nakedness," and it wasn't taught properly to them. He seems to blame this on his mother, who he says didn't see the human body as a big deal because she is a nurse.
The boy said he spoke with his mother who had "no idea" how "visual" men are sexually compared to women. He said changes have since been made in his home.
"This was not a major reason for the offending, but it allowed my little sister to be open to what I made her do," he wrote.
He then wrote, "A different lifestyle, with more modesty, might have prevented what happened."
The document then provides guidelines as to how to prevent this type of situation. These include "[insisting] on modesty at all times" and "[not allowing] boys to change diapers."
Another document from ATI, called "Counseling Sexual Abuse," is equally problematic.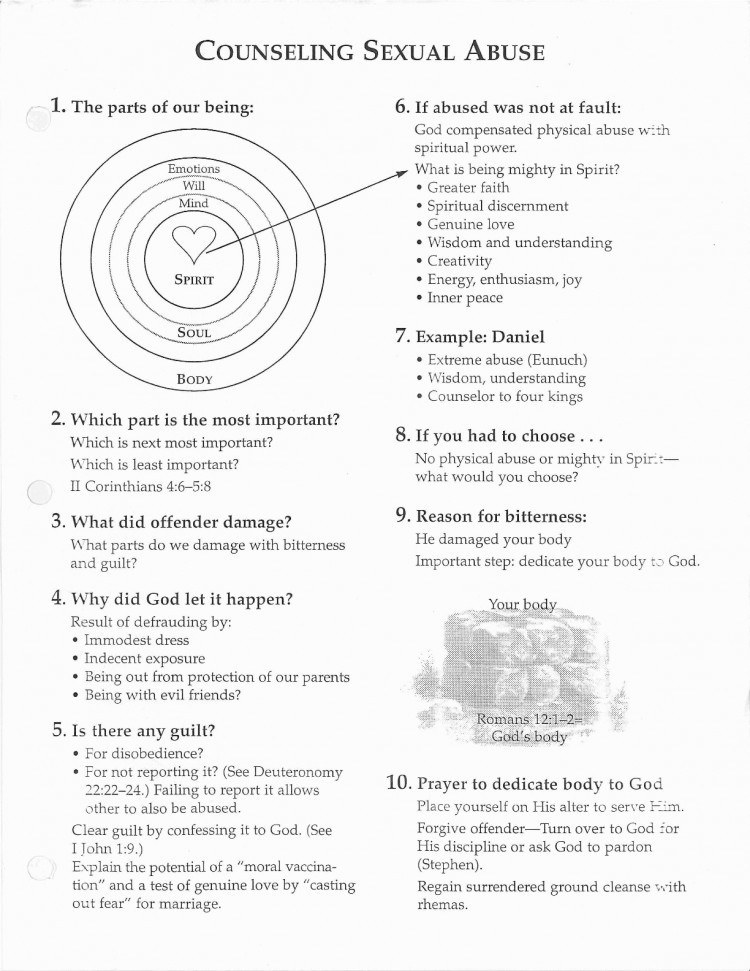 The document suggests that a victim of sexual abuse is damaging themselves by being "bitter" about what happened.
It also seems to imply the victim should be feeling guilt about what happened. The reasons for this guilt may be "disobedience" or "not reporting it," it states.
In addition, the document references that there is a potential for "moral vaccination."
That term is described in an article by Recovering Grace:
Moral vaccination" seems to reference a concept Gothard shared in seminars and conferences in the 1980s, when he told the story of a woman who struggled with unwanted sexual thoughts and eventually was raped. In the anecdote, Gothard described the rape and the woman's subsequent aversion to sexuality as inoculation against lust.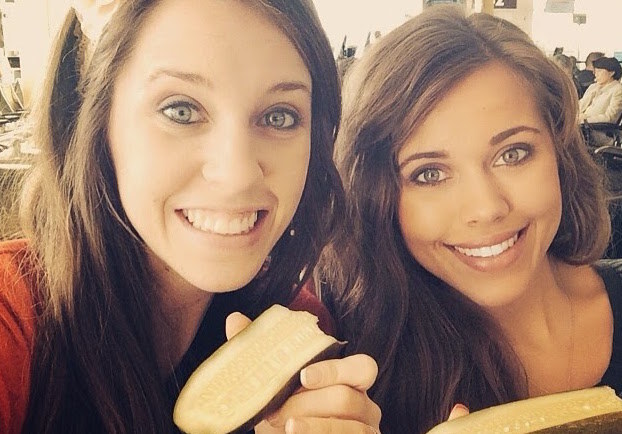 In the case of the Duggars, the family has not stated what parts of the ATI curriculum they used, or what if any of these therapies they turned to in the situation involving Josh Duggar.
Jim Bob and Michelle Duggar told police at the time that they sent their son to a Christian program involving hard work and counseling, but later said they sent him to help a friend who acted as a mentor to him.
BuzzFeed News has contacted ATI for comment about the documents.
H/t: Sarah Galo.