People Are Outraged After An Animal Rights Group Was Caught Taking A Puppy From A Homeless Man
The animal rights group responded to outrage over the incident by claiming the puppy was sick and being used for "begging."
A video that claims to show an animal rights group ripping a puppy out of the arms of a homeless man is causing outrage online.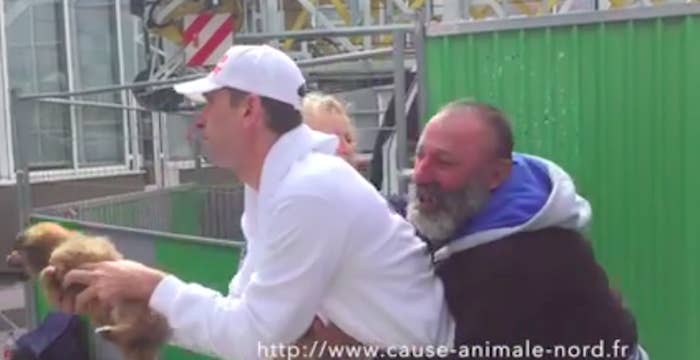 The video was posted to Facebook last week by a man named Nghi Le Duc.
The video has since been viewed more than 2.5 million times. Many people decried the group's actions on social media.
People called them "bullies."
And said Cause Animale Nord was perpetrating the same kind of cruelty it claims to fight against.
Someone even set up a Change.org petition that calls for the group to be investigated. More than 200,000 have signed it.
But the group pushed back on the criticism, saying the video doesn't tell the full story. In a post on the group's Facebook page, it claimed the man was using the puppy for "begging."
The group is offering the puppy for adoption, and posted a video on its Facebook showing her happy and playing. "She can finally run everywhere," the group wrote.
In response, a man named Adam Gulmezian wrote on Facebook he tracked down the homeless man. In a video, the man claims that he has papers proving the dog is his.
But Cause Animale Nord responded by claiming the papers had been "tampered with."
Local officials said an investigation hadn't been opened into the case, La Voix du Nord reported.
The animal rights group and the person who posted the video didn't return a requests for comment from BuzzFeed News.
La Voix du Nord said the group is known for public displays to raise awareness about animal rights issues.