A family in San Diego, California, says thieves stole Easter eggs from their front yard that were there for their son, who has Down syndrome.
Michael and Janet Ford told Fox 5 that they had been working with their 2-year-old son, Gabriel, to teach him how to pick up Easter eggs so they could treat him to a hunt for the holiday.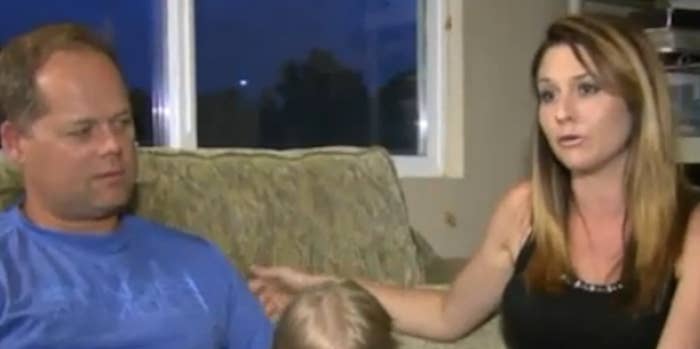 Janet Ford told the news station that her son doesn't really understand the holiday, but they thought placing eggs on the lawn and teaching Gabriel to pick them up would be a fun activity for him.
"We've been working on picking up eggs and putting them in a basket for the past few weeks," she said. "It's been his therapy."
The couple added they put the eggs outside on the soft grass so Gabriel could easily collect them, as he is still learning to walk. A neighbor placed the eggs on the lawn for the family while they were at church, the Union-Tribune reported.
But when the couple came home, they found many of the eggs were missing. Michael Ford said he checked footage from a surveillance camera he installed at his home, and saw something that shocked him.

A couple had apparently seen the eggs on their lawn, and decided to treat themselves to a few.
They later returned with some kids and cleared out more eggs. They then returned a third time and stole more of the family's holiday decorations.
The Ford's were disappointed, but decided to carry on with their holiday.
"My husband was mad but I thought, 'No, it's Easter. Easter is about forgiveness,'" Janet Ford told the Union-Tribune.
Chula Vista Police Lt. Fritz Reber told BuzzFeed News that the department has opened a petty theft investigation into the incident.
Reber said that authorities had identified some "probable suspects" who live in the neighborhood, but are looking for an interpreter to get their statements because they do not speak English.
After talking to the suspects, police will determine whether a crime occurred, he added.
Janet Ford told 10News that Easter eggs were also stolen at some of her neighbors' homes.
"It's disappointing," she said. "Please don't steal from kids. Don't do that."
Meanwhile, Fox 5 reported neighbors are working to plan a new egg hunt for Gabriel.