A cop in Washington, D.C., is getting a ton of praise after she helped break up a group of fighting teens by starting a dance-off.
The police officer, who does not want to be named, was one of several officers who responded to a disorderly conduct call on Tuesday, Metropolitan Police Chief Cathy L. Lanier said in a statement.
When the officer arrived, they found a group of teens who were trying to fight each other.
Instead of using force, the cop decided to challenge the teens to a dance-off. One girl, 17-year-old Aaliyah Taylor, took her up on it. They danced to "Whip/Nae-Nae" and "Bet You Can't Do It Like Me" by DLow.
Lanier said that the cop's actions successfully broke up the fight between the teens and diffused the situation.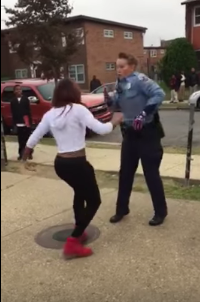 "The viral video today of the First District Officer positively engaging with teens and diffusing the conflict yesterday in a manner that appropriately resolved the call is reflective of the many positive police-community interactions that take place daily in Washington, D.C," she said.
Many people took to social media to praise the cop for breaking up the argument without resorting to violence.
Including Washington, D.C.'s most famous resident: President Obama.
When contacted by the Washington Post, the officer said the fact that her video has gone viral is "kind of embarrassing."
"This is what we do every day," she said.
Lanier said that the department is proud of the officer and her actions.
"The officer is known for her hard work and dedication to policing," she said. "She is a great credit to the Metropolitan Police Department."