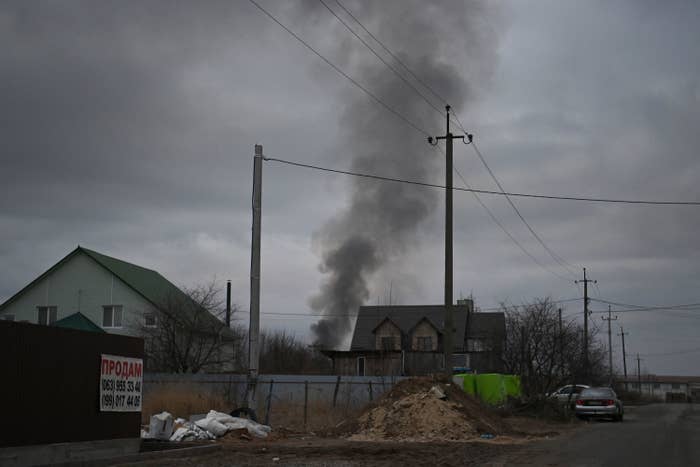 As Russia launched a full-scale invasion on Ukraine and the world turned to social media to watch the potential humanitarian crisis unfold, some people online took an unorthodox approach to calling for peace: flooding Vladimir Putin stan accounts on TikTok and Instagram with comments attempting to seduce the leader out of war.
"Vladdy daddy please no war," one user wrote on a photo of the Russian president that has a caption discussing a potential attack against Ukraine. "Vladussy I am disappointed in you," another person said, referencing a meme in which "ussy" is added to the end of various nouns to make a portmanteau with "pussy." "I'll give you $5 and a foot rub if you don't start a war," another comment read.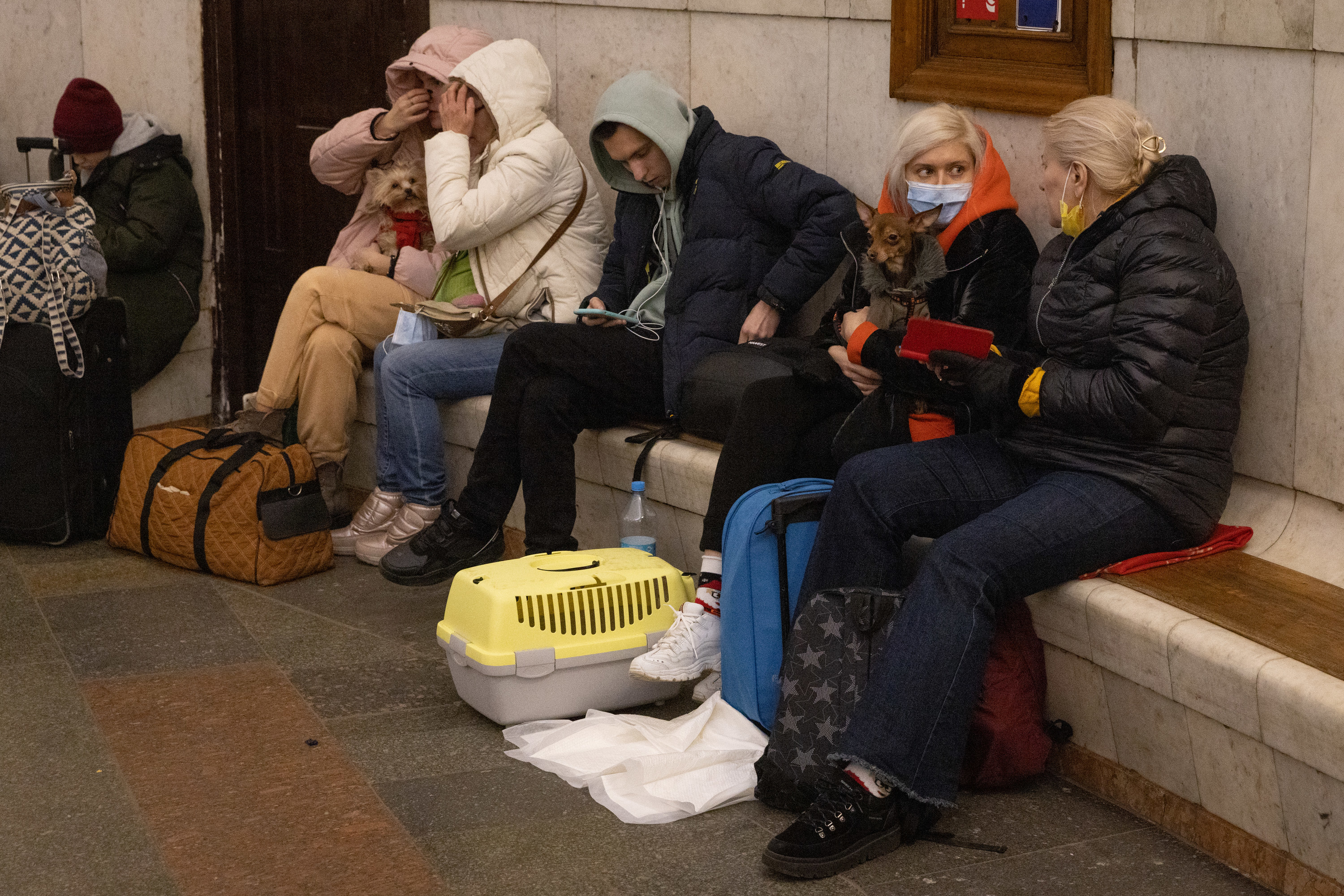 And the search for information on the invasion has seen "vladimir putin russia ukraine war" queries have risen 3,450% in the past day on Google. The hashtag #vladdydaddy had 45.5 million views on TikTok on Thursday, while searches for terms such as "ww3 '' increased sixfold since Wednesday.
As historical events are increasingly spectated from the keyhole of social media, the language created online in tandem with the inaction of watching from home has led to a heavy meme culture around events that seem helpless from many individuals' perspectives.
Russia has previously weaponized social media and cyberattacks in its geopolitical operations and has even had meme fights with Ukraine before.
None of the pages being flooded with "vladdy daddy" comments are Putin's official accounts. The Russian president does not have any known personal social platforms, previously saying that he is too busy and "not in the mood for Instagram." But that doesn't stop others.

Putin's image has been a meme since the late 2000s. Dozens of photos of him undertaking various stereotypically masculine tasks — from hunting to riding a horse shirtless — have gone viral. In 2010, there was a popular Tumblr blog called "What Is Putin Doing Today?" that parodied his desire to be seen as dangerous. In 2013, people reacted to footage of Putin kissing a 40-pound fish he claimed to have caught with varying levels of amusement and distrust.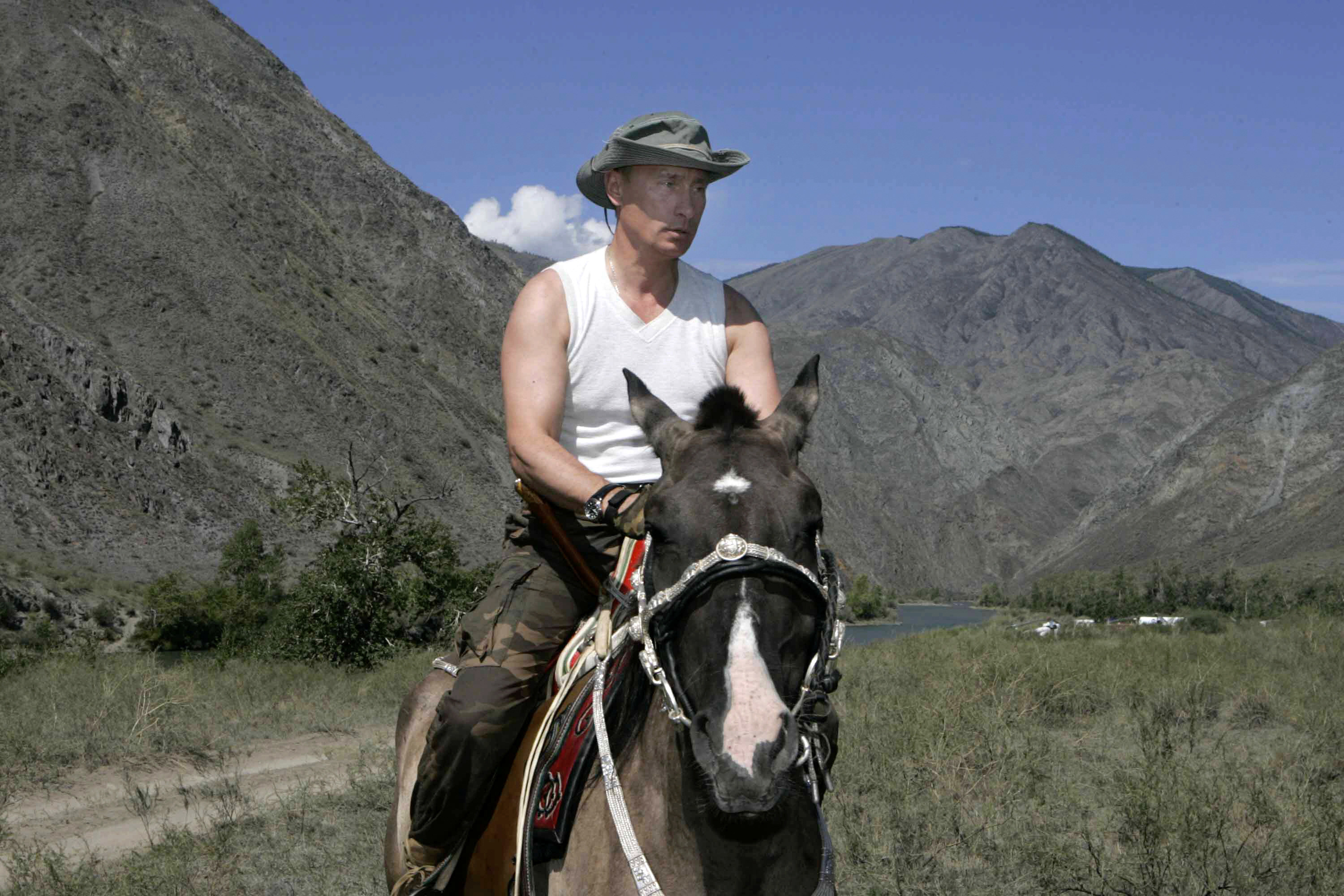 Though people have long shared thirst comments directed toward Putin on social media, there was a notable shift in January 2022. Instead of joking about Putin's feats of strength and poking fun of his stereotypically Russian stoicism, they begged for mercy.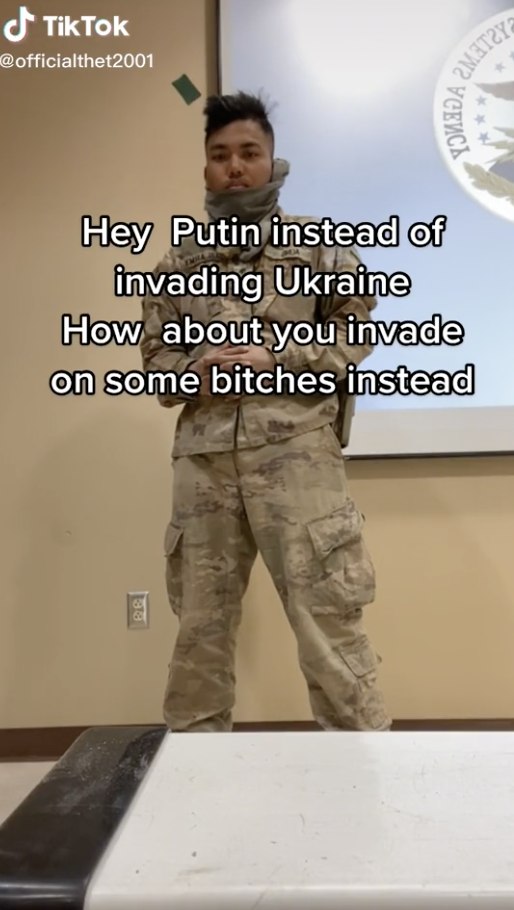 "Daddy Putin, please don't start a war, I promise I'll be a good kitten," TikTok user @ventitts posted in Russian in the comments of a fan Instagram account on Jan. 25.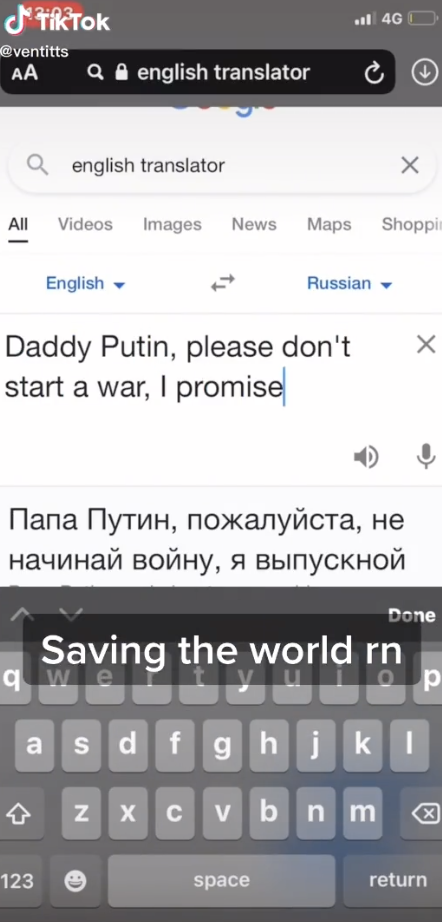 The same day, another user shared a screen recording of many similar comments on a different stan account.

"When Gen Z finds Putin's Instagram…" they wrote.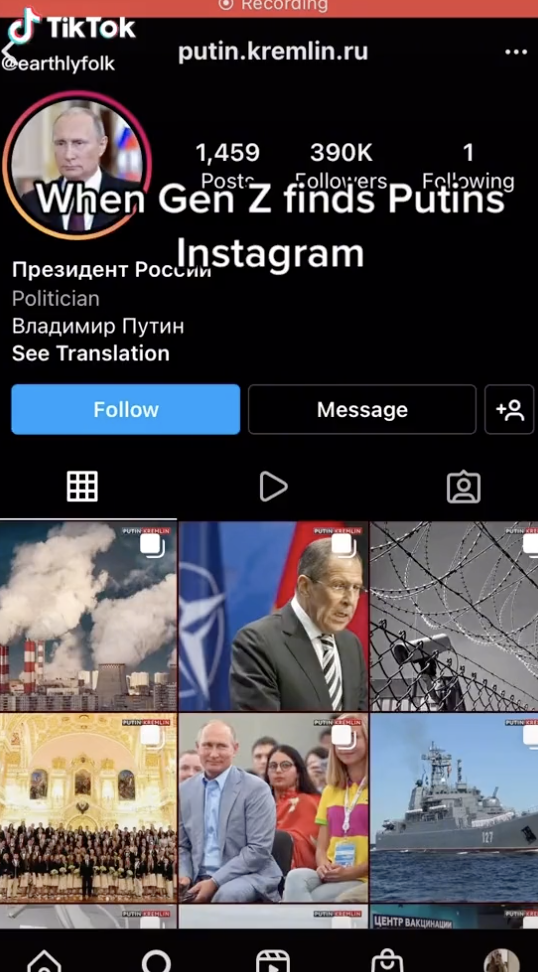 Though comments such as "imagine this in a history book 50 years from now" and "WWIII is not the vibe" suggest most of these users are aware of their own absurdity and joking through the fear of an impending war, young anti-Putin activists are eager to use social media to further the cause.
In early 2021, TikTok became a crucial tool for supporters of Russian opposition leader Alexei Navalny, a frequent target of Putin's. The app was used to organize grassroots protests, which, of course, went viral on TikTok.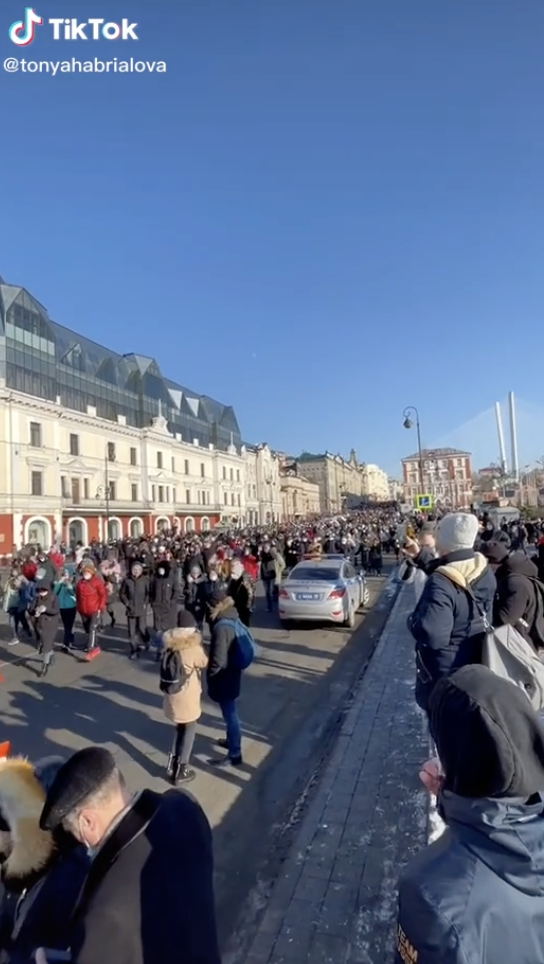 Young Russians have also posted videos of themselves taking down portraits of Putin and destroying their passports, among their standard TikToks of karaoke and dancing with friends. According to TechCrunch, the Russian government allegedly paid influencers to urge activists not to join them, as posts spread from TikTok to Instagram, YouTube, and beyond.
In contrast, most of the joking thirst posting on Putin's stan accounts — "vladdy daddy deep breaths ❤️❤️❤️ this isn't you babes 🥺🥺🥺🥺 no war pls 🙏🙏🙏🙏" — come from US accounts.
"To a lot of Americans, war is abstract, unfathomable," one person wrote on Twitter. "Perhaps you reach for a joke out of discomfort. If this is you, don't."
But for those watching a possible war, during year three of a global pandemic, unfold through Twitter and TikTok, the comments are simply a coping mechanism.
"Just memeing our way through the apocalypse," one user tweeted. "Telling our silly little jokes."