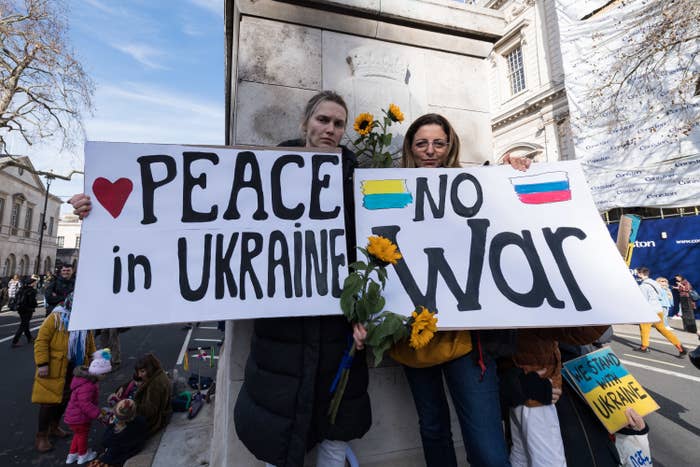 Since Russia launched a full-scale invasion of Ukraine days ago, more than 150,000 Ukrainian civilians have fled to neighboring countries. The declining access to basic necessities such as cash and medical supplies has made conditions even harder for people in Ukraine and those trying to leave the country.
But there has been a massive outpour of support from all over the world, with people mobilizing on social media and providing aid to Ukrainian civilians in whatever way they can.
Christian Borys, a Ukrainian Canadian journalist, launched merchandise store Saint Javelin last week to send funds for orphans of deceased Ukrainian war veterans, as he watched tensions escalate between Ukraine and Russia.
"I put our Shopify store up in like 30 minutes, and the next day I woke up to a thousand orders," he said. "I printed 100 stickers after launching the site, and thought I'd just give 500 bucks and be done."
Since Feb. 24, when Russia began attacking cities across the country, Borys pivoted the funds to address emergency needs in Ukraine, including providing medical aid and financial assistance for victims. He said Saint Javelin has generated a total of around $175,000 so far, with $100,000 of proceeds brought in on Friday alone.
The first check will be sent on Monday to Help Us Help, a Ukraine-based charity, which will then manage the distribution of donations by most pressing needs, he said.
"We're going to generate as much money as we can, and just send it to wherever needs it most," Borys added.
Due to high demand, Borys said Saint Javelin is looking to continue to help Ukrainians in other ways, including organizing evacuation plans at the Poland–Ukraine border for those fleeing, and helping coordinate those crossing over with a place to stay, including at his dad's house in Przemysl, Poland, he said.
Digital creators have also used their platforms to raise money for Ukraine. Lucky Pochi, a VTube streamer (a form of streaming by which a creator uses an animated character in lieu of their face), organized a group of her fellow streaming influencers to fundraise for Ukraine. "We decided to make a group campaign on Tiltify, and each of us have been working hard doing charity streams since Thursday," she told BuzzFeed News.
So far, the group has raised $2,300 that will go toward shipping medical supplies and emergency health kits to Ukrainians without access to hospitals. Followers can type in a keyboard command to directly donate to Project HOPE, a global humanitarian relief organization. Pochi and her friends have even set up incentives for bigger donations, like a live wheel spin to decide her next activity, such as cleaning her desk or barking. Each stream lasts about three to six hours, she told BuzzFeed News.
"[Ukrainians have] been embroiled in conflict for so long already, that for an invasion on this scale, it just makes sense to help them," Pochi said.
Beyond the basic needs of food and shelter, people all over the globe are also reaching out to support Ukrainians in more holistic ways. Chef Damian Wawrzyniak sent out an announcement to sponsor two UK work visas, an offer that has been met by others expressing their desire to help out too.
Some have been handling donations for individuals with specific needs as well, such as diabetic care supplies. And in other means of support, millions of cryptocurrency donations have poured in to support the Ukrainian government's fight against Russia.

Help has extended beyond monetary fundraisers, too. Individual acts of kindness have seen mothers taking strangers' children to the border to help bring them to safety. Communities in European countries like the Czech Republic and Germany are gathering to collect essential goods, like food and medicine, to be shipped to Ukraine.
And at the Poland–Ukraine border crossing, World Central Kitchen, a not-for-profit organization run by celebrity chef José Andrés, set up a station there to feed people making the long trek across the border.