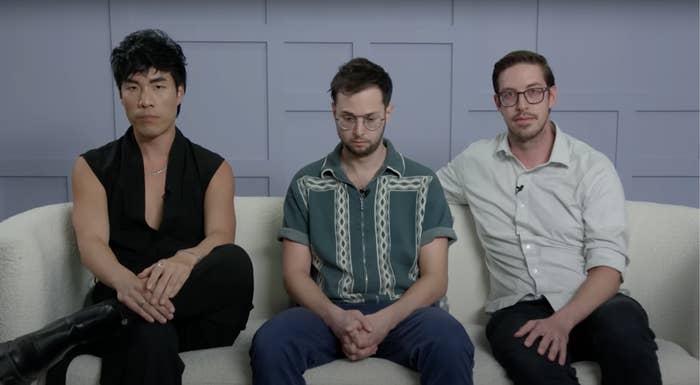 YouTube comedy troupe the Try Guys have released their first video a week after announcing that Ned Fulmer had left the group after cheating on his wife with a colleague.
"We just want you to know that we had no idea this was going on," said Keith Habersberger, seated on a couch with his fellow Try Guys and speaking solemnly to the camera. "All of that information was just as shocking to us as all of this has been for you this week."
Fulmer admitted to "a consensual workplace relationship" with a colleague after photos of them kissing in a New York City bar were leaked on Reddit, and "Try Guys" became the No. 1 trending topic on Twitter.
In the video titled "what happened," Eugene Lee Yang, Zach Kornfeld, and Habersberger confirmed that they had been slowly editing Fulmer out of their videos over the past two weeks after learning of the affair.

"We want to give you a timeline of what's transpired and some transparency into our decision-making," Kornfeld said.
The Try Guys have long been a staple for wholesome, family-friendly content on YouTube, so the scandal came as a shock to many of their 7.9 million subscribers. Originally beginning as a BuzzFeed ensemble, the group later branched out to their own platform. (Full disclosure: BuzzFeed Inc. has a financial stake in 2nd Try LLC.)
Fulmer's particular brand as a "Wife Guy" was the jumping point for many marriage- and parenting-themed series on the channel.
His wife, Ariel Fulmer, was often featured alongside the other Try Guys' partners for different videos and podcasts, in a crew known as the Try Wives.
In their Monday night video, the Guys revealed the entire timeline of what transpired. Habersberger explained they found out about the affair between Fulmer, a manager, and employee Alexandria Herrig on Labor Day weekend via several fan messages.
Yang then told viewers they underwent a three-week HR review process, after which Fulmer was removed from the Try Guys on Sept. 16.
The video also corroborated many of the fan theories that had taken place online. Fans had been puzzling over Fulmer's sudden disappearance on the channel, piecing together blind items about the affair and resurfacing old social media posts that could unveil a timeline of what was going on.

Public discourse around the scandal had been building for weeks before reaching a fever pitch on Sept. 27, when Fulmer confirmed the rumors on his Instagram. "I lost focus and had a consensual workplace relationship," he said in a statement that has now been memed many times.

"We chose not to rush into the announcement for a few reasons," Habersberger said in the new video. "Namely, there are real people who have been affected, and while we consider this a company matter, there's just also a family at the center of this."
As of Tuesday morning, the post is the top trending video on YouTube, with over 4.3 million views.

Online, many fans have reacted in support of the remaining members. "The fact that the #tryguys refused to sweep anything under the rug just because he was their friend makes me respect Eugene, Zach and Keith 100000% more," one tweeted. "Not #tryguys putting out a better apology for something they didn't do, than most of the creators that have done one," said another.

Some also pointed out the various demeanors of the members. "Eugene" trended on Twitter after users began posting about his "absolutely livid" facial expressions.

"We're losing a friend, we're losing someone we built a company with, have countless memories with," Kornfeld said. "It's weird. We're sorry this ever happened."

Amid all the reactions, it appeared that at least one of the Try Guys still had more to say. "ok so can i release my tweet drafts yet or," Kornfeld tweeted.