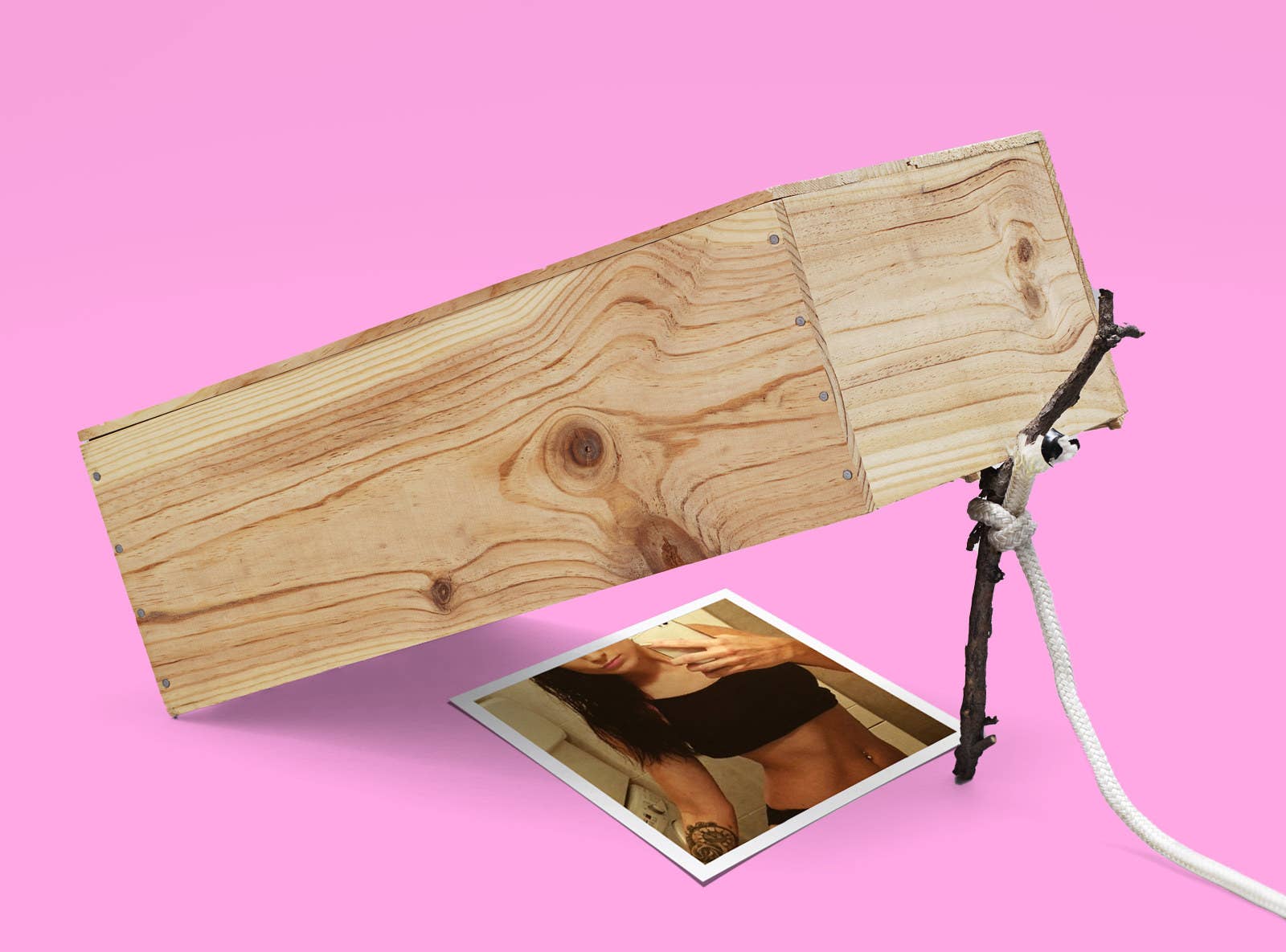 My fellow online lurkers, the state of the thirst trap has shifted vastly underneath our feet.
I'm sure you've seen it while posting too. Blurry photos are en vogue now. The money angle is no longer that sultry Snapchat video of your lips and décolletage, but straight-on to emphasize the body-ody-ody. Mirror selfies that completely cover up your face, showing off your perfectly decorated room, have usurped the posed duck-face reflection pic. A seductive pic can be hidden amid a photo dump of your dinners, travels, and fun nights out.
"Now, I feel like it's the vibe of the pictures that have a date vibe; dark, red wine, you have on a cute little dress or like a cute outfit," said Zoe Anderson, a 25-year-old art history major in Berlin. "But also not too curated. I really love that cluttered photo dump aesthetic."
We know Gen Z isn't sex negative, but rather focused on intimacy, so it makes sense that their thirst traps are, too. The focus is truly about the vibes now, the idea of a possible shared experience or relationship (even if just for one night), rather than just you being hot.
Long gone are the days of washing out your entire feed in filters, taking bird's-eye footage of your cleavage. King Kylie is no longer posting zoomed-in shots in the car on Snapchat but is posting as Mother to Stormi, sharing close-ups of her face card in a nondescript location.
The modern thirst trap is meant to make you a little delusional. Don't you wish you were here with me? they seem to suggest.
And the thirst trap has pivoted to video, with creators, like Kai Lee or the North Star Boys, making POV sketches where they cast themselves as your very own love interest. "Seeing if my guy friend and I have chemistry," the caption reads on one of Lee's videos as a woman "secretly" films him picking her up and spinning her around for a High School Musical singalong. "Girl if you don't MARRY him right now," one commenter wrote.
The modern thirst trap is meant to make you a little delusional. Don't you wish you were here with me? they seem to suggest.
Sanjna Selva, a 26-year-old documentary filmmaker in New York, harnessed these aspects in a thirst trap she posted for her birthday last year. "I looked really good," she said. "The lighting looks interesting. I love that it's a genuine candid, and there's things going on in the background. You know it's a party, and it feels very New York."
That photo caused her ex, whom she had not spoken to in three years, to come back into her life this week. "Liked the picture, left a comment," she said. "I guess the picture worked its magic."
Anderson said she thinks the thirst trap now is a photo that curates an aura of what is not shown. "It's like the Venus that covers her privates," she said. "It's very sexual because you're obviously drawn to what her hands are covering — that's where you're supposed to look."
Influencers have grown their followings by capitalizing on an audience that wants both romance and sex. "People's attention span is really low," said Cedrik Lorenzen, a Swiss Australian influencer who films thirst trap cooking videos. "I'm creating a dish, and it takes me 12 to 15 hours to produce. How do I bring it to people's attention? Maybe me being shirtless or me showing some sort of sexiness to it."
Lorenzen's captions are overtly sexual but also personal. "If I had to do it all over again, it would still be you," he wrote on a chocolate cake recipe. He'll cook you dinner, then DJ on your clitoris.
Katrina Nguyen, 27 (and a former BuzzFeed employee), said our thirst traps are different now because our internet is different — we know recruiters are lurking on our public profiles at any time, we are constantly fed content about our own bodies, and many users are desensitized to the NSFW content that appears unannounced on our feeds. And that can also be freeing.
"Everybody has tits, everybody has ass, you know?" she said. "If I actually want to entrap a man's thirst, I'll post a picture of me on the couch watching Formula One in the background or something. Then they'll be like, 'Is that Formula One?'"
"Everybody has tits, everybody has ass, you know?"
Our content trends have indicated an interest in intimacy over recent years, and content focused around long-term relationships and couples vlogging skyrocketed during lockdown.
The photo Nguyen said gets her the most roses on Hinge is a photo of her in bunny ears and pajamas, posing with a half-eaten piece of toast. Her dog naps in the background as she lounges ever so effortlessly, holding a cup of coffee in a white button-down shirt and no bottoms. POV: We're dating and it's the morning after, I've got no makeup on and I threw on your shirt. I'm your silly, gorgeous girlfriend and this is our dog.
"It's not about it's not so much about presenting your perfect body," Anderson said. "It's about being sensual and feeling sexy."
But intimacy can mean a lot of different things, and both Anderson and Nguyen said they take thirst traps for themselves to document the days they felt empowered in their own bodies. Nguyen's personal favorite thirst trap is a mirror selfie. She poses on the floor, looking into the mirror, wearing a brocade bra and high-waisted black underwear. "I took it in the middle of quarantine," she said. "The backbone of my self-esteem was hanging on by a thread. I would literally feel like a potato because I wouldn't be doing anything. Then I took this photo, and it felt good. Like, oh wait, I could look like this."
"It's not about getting the heart-eyes from the guys. It's about the girls admiring your technique and the visual image."
The audience matters too. "It's not about getting the heart-eyes from the guys," Anderson added. "It's about the girls admiring your technique and the visual image."
Each community has its own thirst trap language. Christian Heinemann, a 25-year-old New York–based actor, told BuzzFeed News that the social media scene for young gay men is still very much about showing off the body. "It's no secret in the gay community that your level of attractiveness is kind of a social currency," he said. "For good and for evil. But I also think, in some ways, it's taking power and control of your sexuality, and presenting it in a way that feels comfortable to you."
Ola Amokomowo, a friend whose thirst traps I have watched evolve over the years, said coming into her identity as a lesbian also meant her thirst traps changed a lot.
"I assumed the role I'd be in because I was bigger and bald, because at the time, TikTok lesbians had codified lesbianism into a few tropes," Amokomowo, 24, said. "My thirst traps were far more about not wearing makeup, the slit into my eyebrow, clenching my jaw, versus when I was 'straight' it was about, like, my boobs, my ass, here's my waist, it's snatched. But I think that a lot of the time it's still about appealing to the female gaze versus the male gaze."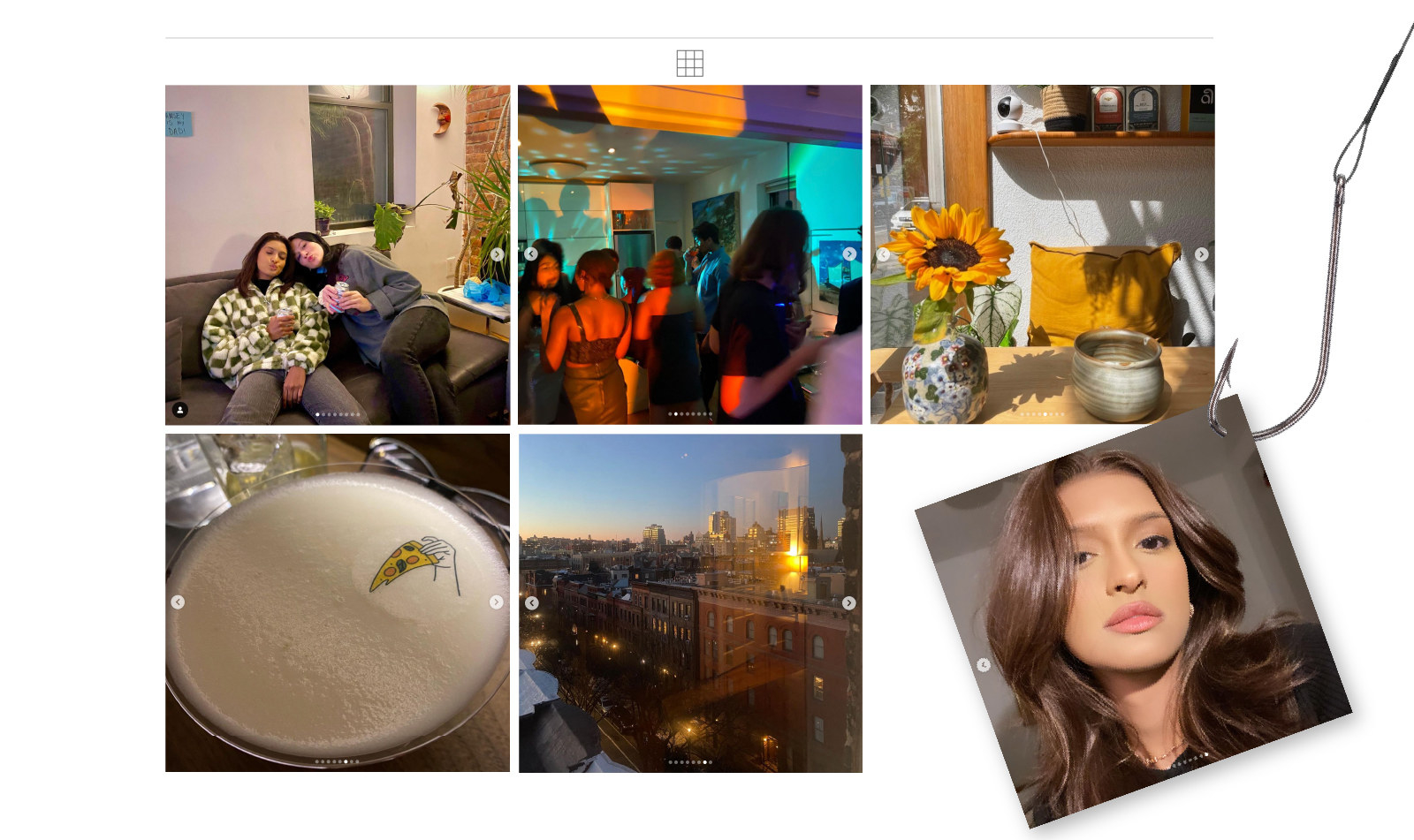 There's nothing casual about the curated photo dumps or artfully messy bedrooms. But the desire we have for intimacy — to post intimately with our audience, to appear intimately familiar with ourselves, to consume content that also makes us feel like we're receiving a look into someone else's life — has meant the content we post has reflected that wish.
But no matter the changing aesthetics, a thirst trap will always be a thirst trap — a photo or video showing you giving us something sexy.
"It's not for a certain person," Amokomowo said. "I look hot. And I want everyone to also look at me being hot." ●