After a viral Snoopy fancam editor known as "Snoopy Sister" announced she was grounded, fans have called for her freedom, including the Malala Fund, Malala Yousafzai's educational nonprofit, who labeled her hiatus the "worst news."
Snoopy Sister first went viral after her elder sister, Tram, who goes by @itsgrovy on TikTok, first began posting her sister's edits in December 2022. "My little sister, she doesn't use any social media whatsoever, all she does is go on her phone and make edits of Snoopy," she said in a now-viral video, before showing an example of her creations.
The old-school cartoon character Snoopy has a growing fandom on social media. As of Tuesday, #snoopy has 813.9 million views on TikTok, and many creators have garnered followings for their Snoopy memes and peaceful, soothing fan montages. The Red Cross released an exclusive Snoopy shirt this month to attract more young blood donors, which has become an It girl item on TikTok. And the Snoopy stan community has experienced its own controversy, after a fan account posted a drawing that many lambasted as thinspo.
"Snoopy sister is currently grounded from her phone and won't be able to make any edits for a while. She wants me to relay that to you all. She will get to make her edits again once she gets it together," Tram tweeted on March 31.
Speaking from her grounding, Snoopy Sister told BuzzFeed News that her disciplining was because she hasn't been doing well in her high school math classes. "She's been practicing doing math problems to bring her marks up because math is not her strong suit," Tram said.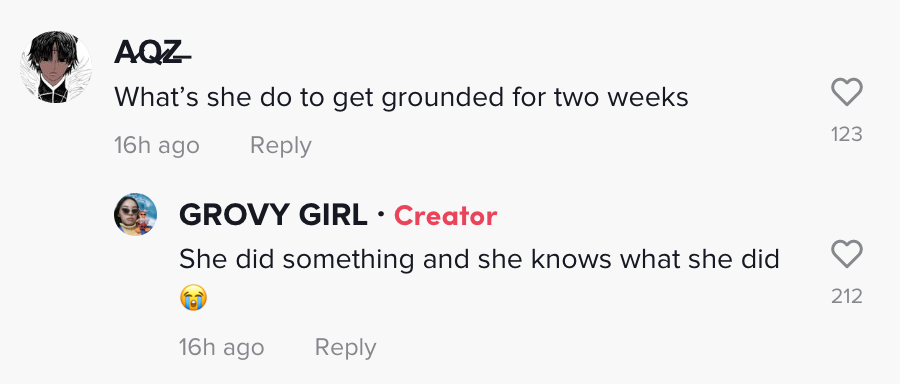 The sisters are based in Canada, but Tram asked to keep her sister's information and their surname anonymous, in order to protect their privacy. "Honestly, sometimes [virality] feels a little fickle. Like ultimately we're just here to have a good time," Tram said. "I'm just respecting her decision to not be online so much, and cheer her on."
Snoopy Sister said she first became interested in Snoopy when Tram took her to an amusement park. "I didn't really enjoy the roller coasters, but she did mention a place called Snoopy Planet," she said. "In there, I saw a lot of Snoopies, and I wanted to know what character this was."
She began researching the show and creating edits on her phone, screen-recording clips she found online and splicing them together with music she liked, like R&B artists DPR Ian, PinkPantheress, and Luna Li. Since she doesn't have her own social accounts, she texted them to her sister, who thought they were funny and posted them on her platforms. "She's very soft-spoken and shy," Tram said. "But I was like, I feel like more people would appreciate this."
The announcement of her hiatus, which now has 2.4 million views on TikTok, caused fans to flood the comments, crying out for her release. "LET HER GO SHES NOT GUILTY ✊I NEED MY SNOOPY EDITS TO SLEEP AT NIGHT," one commented. "tell your parents the people say she's ungrounded," another said.
"worst news of the day," wrote the Malala Fund, a nonprofit founded by Malala Yousafzai that supports girls' education. "NOT MALALA UPSET ABT MY SISTER BEING GROUNDED FROM HER PHONE," Tram tweeted after she saw it.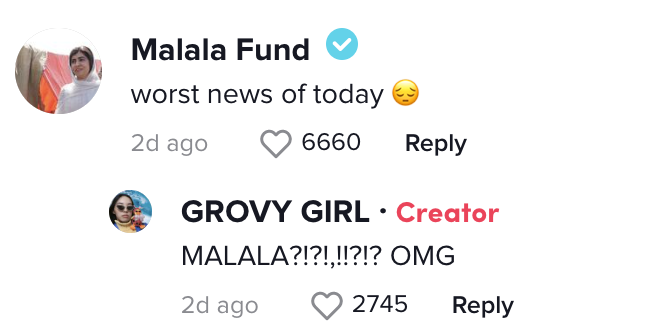 Many have asked Tram to tell their parents that Yousafzai appeared to be a Snoopy Sister fan, but the sisters said that their parents have no idea that any of this is going on — the edits, the fandom online, the millions of views.
"Sometimes I think about telling my parents like, Malala doesn't want her to be grounded," Tram said. "But I wouldn't even know where to start."
Yousafzai's team told BuzzFeed News that the Nobel Prize–winning activist doesn't manage the Malala Fund account that wrote the "worst news" comment. "I'm not sure she's aware of the growth of Snoopy content on TikTok," one representative said.
"On TikTok, our digital team engages with and produces content by and for young women," a spokesperson for the Malala Fund told BuzzFeed News on Tuesday shortly after this story was published. "But I can confirm Malala did not write that comment."
But Yousafzai has previously participated in online trends, like the "bombastic side-eye" TikTok audio posted on the Malala Fund account.
Tram is an artist and illustrator herself, and previously went viral on Twitter for a design of a koi fish drinking boba in 2021. She said she wants to encourage her younger sister's creative pursuits, and that a huge motivator for shielding her identity is to prevent the Snoopy edits from becoming a source of stress. "I just tell her to keep it as a hobby," she said. "There's some people that have been reaching out for, like, 'Oh, we'll pay you to use this music.' But I don't want to put that sort of monetary pressure on my sister. I'm just letting her go like a free-range chicken."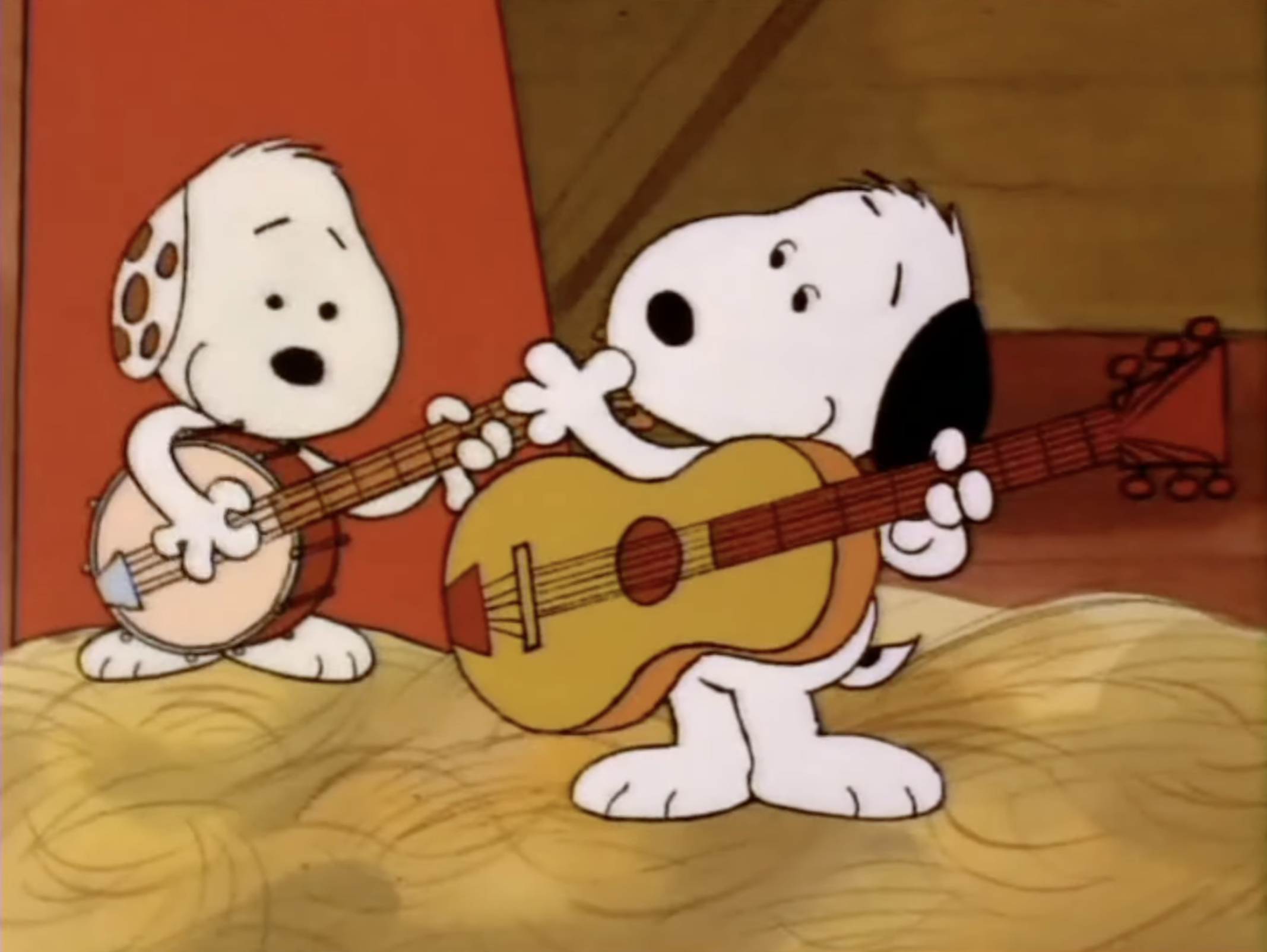 The grounding will end on April 19, according to Tram. Snoopy Sister said she's been practicing drawing Snoopy in her no-phone era and learning to code in HTML. She said she also loves raccoons and capybaras, and sees a lot of them on her For You page. "I love Snoopy," she said. "And I'll make an edit soon once I get my phone back."