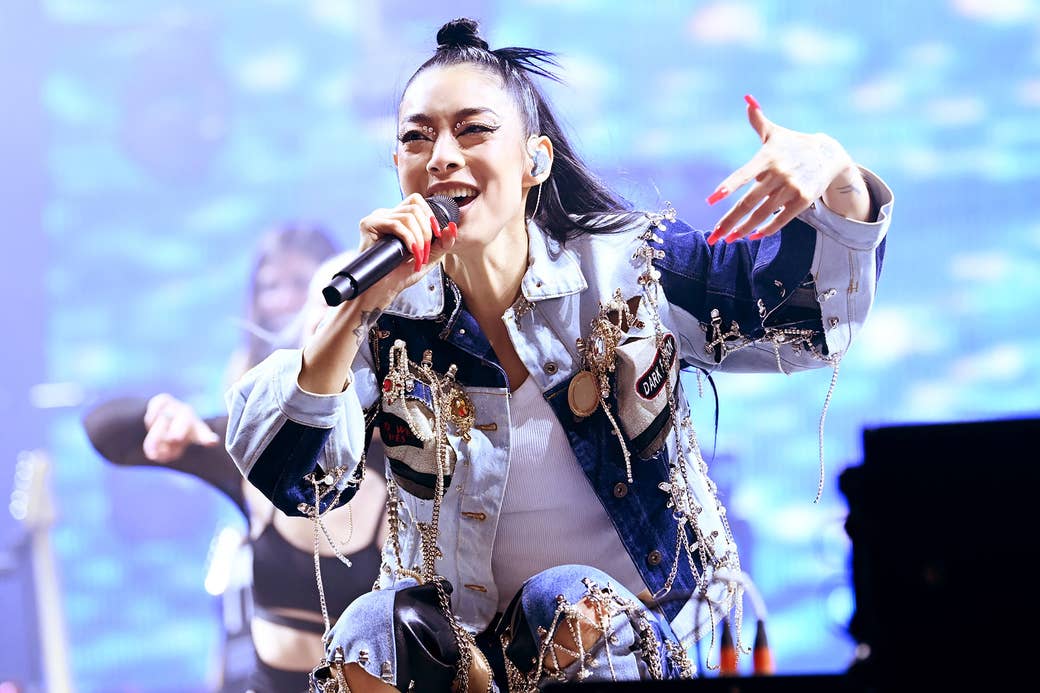 Pop star Rina Sawayama was describing her For You page to me.
"Well, [this TikTok] is just like, how to clean a filter," she said while we sat on a phone call this August (cameras off, both on TikTok, as God intended). "I wish I could say I see nothing [on social media] because I actually unfollowed everyone, but clearly Instagram and TikTok, they just operate on suggested posts now, so it doesn't even matter. My FYP is just cleaning TikToks and true crime."
For Sawayama, social media has always been familiar terrain. When her debut album, Sawayama, came out, during the early months of the pandemic in April 2020, it was the only way to promote her career. "Everything was online," she said. "I wasn't doing any shows. I wasn't doing anything in person. My screentime was probably insane."
Still, Sawayama, a mind-bending Y2K time capsule that focused largely on social identity (pansexualness, Asianness, womanness), blew up regardless. The Guardian named it one of the 50 best albums of 2020, and it peaked at No. 6 on the Billboard Top 100 Dance chart. The album cemented Sawayama's position as a pioneer of avant-garde pop, a corner she carved out for herself with her earlier EP Rina in 2017, which she released online as an unsigned artist.
"I went off the internet for a minute because I was so miserable, but it just wasn't good for work."
Now she's back with a sophomore effort, Hold the Girl, which comes out today. Sonically, it's a more airy, country-roads change of pace, that makes an attempt to look outside Sawayama's own perspective — a continuation of the memoir written in Sawayama, this time with more reflection and maturity.
In some ways, knowing and loving Rina Sawayama is synonymous with being chronically online. The Japanese British lyricist has always held a level of digital presence, whether it's her earliest releases on MySpace, her fandom, who call themselves Pixels, or even the content of Rina, which delved into the feelings of being in the internet's chokehold; consider its breakout song, "Cyber Stockholm Syndrome." Fans tease her about how much she says "slay" and makes obscure meme references, and she's often used platforms like Twitter and TikTok to reveal how the sausage is made.
"At the time I was writing my first EP, I was just addicted to the internet," she told me. "I think I'm kind of slipping into it again. It's part of what we [musicians] do, it's part of our job. I went off the internet for a minute because I was so miserable, but it just wasn't good for work."
But this time, her album is being released in a different year, one where she just wrapped up her official tour for Sawayama and is already preparing to see her fans IRL again. And this new era has wrought hard changes to a very online star. Sawayama said she's taking time to do things just for herself. "I'll meditate or journal or I'll play guitar or something that's not intended to be shown to anyone else," she said.
While Sawayama isn't planning on stepping away from her social media channels completely, changing her internet habits still feels like turning over a new leaf for the singer who, up until now, has spent her life journey pretty logged on. "That's been really nice," she said. "It took me 32 years to get there."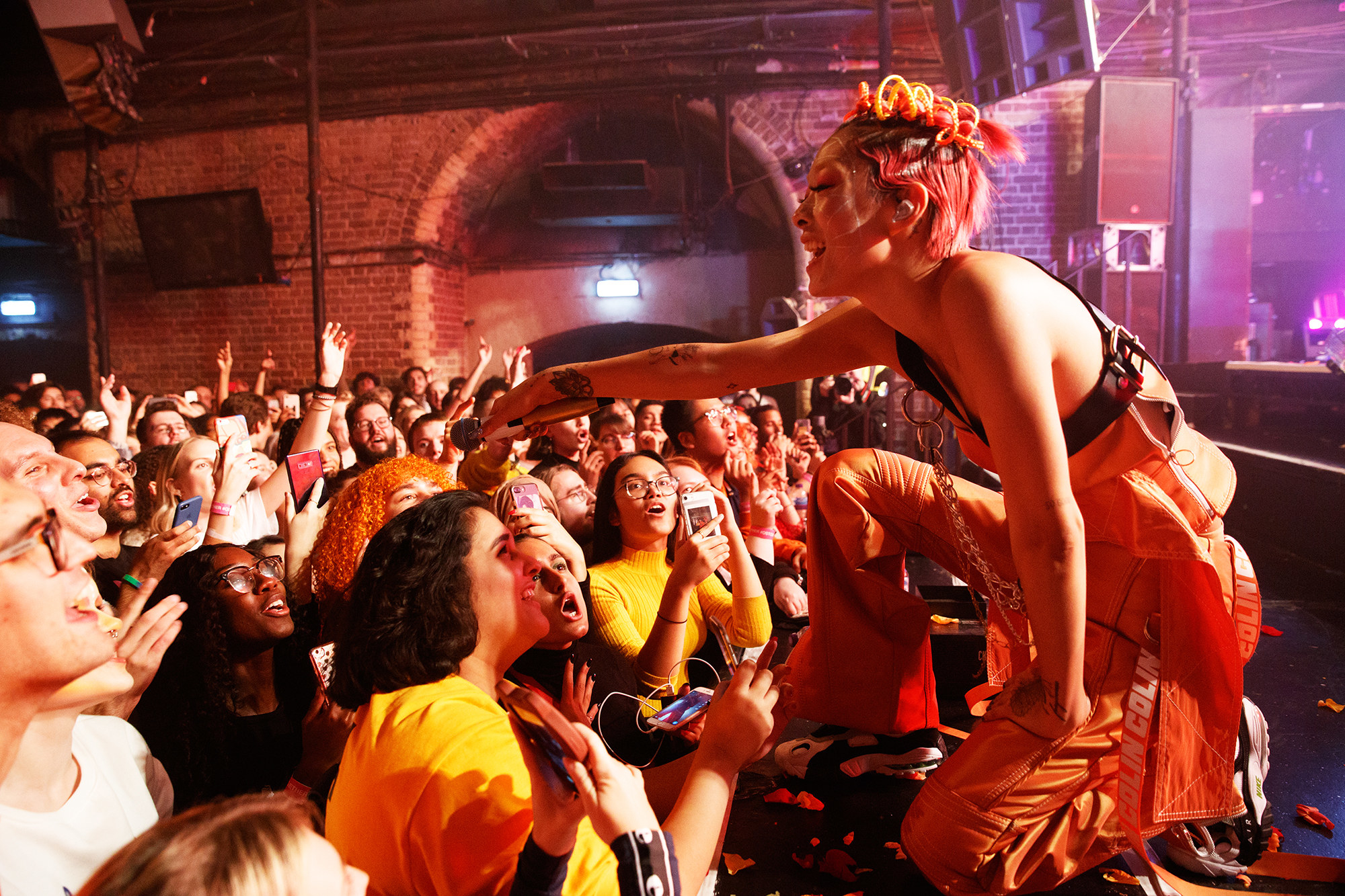 Sawayama was born in Niigata, Japan, and moved to the United Kingdom with her parents when she was 5 years old. She grew up in London, living in a shared bedroom with her mother until she was 15. A '90s-bred, dial-up internet baby, Sawayama said pop music is what helped her connect with her peers in school.
"Growing up in the Western world, there are so many times where I'm like, Oh, I'm not white," Sawayama told me. "My name is not that easy to say. I'm not as relatable as a white person. And there definitely are [still] times where I'm like, I'm not enough. I'm not doing enough."
Music helped her figure out her bearings of identity growing up, from the candy-colored J-pop girl groups to the stage presence that Kylie Minogue embodied in the 2000s. She found a sense of her feminine power in Beyoncé and a queer icon in Lady Gaga.
"My name is not that easy to say. I'm not as relatable as a white person. And there definitely are [still] times where I'm like, I'm not enough. I'm not doing enough."

"I was obsessed with Karen O and the Yeah Yeah Yeahs. I didn't see powerful East Asian people in the media — she was just that, and such an amazing performer," she said. "I think what they represented to me was a strength that I didn't see portrayed in people who looked like me in the media."
Her relationship with her single mother was tenuous (this relationship is a main theme explored in Hold the Girl's title track). So Sawayama's outlets became studying and music. She'd either pore over her schoolbooks or skip class to go to a club or concert, and her mother would have to sleuth on her social media to figure it out.
"She would go on MSN Messenger and talk to my friends and be like, 'Hi, where's Rina? She hasn't come home,'" Sawayama told the BBC. At 16, she began uploading song covers to MySpace.
Things changed after Sawayama was accepted into Cambridge University, spending three years getting a degree in political science. There, she experienced a new kind of stress, one where she was bullied by girls in her year who made her sit by herself at the end-of-year dance. "I saw little versions of David Cameron, and the future powerful people who control the country, basically," she said once in a 2018 interview. "They were such twats! All of them, pretty much."
It was in university she began seriously making music, while working odd jobs and modeling on the side. She performed under the name Rina, still worried about her surname being "not that easy to say." It took nearly a decade of publishing music before she really took off.
"The most ridiculous thing I've read about myself," she says in a TikTok that went viral two weeks ago. "That I'm an industry plant. Sis, I'm 31. Whoever tried to plant me did not do a great job."
"I feel like I definitely inadvertently have pushed barriers."
In the music industry, Sawayama said she has faced prejudice and stereotyping for her race and gender — and still struggles with the aftereffects of it today. "Sometimes I'll compare myself with other artists, like, God, they're so beautiful. They're so confident. And then I'll be like, Why am I not like that?" she told me. "That's such an easy depression hole to go down, especially I think for a lot of POC or queer people. But it's in those times that I always try and remember how many firsts I've broken."
And there have been some monumental firsts. In 2020, #SAWAYAMAISBRITISH trended on Twitter after Sawayama announced that she would not be eligible for nominations for the country's major industry accolades like the BRITs and the Mercury Awards, due to the fact that she held an "indefinite leave to remain" visa instead of citizenship. It was a movement that sparked mass attention and changed the United Kingdom's music award eligibility rules.
"Her talents have been shaped by a cross-cultural mix of musical influences and Britain is a richer place with her creating music here," singer Elton John tweeted. "We need to recognise artists like Rina because they reflect the beautifully diverse world we all share."
In 2018, she came out publicly in an interview as pansexual. It's become a part of her music and her presence online. "I feel like I definitely inadvertently have pushed barriers," Sawayama said to me. "Just by releasing music and talking about important things, I guess."
Sawayama said she also feels that, in many ways, her existence has been a wedge in the historically white, rich, heterosexual male music industry. She's not the teenage pop star, trained inside the Disney incubator. She's not white or even white-passing. She still holds her indefinite leave visa. And she's made clear in no uncertain terms that she writes music for people like her — queer folks, people of color, women. Many of her lyrics directly address the prejudice she's experienced ("how come you don't expect me to get mad when I'm angry?"). Songs like "Tokyo Love Hotel" and "STFU!" hone in on microaggressions and East Asian fetishization, including lines she'd heard from music executives (one who called her "Rina Wallamama") and in her personal life.
She has also spoken up in other ways, particularly for causes close to her heart. In August, at a live show in Japan, Sawayama spoke candidly to the audience about marriage for same-sex couples, which is still illegal in the country. "This is the only G7 country that does not have any protection for the LGBTQ+ community," she said to the audience.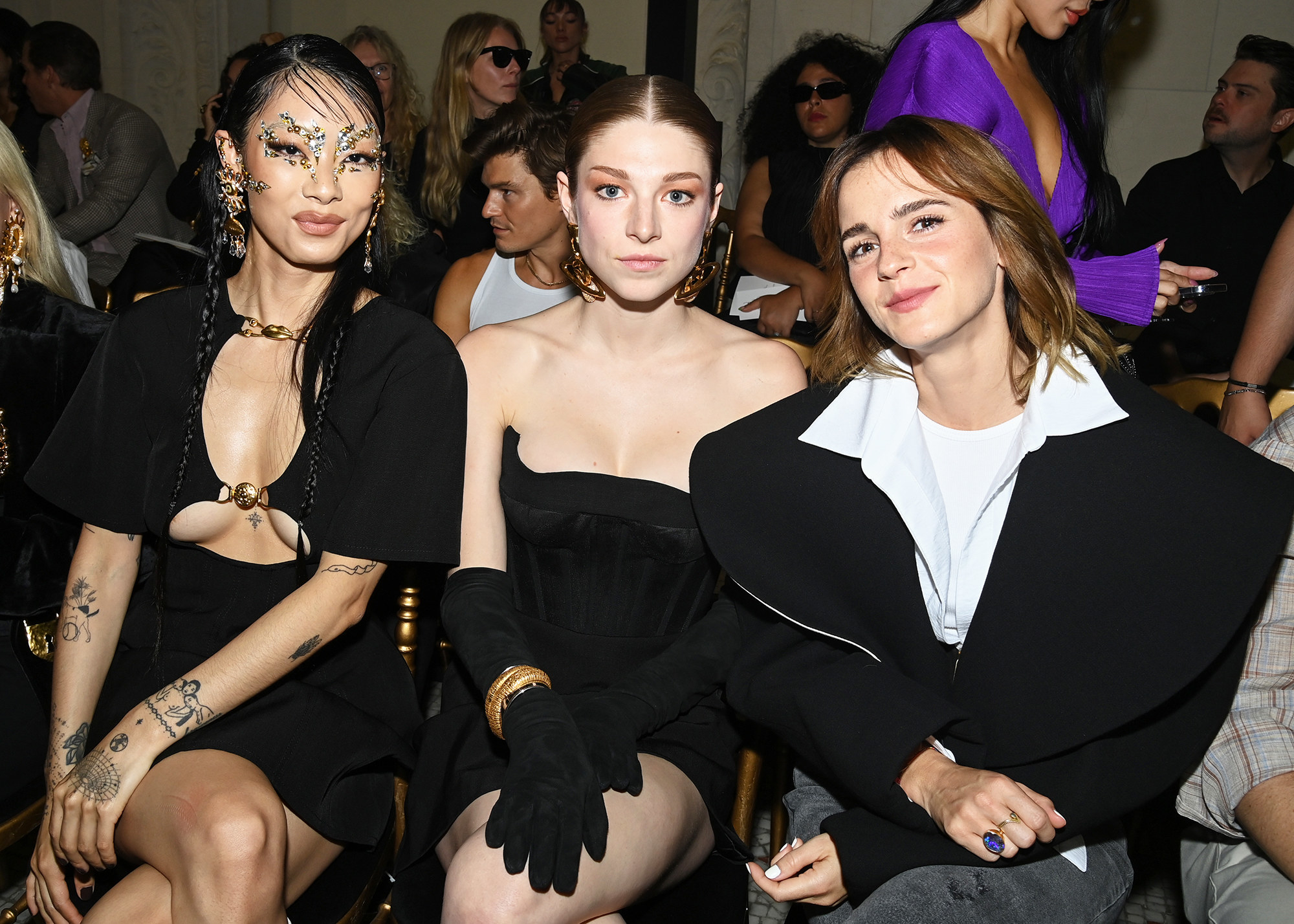 Queer corners of the internet have solidified a budding new class of gay pop icons. Many place Sawayama in that arena, alongside other artists who have developed rabid fandoms online that have maintained their stardom — Charli XCX, Carly Rae Jepsen, Kim Petras. For Sawayama, who speaks to her fans in the language popularized on queer Twitter spaces, preserving that relationship is of the utmost importance.
On social media, she's alternately funny and on the pulse when it comes to trends on each individual platform. She teases songs in their acoustic form before release and retweets fans. She posts her stationery hauls and funny things she thinks of. It's not polished or strategized, but rather Sawayama just shows you the things she finds most interesting about her work and her life.
She and her fans talk in the same language. "Hold the slay," one wrote. "rina slawayama," another said. "if the word slay becomes illegal," Sawayama posted later, using a filter that put her in the back of a police car.
"I'm very realistic about the fact that my music is unusual."

Following her on social media can feel like you're on a journey together. While Sawayama has reached critical acclaim and made a few historical changes, she still has yet to break into the mainstream ("If you keep preordering, something very slay might happen, Pixels…it might chart," she excitedly whispered in an Instagram video posted Wednesday).
So far, her only US charting single is 2022's "Beg for You," a collaboration with Charli XCX that reached No. 10 on Billboard's dance chart. But she hopes that might change. "I'm very realistic about the fact that my music is unusual," Sawayama told me. "It's not normal pop. I'm also not signed to a major label. At the same time, my team works so hard, and when their work is not being valued, I get sad for them, because I feel like it's not being reflected in numbers."
"I feel so lucky that I get to do this as a job anyway," she said. "So much of what I'm talking about would have been unthinkable to me two years ago, four years ago. The goalposts move constantly, and I have to rein that in. Otherwise, I'll never be happy."
Though she refers to herself as a pop girl, Sawayama's music has been lauded by critics specifically for embracing nu metal, R&B, electronica, and rock. The mission, she said, is to make uncool music cool again. "It's about authenticity and storytelling," she said. "I never think about genres in a commercial way like that. It's just so much fun for me to play with genres. And that's kind of why my music sounds the way it does."
Hold the Girl continues to fold in all kinds of "uncool" music. There are the country ballad overtones on "Forgiveness," the house textures of the title track, the epic tween rock vibes on "Hurricanes" that give you automatic Disney knees. But it makes sense: Sawayama mixed loud, brash genres with lyrics condemning hyperconsumption, cultural appropriation, and toxic masculinity. Hold the Girl selects the musical genres, like country and midtempo tunes, that best express the introspective and powerful turn Sawayama is taking in this era — reflecting on her relationship with her mother, battling with the fluctuating feeling of forgiveness, her connection to religion despite Catholicism's blatant anti-LGBTQ prejudice.
"It's really nice that we are in a more honest phase now of pop," Sawayama said. "People know that it's not all shiny. I feel so lucky that I'm in an era where people can really speak honestly about their mental health struggles or like how they're feeling that day."
Sawayama said she wrote this album with live shows in mind, having attended so many as a teenager. I asked if she remembers any faces or images in her mind from performing IRL. "It's the diversity for sure. It's the queerness for sure," she said. "I only see queer people in my audience. I remember thinking when the first show of [the Sawayama tour], I thought, The audience has gotten bigger, so maybe there'll be, like, less queer people. And then I was like, oh, no, it's just more queer people. It's so nice. I can hear them heckling me between songs, but in a nice way — 'yes, bitch, slay.'"
"I thought, The audience has gotten bigger, so maybe there'll be, like, less queer people. And then I was like, oh, no, it's just more queer people."
After promoting her entire debut album under lockdown, this project will mean something different. "My live shows are a very different iteration to what my album represents, I think," she said. She's told me she's thinking of her fans, of a concert where she can make them dance and sweat and feel free. She's making music from a different season of life, where things happening offline are possible.
"I always feel that I need to change myself in order to be appreciated," she told me. "But the more I found that the more I'm true to myself, that's when people love you. Twenties into thirties is such a transitional period. I've never felt more sure of myself. It's great."
I asked Sawayama what her current threshold for success was. In this era of ballooning opportunities, how do you know when you've made it? "I guess it is just to be able to look at someone at my show and be like, This is the truest version of me," she said. "And this is the truest version of you. And we're in the room together. And we're having an amazing time. And that's really like, all I can hope for." ●