Noodle the pug, whose "bones or no bones" TikToks determined the mood of the day for millions of followers, has died at 14 years old.
Owner Jonathan Graziano shared the news via Noodle's social media pages on Saturday morning. "I'm so sorry to have to share this, but Noodle passed yesterday," Graziano said through tears. "He was at home, he was in my arms…It's a day that I always knew was coming but never thought would arrive."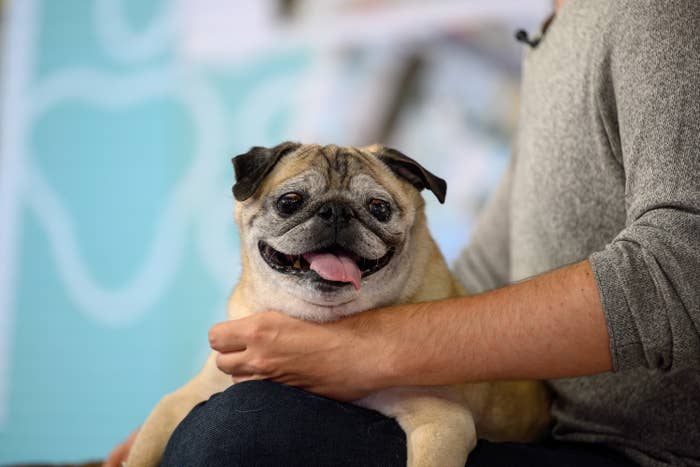 Graziano and Noodle started growing their following in 2021 with horoscope-like readings that Graziano would film almost daily with the elderly pug. Noodle would be put onto a dog bed, and if he remained standing, it was a "bones" day. If he flopped over, the internet determined it would be a "no bones day."
The terms became popularly used on Twitter and TikTok, with "no bones days" being described by Graziano as "permission to wear soft clothes, self-care, take a bath." Amid the pandemic, many connected to the feeling of no bones days, flopping right back onto the soft dog bed.
"Although this is very sad, I wanted to let you know, and I wanted to encourage you to celebrate him," Graziano, who adopted Noodle when he was seven years old, said in the announcement on Saturday. "He lived 14 and a half years, which is about as long as you can hope a dog can. And he made millions of people happy. What a run."
Fans have taken to social media to pay tribute to their "bones or no bones" icon. "I knew that following a 14 year old Pug on Tiktok that this day would come all too soon…but I don't regret a single moment of following him," one wrote on Twitter. "His life gave us so much joy. Even on the no bones days. Rest in peace Noodle. Sleep well prince!"
"We are all allowed one no bones day and then we can only have bones days in his honor," one commenter wrote under Graziano's video. "It will now and forever be a bones day," another said.

Other famous dogs have also paid tribute to him. The account for Doug the Pug, the celebrity dog who came to prominence in 2014, posted on Twitter for Noodle.

The account for Hamilton and Olivia, a corgi duo with over 700,000 Instagram followers, also posted a tribute to Noodle on Instagram stories. "Today, let's celebrate noodle, the lives he changed, the motivation he brought to millions and the joy we all got from Jon sharing him with the world," it reads. The account for Tika the Iggy, a Montreal-based celebrity pet, wrote to Graziano, "Noodle was so celebrated and his legacy will live on, thank you for sharing him with all of us."
"Give your dog a cheese ball tonight, but it has to be the fake stuff," Graziano said.