MANHATTAN, New York — LGBTQ people who are seeing monkeypox hit close to home on Thursday called on the CDC and local leaders to do better for their community — and for queer people to use their own networks to share critical information about the disease.

As monkeypox cases rise, supporters and members of ACT UP, the protest group famous for its work to fight the AIDS crisis, gathered in Foley Square with a message in particular for officials who have claimed to be LGBTQ allies.
"Put down the rainbow flag," a speaker said to the crowd of about 200 people who turned up in spite of 94-degree weather. "More testing, more vaccines, more treatment, Miss Thing."
Those who marched called for an "emergency safety net fund" for those testing positive, increased access to vaccines, language-inclusive educational resources, and adequate staffing for both vaccination sites and quarantine locations.
"Who is here because they know someone with monkeypox?" a speaker called out. They were met with a thunderous response.
More than 2,000 cases of monkeypox have been reported in the United States since May, and New York has seen the highest numbers. Though vaccines exist, many have reported struggles to access them.
"I immigrated here [to the US] three years ago thinking this would be a safe haven," Gigi, an attendee who asked to be identified by only his first name to protect his privacy, told BuzzFeed News. "India, where I'm from, has monkeypox vaccines. We don't have it here. It makes me feel enraged. How is this possible?"
Finding clear and concise information about the virus has also been a problem, leaving people dependent on what they can find on social media. Many have begun sharing anecdotal stories online about jumping through hoops to get medical appointments or even basic information about the virus.
"The New York state health department website is always crashing," Gigi said. "It's crazy. You can't get an appointment for testing anywhere. This should not be what is going on. This will be a pandemic within itself. I don't know how I'll pay rent if I get monkeypox."
Ariel Friedlander, one of the rally's organizers, told BuzzFeed News she has very little trust in information coming from major media outlets and government agencies. "If there's anything I've learned from my queer elders at ACT UP, it's that delving through scientific studies with your community members is often the most effective way to gather accurate information. This is a silenced disease. I rely on mutual aid networks and queer party group chats that have suddenly become monkeypox support groups."
In the midst of rising COVID cases, the monkeypox outbreak has left many feeling overwhelmed and confused about how to deal with the virus. (You can read our breakdown here if you need it.) Jennifer Balenciaga, another speaker at the rally, encouraged attendees to share information from within the queer community through social media. "It could save someone's life," Balenciaga said. "Share what we know."
Friedlander told BuzzFeed News that the lack of federal response scared her. "We've already bought vaccines with our tax dollars," she said. "How are we not outraged that these vaccines are getting into bodies? I'm frustrated at the lack of communication and federal response to do something. I barely hear any government official talking about it to the media."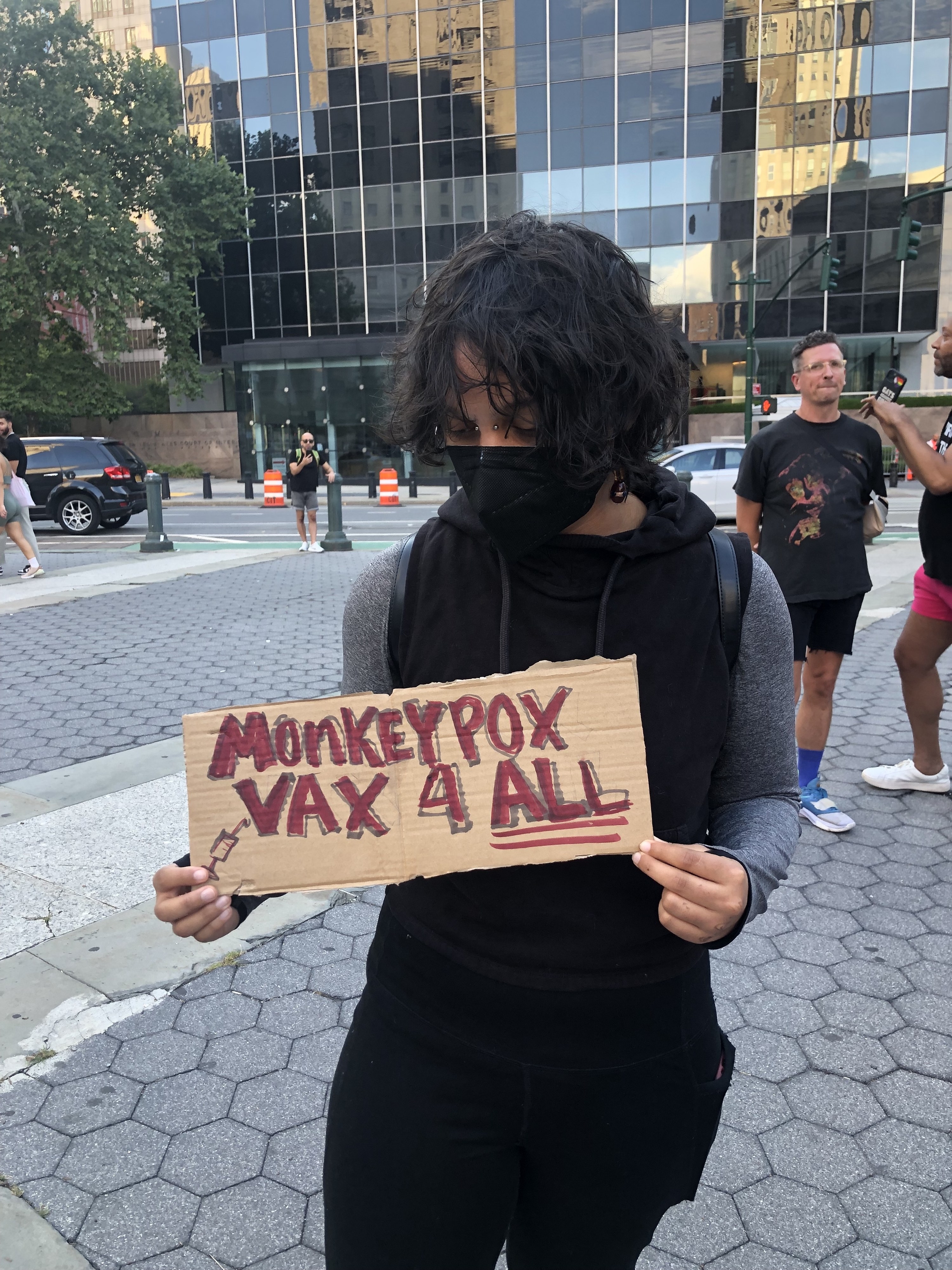 Initial public health campaigns largely targeted men who have sex with men, based on demographic data first reported by the CDC. However, this has sparked backlash from some people online. "While that's true, that's making not-gay men think they aren't at risk," Queer Eye and Getting Curious host Jonathan Van Ness said in a TikTok.
But that backlash prompted its own backlash from people who say men who have sex with men need information about the specific risks they might face. "Public health leaders are prioritizing fighting stigma over their duty to directly inform the public about the true contours and drivers of this global outbreak," Benjamin Ryan, a science reporter who's written on LGBTQ health, said in a Washington Post opinion. He referenced the CDC AIDS campaign of the 1980s that focused on "anyone can get HIV/AIDS," which he said ultimately hurt the LGBTQ community.
"In particular, they are failing to properly convey the seriousness of this burgeoning crisis to gay and bisexual men."
One protester told BuzzFeed News they've been losing trust in the CDC.
"My mother was a social worker in the '80s with kids who had HIV, and I saw how the government failed her," Angel, who only used their first name for privacy reasons, told BuzzFeed News.
Angel added they believed continuing to market the virus as a sexually transmitted infection would be dangerous.

"We're not reaching people how we should be," they said. "We're just letting it spread."