Deadly tornadoes wreaked havoc across Mississippi on Friday, killing at least 23 people and destroying an entire town, Gov. Tate Reeves confirmed Saturday morning.
The violent windstorm's trail on the ground spanned 100 miles across several towns, leaving total destruction in its wake, upending buildings and power lines and producing golf ball-sized hail. The Mississippi Emergency Management Agency confirmed on Twitter that dozens more were injured in the state, and at least four people were missing as of early Saturday morning. "Unfortunately, these numbers are expected to change," the organization said on the number of casualties. On Saturday morning, another death was confirmed in Alabama.
Rolling Fork, a rural town in the northwest region of Sharkey County, was one of the first towns hit by the twister, experiencing the worst of the storm and reporting severe demolition. Mayor Elridge Walker told CNN on Saturday morning that the city was effectively flattened. "My city is gone," he said. "But we are resilient and we are going to come back."
Storm chaser and photographer Aaron Rigsby covered the damage in Rolling Fork, Mississippi, on Friday and Saturday. He told BuzzFeed News that, as of Saturday morning, the damage is "really bad."
"There are homes completely leveled, down to the slabs," Risgby said. "The water tower in town completely buckled and fell to the ground. I saw four or five cars on top of a pile of rubble, of what I think used to be a home, but I can't tell."
Rigsby spoke with BuzzFeed News from Vicksburg, Mississippi, where he traveled after the cell service in Rolling Fork was destroyed. Rigsby said it took 30 to 45 minutes for first responders to arrive in Rolling Fork, a small town with a population of 1,883 as of the 2020 US Census, early on Saturday morning.
"I saw lights at around 5 a.m. of first responders doing a sweep, checking to see if anyone was trapped beneath rubble still," he said. Residents were grateful for any help that came through. Rigsby tweeted that, on Friday night, he and a team of other storm chasers pulled residents out from their collapsed homes, freeing an "older woman buried under house and carried [a] little girl to safety."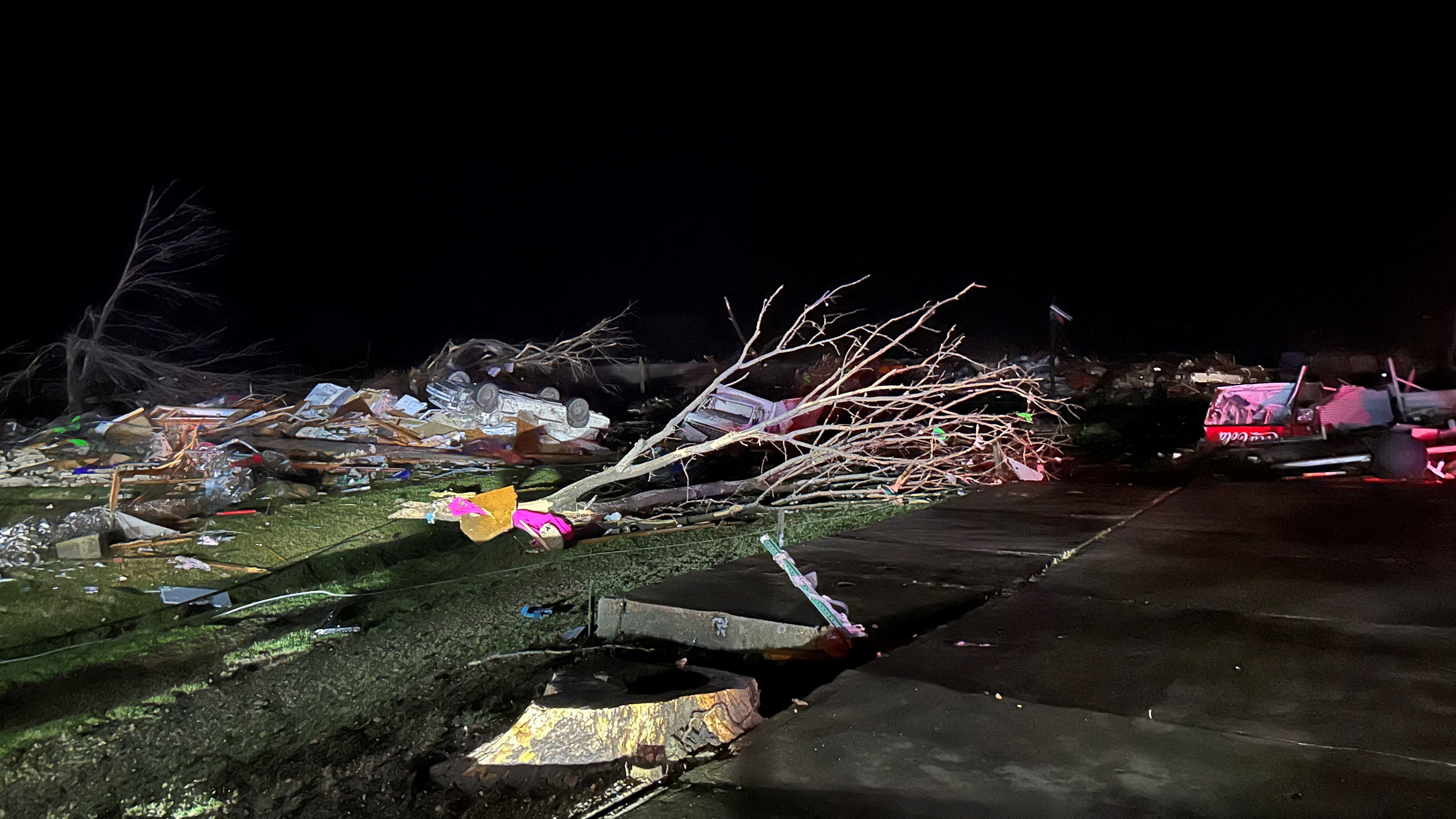 As of Saturday morning, residents have been instructed to continue to shelter in place while search and rescue operations and medical support are dispatched.
Many impacted residents are also going without power, with 11,254 outages reported in the state of Mississippi as of Saturday afternoon, according to tracking site poweroutage.us. The areas that took the brunt of the tornado experienced a near-total blackout, including Sharkey County. Another 14,308 are reported without power in Alabama and 22,163 in Tennessee.
Deanne Criswell, administrator of the Federal Emergency Management Agency, tweeted on Saturday that she spoke with Gov. Reeves about providing federal assistance to the victims of the storm. "Our thoughts are with the people of Mississippi who are dealing with this terrible trauma," Criswell tweeted.
Gov. Reeves said he will be visiting towns impacted by the tornado, beginning in Sharkey County. "The loss will be felt in these towns forever. Please pray for God's hand to be over all who lost family and friends," he tweeted Saturday morning.
Mississippi experiences about 30 to 100 tornadoes per year, according to the state's Department of Health. But National Weather Service meteorologist Lance Perrilloux said this tornado was "very rare."
"This is one of the more rare tornadoes that we've seen in recorded Mississippi history given its longevity and strength over a period of time," Perrilloux told NPR on Saturday morning.
Weather disasters are inextricably linked to human-induced climate change. The planet has already warmed 2.1 degrees Fahrenheit since 1880, according to NASA, and that's making disasters worse. Wildfire seasons are getting longer. Hurricanes are getting wetter and more dangerous. Heat waves are getting hotter, more frequent, and longer-lasting. Heavier rainfall across the US is triggering more inland flooding. And the cost of climate disasters is soaring. Stopping this vicious cycle will require drastically reducing our reliance on climate-polluting fossil fuels.
Ahead of the storm, the National Weather Service's Weather Prediction Center had forecasted "severe thunderstorms containing damaging winds, hail, and strong tornadoes in the Mid-South" for Friday, with flash flooding and heavy rain possible in northeast Texas, Tennessee, and eastern Oklahoma.