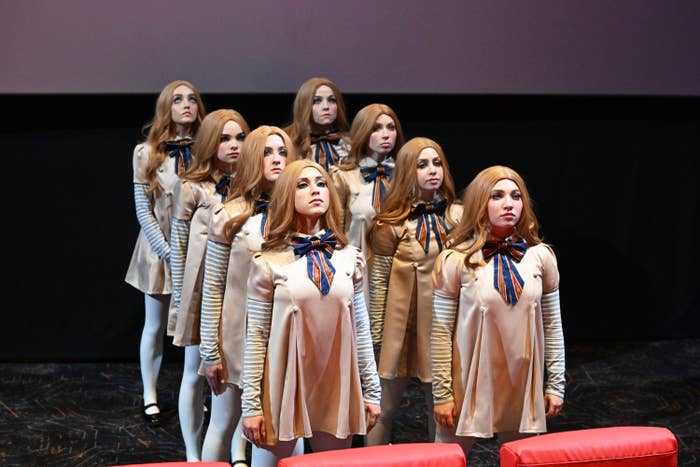 First we saw her twirling down a hallway, on her way to slaughter somebody. Then we saw a group of them gather for the world premiere, dancing to Taylor Swift's "It's Nice To Have A Friend." Now that the horror film M3GAN has been released in theaters, the viral stunts that made millions fall in love with this murderous doll only ramped up on opening day.
This campy horror film, which centers around a creepy killer android doll that learns an affinity for murder, has become a darling of the internet thanks to the fanfare around its publicity rollout featuring live dance performances. It's become the center of Twitter and TikTok discourse — #m3gandance has garnered over 147 million views on TikTok and has inspired users online to label her as a gay icon.

On release day, the stunts continued. Crews dressed as hordes of M3gan dolls posted from the New York City subways, scared passersby outside Radio City Music Hall, danced silently atop the Empire State Building, and performed at a premiere showing. In Los Angeles, another M3gan crew spooked people and performed their creepy dance at a football game.
All of the videos have also been shared from the official M3GAN Twitter account.

The character, created in the film by a roboticist played by Allison Williams, has struck a chord with fans online, hitting the notes of campiness and chronically online humor that made it so memeable and shareable. Williams's character "in M3GAN understands that if you want to make a toy that preteen girls will love, you have to create something that gay people will lose their shit over. She said let me create a legend," writer Louis Peitzman tweeted.

And the M3GAN social media presence has continued to lean into the buzz, with the account addressing some of the fanmade content in an interview with celebrity fan account PopCrave. "u kno i love @taylorswift13 and @bellapoarch," the official account @meetM3GAN said Tuesday, referring to the original video and fanmade edits of her viral hallway dance.

While the film may become a cult classic, we must never forget how the M3GAN marketing run had its own cult following as well. M3GAN is in theaters now.